Sudan: An Exploration of Ancient Kush
Tour Sudan: Travel by 4-wheel drive along the Nile and through the deserts of northern Sudan where towering pyramids, painted rock-cut tombs, and ornately carved temples await discovery.
with Dr. E. C. Krupp
Dates
January 19 – February 2, 2020
Why Take This Tour ?
Led by Dr. E. C. Krupp, Director of the Griffith Observatory and renowned archaeoastronomy specialist
Private tours with archaeologists of Sudan's two UNESCO World Heritage Sites – Meroë and Jebel Barkal, including the Temple of Mut

Private tour of El Kurru with archaeologists

Private tour of Tombos with archaeologists

Private tour of the Monastery of the Holy Trinity at Old Dongola with archaeologists

Private tour of Nuri with archaeologists

See Jebel Qeili's rock art panel of a Meroitic ruler

Limited to 14 participants
Daily Itinerary
Day 1: Depart the USA.
Day 2: Arrive Khartoum.
Day 3: Khartoum city tour.
Day 4: Wadi Muqaddam.
Day 5: Jebel Barkal. El Kurru.
Day 6: Tombos.
Day 7: Sesebi. Soleb.
Day 8: Kerma. Kawa.
Day 9: Visit Nubian villages. Old Dongola.
Day 10: Market in Karima. Tea Ceremony. Nuri.
Day 11: Bayuda Desert. Monastery of Ghazali.
Day 12: Meroe.
Day 13: Naga. Musawwarat es-sufra. Omdurman souk. Dervish ceremony.
Day 14: Jebel Qieli
Day 15: Fly back to the USA.
For millennia Sudan has been the crossroads between Central Africa and the Mediterranean. Today the country is rich in diverse ethnic groups and dramatic remains of past cultures. The northern area of the country, along with southern Egypt, was home to several ancient civilizations. The first settlers in northern Sudan date back 300,000 years. It is home to the oldest sub-Saharan African kingdom, the kingdom of Kush, the most powerful state in the Nile valley 4,000 years ago. Conflict between Egypt and Kush followed, culminating in the conquest of Kush by Thutmose I, but in the 11th century BC, Egypt withdrew and the Sudanese kings grew powerful again. In the 6th century, they invaded Egypt and ruled as Pharaohs uniting the Nile valley from Khartoum to the Mediterranean. The Kushites were expelled from Egypt by the Assyrians, but their kingdom flourished in Sudan for another thousand years.
Kush monuments and art display a rich combination of Pharaonic, Greco-Roman and indigenous African traditions, and two are UNESCO World Heritage Sites – Meroë and Jebel Barkal. Tall pyramids, imposing mud-brick buildings, rock-cut painted tombs, and ornately carved temples – all are present for us to discover.  
Join Dr. E. C. Krupp and journey through the northern deserts in search of these remarkable civilizations.
Tour Leader
Dr. E.C. Krupp is the director of the Griffith Observatory in Los Angeles. He is the author of Skywatchers, Shamans & Kings: Astronomy and the Archaeology of Power; Echoes of the Ancient Skies: The Astronomy of Ancient Civilizations; Beyond the Blue Horizon, Echoes of the Ancient Skies; and several children's books. He is editor and co-author of In Search of Ancient Astronomies, and Archaeoastronomy and the Roots of Science; contributing editor with a monthly column in Sky & Telescope magazine; frequent lecturer; and veteran leader of Far Horizons tours. Dr. Krupp has a special interest in astronomical features in rock art and has published extensively on the subject, and he is an internationally recognized authority on the impact of astronomy on ancient belief systems, and on traditional astronomies. Dr. Krupp's enthusiasm is infectious, and his knowledge of archaeoastronomy makes him an excellent teacher.

Tour Itinerary
(B) breakfast, (L) lunch, (D) dinner
Day 2: Arrive into Khartoum and transfer to the five-star Burj Al-Fateh Corinthia Hotel, our home for the next two nights. Overlooking the Nile River, the hotel is an architectural masterpiece of steel and glass.
Day 3: In response to the flooding from the Aswan Dam, whole temples and tombs were moved hundreds of miles to Khartoum to be reconstructed at the Sudan Archaeological Museum. Some of the remains displayed here, almost perfectly preserved, date back nearly 4,000 years while the Christian frescoes on display represent the richest collection discovered so far in the Nile Valley. We spend the morning in the museum. After lunch in a local restaurant, visit the Ethnography Museum, followed by a leisurely cruise down the Nile to see the confluence of the Blue and White Rivers. Enjoy a welcome dinner at the lovely courtyard restaurant Al-Assaha. (B/L/D)
Day 4: From 1881 to 1885, Muhammad Ahmed Al Mahdi, or The Mahdi, led a successful military campaign against the Ottoman-Egyptian government of the Sudan which resulted in the conquest of Khartoum. This morning, we see his silver-domed tomb and associated museum in Omdurman. Next, we take off into the Western Desert, crossing Wadi Muqaddam, a complex cultural area of great antiquity. Throughout it there are ancient Meroitic and post-Meroitic tumuli and cemeteries built of stone. Many of the graves are isolated and are perched on high promontories while others are clustered in small groups. Overnight for two nights at the Nubian Rest House, located in the small town of Karima. This charming boutique hotel was constructed in the Nubian style with ornate domes and arches, and each of the rooms has a private bathroom. (NOTE: The number of single rooms available is limited and will be given out in the order of registration.) (B/L/D)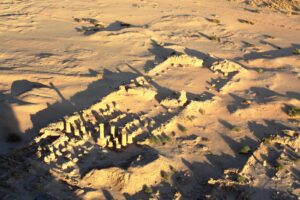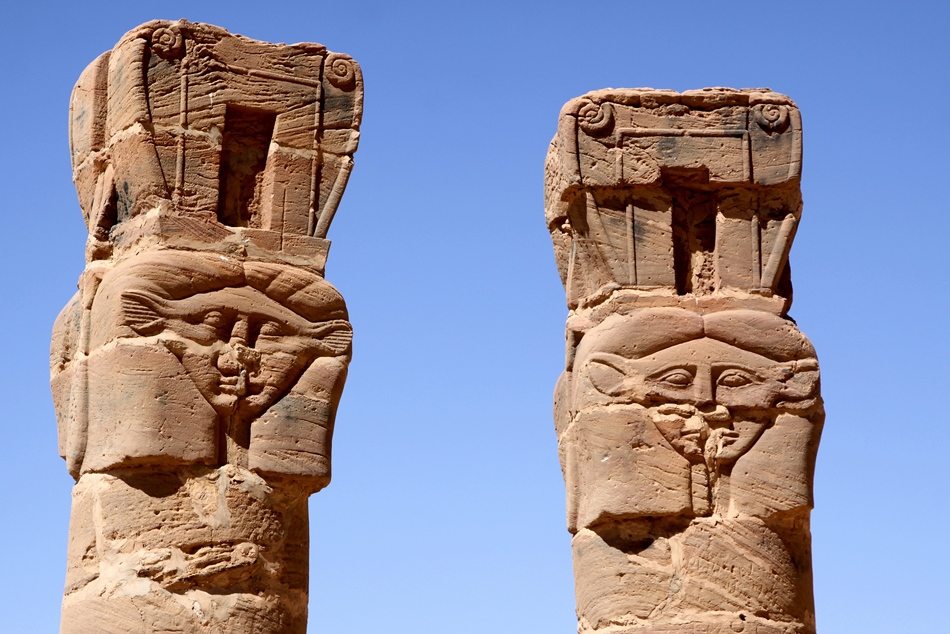 Day 5: The holy mountain of Jebel Barkal, visible for miles across the plain, dominates this part of the Nile. Both ancient Egyptians and Kushites believed that this was the home of Amun, and the remains of a temple dedicated to this god lie at the foot of the crimson sandstone butte. First constructed by Thutmose III in the 15th century BC, each successive ruler added to it until it became the largest Kushite building ever constructed. Enjoy a private tour of this complex including the Temple of Mut, dedicated to the Egyptian mother goddess and the consort of Amun. The Nubian capital from 800-400 BC, Napata, built a large number of pyramids in three different areas. Next, we visit nearby El Kurru with the director of excavations. The site contains royal tombs with well-preserved wall paintings of the pharaoh, the gods and still intact hieroglyphic inscriptions. Jebel Barkal and El Kurru together are a UNESCO World Heritage Site. (B/L/D)
Day 6: Drive to Kerma, the largest settlement along this stretch of the Nile and once the capital of the first kingdom of Kush. Archaeological evidence shows that the settlement dates as far back as 2400 BC. The site consists of Deffufa East and West, two enormous mud-brick structures that are more than 3,500 years old. Western Deffufa is possibly the largest man-made structure in sub-Saharan Africa. Surrounding Eastern Deffufa are massive tombs of Kerma's former kings. This New Kingdom Egyptian cemetery contains several Egyptian-style mud-brick chambers, and both shaft and mud-brick tombs. Move on to Tombos for a private tour. Located nearby on the bank of the river, this is an important ancient granite quarry and necropolis. Under Thutmose I, a great victory stelae was created overlooking the river. A nearby boulder features the pharoah's viceroy, Usersatet, along with Hekaemsasen, a dignitary well placed at court. Usersatet and Hekaemsasen are known to have both served King Amenhotep II, but the Tombos stela is the first monument to show them together. What is remarkable is that Hekaemsasen is presented as equal in status to the viceroy. Within Kerma's new museums are statues of many former rulers of Kerma. Overnight for three nights at a pre-set camp in Tombos. Each dome tent with beds, foam mattresses, sheets and blankets, along with a small table and chairs. Showers and restrooms are a short walk from the tents. (B/L/D)
Day 7: Our explorations take us across the Nile by ferry to the west bank, the location of several ancient sites. Sesibi was a New Kingdom town founded during the 18th Dynasty and was the southernmost fortified town founded by Egyptians in Upper Nubia. Then it's on to the well-preserved Temple of Soleb, built by Amenhotep III in the 14th century BC and the most beautiful Egyptian building in Sudan. Lying on the banks of the Nile, a processional way leads from the river to the complex, and temple walls are covered with hieroglyphic inscriptions. Relief carvings on the temple walls depict sed, the celebration of renewal. (B/L/D)
Day 8: Today we begin at the nearby rock art site of Sebu, where hundreds of prehistoric petroglyphs have been pecked into the rock. We continue on to the 3rd Cataract and cross the Nile to reach Saï Island, one of the largest islands in the middle Nile. This territory has an extensive history dating back to the Paleolithic era. Under the rule of Ahmose, the founder of the New Kingdom, the island fell under Egyptian control. They built a fortified town and a temple dedicated to the god Amun. In addition to these eras, the island's vast history has been evidenced by discoveries from the Neolithic, Pre-Kerman, Kerman, Napatan, Meroitic, Post-Meroitic, Medieval and Islamic periods. Before returning to camp stop at the tomb Sheikh Idris Qubba, a pyramidal testament to a great Muslim scholar. (B/L/D)
Day 9: Our morning drive takes us along a new road through the central part of the Nubian region. Along the way, we will pass several Nubian villages with the entrance doorways of community dwellings painted and decorated with patterns and flowers. Then its on to Dongola where the irrigated fields are filled with fruit and vegetables, and groves of date palm trees provide cool shade. Our exploration of Old Dongola takes us to Monastery of the Holy Trinity for a private tour, the remains of the Coptic Church along with a vast Sufi cemetery with qubbas (domed tombs) dating back to the 14th century. Overnight for two nights at the Nubian Rest House in Karima. (B/L/D)
Day 10: Meet with the archaeologists excavating the Royal Necropolis of Nuri for a private tour. Nuri's pyramids are older than those at Meroë. The tomb of the great Napatan King Taharqa, one of the 25th Dynasty pharaohs of Egypt and probably the most powerful ruler in Sudanese history, is located here along with the tombs of other Kushite rulers. Move on to the weekly market in Tengasi and experience the hustle bustle of every day Sudanese life. This afternoon, enjoy a tea ceremony and traditional dancing.  (B/L/D)
Day 11: Today's journey takes us through the breathtaking lunar-like landscape of the Bayuda Desert. Along the way, we see the remains of the medieval Monastery of Ghazali, abandoned in the 11th century. Located on an old trade route, the monastery was surrounded by impressive protective walls. Overnight for two nights in the Meroë Safari Camp. Each of the furnished tents has beds and private separate bathrooms with a toilet and shower. (NOTE: The number of single rooms available is limited and will be given out in the order of registration.) (B/L/D)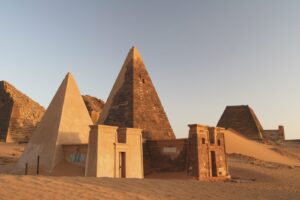 Day 12: Flourishing between the 3rd century BC and the 4th century AD and thus coexisting with Ptolemaic and then Roman rule in Egypt, Meroë once formed the capital of an empire that stretched northwards to the borders of ancient Egypt and southwards to take in much of what is today central and southern Sudan. The remains of the Royal City are scattered along the banks of the Nile and encircling the royal palace and Temple of Amun. Famous in antiquity for its warrior queens, Meroë's art and architecture show ancient Egyptian, Hellenistic and Mediterranean influences, as well as of those native to Sudan. Towering over the royal cemeteries is a multitude of spectacular pyramids, more than one hundred of them, including the tomb of Queen Shanadakhete, Meroë's most powerful ruler and perhaps the first significant female ruler in history. (B/L/D)
Day 13: Today, visit Naga, one of the cities of ancient Kush with superbly preserved temples still standing. Walk through an avenue of rams to the Temple to Amun, founded by King Natakamani 2,000 years ago, and the Lion Temple, dedicated to the lion-headed Kushite god, Apedemak. Continue to Mussawarat es-Sufra, probably a cult and pilgrimage center and the largest set of Meroitic remains in Sudan. The huge complex, known as the Great Enclosure, contains temples and other buildings. Many are covered with ancient carvings, often images of elephants. Later, we visit the Omdurman Souk, said to be one of the largest markets in Africa. Displayed to tempt us will be ebony wood carvings, necklaces, bracelets, beads, gold and silver jewelry, clay coffee pots, Sudanese baskets, food, spices and much more. Conclude the evening witnessing the frenetic Dervish Ceremony. Overnight for two nights at the Burj Al-Fateh Corinthia Hotel for two nights. (B/L/D)
Day 14: Drive east from Khartoum through the remote desert to Jebel Qeili, named for its red color (qeili in Nubian), a rock art site that hasn't been visited by Westerners for decades. Discovered by John Crowfoot in 1908, we are in search of elaborate rock carvings that includes a Meroitic (and Hellenistic) depiction of the sun god with beams radiating from its face. In one cartouche, the Meroitic ruler, King Shorkaror, is depicted with the uraeus (a representation of a sacred serpent as an emblem of supreme power) on his head, standing next to figures of bound prisoners. The inscription contains the only known victory relief of the king receiving blessings from the sun god and triumphing over enemies who may be from Axum in present-day Ethiopia. Explore the site thoroughly before returning to Khartoum. (B/L/D)
Day 15: Transfer to the airport for our flight back to the USA. (B) NOTE: Most international flights depart in the very early morning hours today.
Tour Cost
$11,695.00 (6 – 7 participants)
$10,995.00 (8 – 14 participants) (per person, double occupancy) includes all hotels and desert camps; meals as noted; ground transportation; entry fees; and gratuities to guides and drivers.
Single Supplement: $1,095.00.  Should a roommate be requested and one not be available, the single supplement will be charged. NOTE: The number of single rooms available is limited in the Meroe Safari Camp and the Nubian Guest House in Karima and will be confirmed in the order of registration.
Cost does not include: Round trip international airfare to Khartoum, Sudan; a separate $150.00 (per person) donation check; passport or visa fees; airport or departure taxes; beverages or food not included on regular menus; laundry; excess baggage charges; personal tips; email, telephone and fax charges; or other items of a personal nature.
Fuel Surcharges: Far Horizons must pass on price increases when additional fuel charges are levied.
Donation Checks: As a tour company that benefits from the cultural and natural riches of our destinations, we have a policy of donating to the scientific and cultural projects and museums we visit. This has created a bond between Far Horizons and the academic and local communities that has helped us establish an extensive list of lecturers and contacts in each of our destinations. We ask that each participant write a check to the noteworthy project we designate. The donation amount is $150.00 per person.
Registration
A deposit of $750.00 is required along with your registration form. Final payment is due 120 days before departure. Upon receipt of your deposit and completed registration form, you will be sent a reading list and a tour bulletin containing travel information. Prior to the trip, we will send links to various websites of pertinent interest. Click here to download our Registration Form.
Cancellations and Refunds
Cancellations received in writing at least 120 days before departure will receive a refund less a $450.00 administrative fee. Cancellations received less than 120 days before the departure date will not receive a refund. If for any reason you are unable to complete the trip, Far Horizons will not reimburse any fees. Registrants are strongly advised to buy travel insurance that includes trip cancellation.
Air Ticketing
International flights are not included in the cost of the trip. If you do not arrive or depart on the designated group flight, you are responsible for all transportation (including airport transfers) to join the group. If Far Horizons must change the trip dates or cancel the trip for any reason, Far Horizons is not responsible for any air ticket you may have purchased. NOTE: Please contact Far Horizons if you would like for us to handle your air ticketing.
Private Tours of Archaeological Sites
The private tours of archaeological sites and talks by specialists are scheduled in advance and include a donation to each. Specialists working at these sites are excited about showing their work to interested enthusiasts. However, please be aware that there may be times when the director or a member of the staff may not be on site when our groups arrive due to other commitments.
Note about Travel in Sudan
This trip is designed for adventure loving travelers and may involve schedule changes, poor road conditions, and local staff unaccustomed to tourist groups. Sudan's tourism infrastructure is undeveloped and not up to Western standards. Guides may not be as knowledgeable or educated as we would like. Some hotels are simple and some nights will be spent in tent camps instead of hotels. We will be traveling by 4x4s over unpaved roads into very remote areas. At times we will be walking over uneven terrain and sand for distances that may exceed a mile or more each day; hiking boots are required. All participants are expected to be physically active and able to walk independently throughout our very full touring days. Keeping up with the group is each participant's responsibility; please do not expect assistance from the other group members or staff. One of the pleasures in traveling through northern Sudan it that it is off-the-beaten-tourist-trail and the landscape largely unspoiled. By maintaining a flexible attitude we will soon be captivated by the beauty of the natural scenery, the hospitality of the local people, and the fascinating sites we will see. Your flexibility and patience will be appreciated.
This Archaeological Tour to Sudan is limited to 14 participants