Tour Ethiopia: The Wonders of the Horn of Africa
Tour Ethiopia: Lalibela's underground churches, Axum's huge monolithic stelae, Gondor's royal palace, and the tribal areas of the Omo Valley; enjoy colorful Easter Festivities in Aksum and Lalibela.
With Dr. Luisa Sernicola
Why take Far Horizons' Tour to Ethiopia?
Led by Luisa Sernicola, who has excavated in Axum and Ethiopia for more than ten years
Visit five UNESCO World Heritage Sites
Join in the Easter festivities at Axum and Lalibela
Travel into the Simien Mountains, a UNESCO World Heritage Site and home to the striking Gelada Baboon
Optional extension to the Omo Valley, including the UNESCO Cultural Landscape of Konso
Optional extension to see the walled city of Harar, a UNESCO World Heritage Site
Daily Itinerary
Harar Pre-trip Extension
Day 1: Depart USA.
Day 2: Arrive Addis Ababa.
Day 3: Fly to Dire Dawa. Harar city tour.
Day 4: Transfer to Dire Dawa. Fly to Addis Ababa.
Main Tour
Day 1: Depart USA.
Day 2: Arrive Addis Ababa.
Day 3: Melka Kunture. Tiya.
Day 4: Addis Ababa city tour.
Day 5: Fly to Axum with city tour. Yeha.
Day 6: Axum. Dungur.
Day 7: Fly to Gondar. Simien Mountain National Park.
Day 8: Simien Mountain National Park.
Day 9: Gondar city tour.
Day 10: Transfer to Bahir Dar.
Day 11: Lake Tana. Blue Nile.
Day 12: Fly to Lalibela and tour churches.
Day 13: Visit Lalibela churches. Yemrehane Christos.
Day 14: Fly to Addis.
Day 15: Depart for USA.
Omo Valley Post-trip Extension
Day 14: Overnight in Addis Ababa.
Day 15: Fly to Arba Minch. The Dorze Village.
Day 16: Boat trip on Lake Chamo. Konso Village.
Day 17: Visit the Mursi and Hamer tribes.
Day 18: Visit the Karo Tribe. Dimeka Market.
Day 19: Fly back to Addis Ababa.
Day 20: Depart for USA.
Ethiopia, formerly called Abyssinia, is one of the oldest countries in the world. Perched atop Africa's highest plateau, the country is protected by forbidding deserts and tropical lowlands.  Despite its apparent mountainous isolation, Ethiopia has long been a crossroads for Africa, the Middle East and the Indian Ocean, and a site of dynamic interaction between people from throughout the world.  Ethiopia developed its own written language and has a sophisticated culture based upon a deep love of religion. In the highlands, Ethiopia's Orthodox Church predates the Vatican and is one of the oldest continuously Christian churches in the world. A fascinating and rich history includes legends claiming that the Aksumite Kingdom dates back to when the Queen of Sheba ruled the land, and that Ethiopia's first king, Menelik I, was the son of this queen and King Solomon of Israel.
Far Horizons proudly presents a 15-day trip to one of the world's most remote and fascinating countries where the people are warm and welcoming, and stunningly handsome in their traditional dress. Planned around the Ethiopian Orthodox Holy Week celebrations which are centered in Aksum and Lalibela, priests covered in colorful robes lead the white-clad faithful in prayers and chants to God. The exciting itinerary includes spectacular scenery, visits to fabulous ancient ruins, and the opportunity to mingle with the many different people from across the country.
'I have long been fascinated with Ethiopia, but I now realize that I knew very little about the country. I'm delighted to report that the trip acquainted me with its long and ancient history, religious traditions, as well as some of the current issues facing the country. The trip exceeded my expectations.' – Marion Cott
'Ethiopia was fantastic, I learned so much and it was amazing to see Orthodox Easter!  Thanks to all of you for an absolutely unforgettable trip!'– Marian Reichert
Tour Leader
Luisa Sernicola received her M.A. in Classic Archaeology, with a dissertation on Ethiopia Archaeology, from the University of Naples, and her PhD in African Archaeology from the same institution.  She has worked as a Research Assistant in Ethiopian Archaeology at the University of Naples, a member of the International Cooperation Program between the University of Naples and Addis Ababa University in Ethiopia, and, most recently, as a researcher at the Hiob Ludolf Center for Ethiopian Studies at the University of Hamburg.  Dr. Sernicola conducted field work at Bieta Giyorgis (Aksum, Ethiopia) from 2005-2008, at Yeha (Tigray Region) in 2009, and at Seglamen (Aksum, Ethiopia) from 2010-2014.  Her research and particular area of interest has to do with the ancient settlement patterns in the area of Aksum, a subject on which she has taught many courses at the University of Naples. She has presented papers on the subject throughout Europe and Ethiopia.  Fluent in Ge'ez, the ancient Ethiopian language, Dr. Sernicola's deep connections with the archaeology and culture of Ethiopia make her an ideal leader for this trip.

'Luisa is exceptionally knowledgeable about her field, but also about other areas of Ethiopian life. A great addition to the tour!' – Carole Nagengast
Ethiopia Tour Itinerary
(B) breakfast, (L) lunch, (D) dinner
Day 1: Depart USA.
Day 2: Arrive today in Addis Ababa, the capital of Ethiopia and the third highest capital city in the world, at an altitude of 8,300 feet. Overnight for two nights in the Hilton Hotel, a popular meeting place for upwardly mobile Ethiopians.
Day 3: Begin today at Melka Kunture located along the Awash River south of Addis Ababa and considered one of the most important Paleolithic sites in Ethiopia. Here, we visit the museums explaining the Prehistory and the 'Open Air Museum' displaying the excavation of two Acheulean sites that have been dated to 1.8 million years ago. Continue to the UNESCO World Heritage Site of Tiya to view the northernmost field of huge incised monoliths that stretch across southern Ethiopia. Carbon dated at between the 12th and 14th centuries, these impressive stone monuments stand guard over burials, probably of warriors killed in battle. Our welcome dinner this evening will feature singing and dancing from different cultures within the country. (B/L/D)
Day 4: Drive up Mount Entoto, the highest peak overlooking the city of Addis Ababa, where in 1881 Emperor Menelik II built his palace. We will walk through this thatched roof structure and view the Church of Mariam where Menelik was crowned Emperor of Ethiopia and the Church of Archangel Raguel. Stop to see the bustling Shiromeda Cloth Market on our drive back to the city. The afternoon will be spent in two museums – the National Museum as well as the Institute of Ethiopian Studies.  The Institute was founded in 1963 and established to develop and operate the library and ethnographic museum. After dinner, enjoy an optional visit to the main square where festivities for Meskal – the religious holiday commemorating the discovery of the 'true cross' by Queen Helena in the fourth century – will take place.  (B/L/D)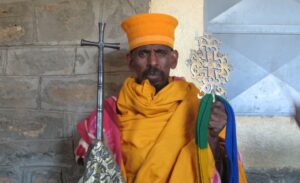 Day 5: Early morning transfer to the airport for our flight to Aksum. This ancient city, with its ruins of palaces, huge monumental stelae, and subterranean tombs, is one of Ethiopia's most historic sites. The legendary capital of the Queen of Sheba, Aksum is today the hub of Ethiopian Christianity. Begin at the Stelae Park where several colossal monolithic obelisks still stand together, marking the status of the Aksumite royals two thousand years ago. Continue to the Aksum Museum to view the many artifacts including ancient pottery and glass, Roman amphorae, bronze jewelry, and clay figurines that reveal the hairstyles of ancient Aksum. This afternoon, a road trip takes us east through dramatic volcanic formations to Yeha, the capital of the earliest kingdom in Ethiopia. Here, the pre-Aksumite Temple of the Moon is the oldest known standing structure in Ethiopia dating to about 700 B.C. It is reputed to be the best preserved example in the world of South Arabian style temple architecture. Next to the shrine is the Church of Abune Aftse, one of the "Nine Saints" who came to Ethiopia in the sixth century from the eastern Roman Empire and did much to spread Christianity in the country. This building's front facade has been fitted with carved stones from the original temple. Overnight for two nights at the Yared Zema International Hotel. (B/L/D) ​
Day 6: Today commences the week before Palm Sunday, called Hossaena in Ethiopia. It commemorates Christ's triumphant entry into Jerusalem from Egypt. The air is filled with excitement and streets and meeting-places are transformed into a sea of white as women parade in their traditional finely-woven cotton dresses decorated with colorful woven borders and men in their draped white robes. Walk through the open-air Hosanna Market, filled with multihued hand-made baskets and unique to the days prior to Palm Sunday. According to Ethiopian believers, the son of the Queen of Sheba and King Solomon brought the Ark of the Covenant to Aksum and it remains there to this day, preserved in a sanctuary next to the Maryam Tsion Cathedral. Views of the Ark are forbidden to all but special religious leaders but we will enter the associated museum to see the rich treasures of the church. Aksum is
Ethiopia's center for the Hosanna festivities and pilgrims come from distant villages to be a part. We will join the ritual and joyous preparations at the Cathedral complex as priests and deacons lead worshippers in singing and dancing to the accompaniment of rhythmic drumming. Led by processions of priests dressed in ornately decorated capes and carrying sparkling velvet umbrellas, we will follow the crowd outside to a large tree. Here, the Bishop from Addis Ababa is seated in state while young people sing and dance and gaily sprint around the tree waving palm fronds. Today's revelries will be a highlight as we are welcomed with smiles and warm hospitality by the white-clad throngs of worshipers. This afternoon we explore Dungur, a complex elite residence popularly thought to be the Palace of the Queen of Sheba. (B/L/D)
Day 7: This morning our explorations of Aksum continue with a visit to a historically important dedicatory stone dating to about 320 AD. Its inscription is written in three languages – Sabaean, Ge'ez (earliest written Ethiopian language), and Greek – and it is named after Ezana, one of the first rulers of Aksum.  Explore the tombs of King Kaleb and his son Gabra Masqal before heading to the airport for our flight to Gondar. Upon arrival, drive into the Simien Mountain National Park, a UNESCO World Heritage Site at an average elevation of more than 10,000 feet. Originally formed by outpourings of lava, massive erosion over millions of years has created one of the most dramatic landscapes in the world, with jagged mountain peaks, deep valleys, and sharp precipices that fall thousands of feet. Within this spectacular splendor live the iconic Walia ibex, a wild mountain goat found nowhere else in the world, the Gelada baboon and the Ethiopian wolf – all endemic to Ethiopia. Overnight for the next two nights in the Simien Lodge, located more than 10,000 feet in altitude and the highest hotel in Africa. Opened in 2006, it is Ethiopia's first 'eco-lodge' with thatch-roofed tukuls complete with solar-powered under-floor heating. (B/L/D)
Day 8: More than 180 species of birds (6 endemic to the park; one discovered recently in 1998) can be found in the Simien Mountains, the most famous being the Wattled Ibis, the Lammergeier, the Thick-billed Raven and the Towny Eagle. Enjoy an optional bird walk this morning, and then drive along the northern escarpment to Chenek, in order to experience the best of the striking Simien scenery. Easily seen in these high mountain meadows, families of Gelada baboons often combine to form large foraging bands of 30-350 animals. This high-altitude area is replete with steep, rocky cliffs, to which Geladas have adapted, and at night, the animals drop over precipice edges to sleep huddled together on ledges.  (B/L/D)
Day 9: An early departure returns us to the royal city of Gondar, where magnificent fortified palaces dominate the landscape. In the 16th and 17th centuries, the fortified city of Fasil Ghebbi was the residence of Emperor Fasilides and his successors.  Surrounded by a 300-foot-long wall, the fortress is a UNESCO World Heritage Site. The oldest and most impressive structure is the two-story palace of built of solid basalt stones. Other royal buildings we visit include the library of Emperor Yohannes I, the House of Song where royal ceremonies took place, the elegant reception and banquet hall of Emperor Bakaffa, and the palace of this king's wife. Finally, view the Church of Debre Birhan Selassie, a beautiful structure with its harmony of brightly colored ceilings completely covered with intricately painted angels. Overnight for one night at the Gondar Hills Resort with stunning views of the city. (B/L/D)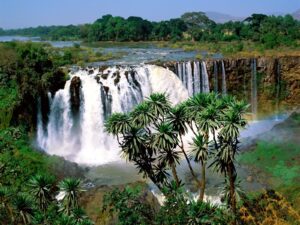 Day 10: Today we drive to Bahir Dar and the Kuriftu Resort and Spa, located on the shore of Lake Tana and our home for two nights. The afternoon is free to relax poolside and rest. Dinner is on our own. (B/L)
Day 11: Lake Tana is the source of the Blue Nile and the dramatic Blue Nile Falls which, in flood-stage, are more than 1,300 feet wide. We will take a small boat across the Blue Nile and then walk to the falls where the gorge it has created is home to a small rainforest. After lunch in a restaurant overlooking Lake Tana and serving traditional Ethiopian food, board a boat for a cruise on the lake to visit several monasteries, including the most impressive of the southern monasteries, Ura Kidhane Mihret, located on the forested Zege Peninsula. The walls of the church are completely covered with remarkable 16th century murals that offer a revealing look into medieval Ethiopia. (B/L/D)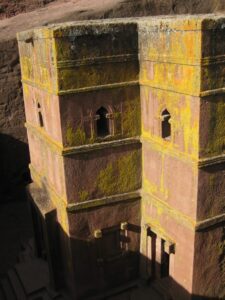 Day 12: Fly from Bahir Dar to Lalibela, a UNESCO World Heritage Site. Lalibela is often called the Eighth Wonder of the World as it contains towering churches that were carved below the earth's surface from the soft, volcanic tuff in which they stand and filled with lively paintings and carvings. Some churches lie almost completely hidden in deep trenches, and others stand in open quarried caves. Within this mystical world, priests go about their daily prayers, seemingly oblivious of the outside world. A complex labyrinth of tunnels and narrow passageways with crypts, grottoes, and galleries connects them all, and we walk through this maze to explore several exquisite churches. Standing 38 feet tall with seventy-two pillars, Medhane Alem is not only the largest in Lalibela, it is the largest monolithic rock-hewn church in the world. The oldest of the churches, dedicated to the Virgin Mary, Bet Maryam is the only Lalibela monolith with a porch. The remains of stunning early frescoes can be seen on the ceiling and upper walls, and there are many elaborately carved details on the piers, capitals, and arches. Bet Golgotha houses remarkable reliefs of figures, early Christian art rarely seen in other parts of Ethiopia. Some consider the cruciform-shaped Bete Giorgis the most perfect and beautiful church here; its interior is dominated by depictions of Saint George killing the dragon. Overnight for two nights at the Mountain View Hotel with spectacular views over the surrounding countryside. In the evening, those interested can witness one of the most important ceremonies of Easter in one of the biggest rock-hewn churches of Lalibela, Bete Medhanialem. The rock-hewn churches will be filled with people who have been fasting for 55 days and have come here to celebrate the resurrection of Jesus Christ. There will be prayers and candlelight ceremonies accompanied by chanting and dancing of the priest until 3am! (B/L/D)
Day 13: Today will be very special as we drive into the remote countryside through breathtaking scenery. Along the way we will have opportunities to experience the local culture – men building thatched roof houses, women weaving, and with luck, enjoy a traditional coffee making ceremony. Our ultimate destination is Yemrehane Khrestos, a striking church and residence constructed using alternating layers of wood and stone and built into an enormous rock overhang.  (Note: To reach this church we must hike a short distance up rather steep terrain.).  Return to Lalibela this afternoon with some free time to return to the churches or relax at the hotel. Dinner is on our own this evening.  (B/L)
Day 14: This morning's flight takes us back to Addis Ababa.  Following lunch, visit a traditional black pottery workshop operated by a woman's cooperative.  Rooms at the Hilton Hotel are confirmed with late checkout prior to our departure for the airport in the evening and our flight back to the USA. (Participants going on the Omo Valley extension will overnight at the Hilton Hotel.)  Dinner is on our own.  (B/L)
Day 15: Arrive USA.
Harar Pre-Trip Extension
Day 1:  Depart the USA for Addis Ababa, Ethiopia.
Day 2:  Arrive to Addis Ababa and overnight at the Hilton Hotel. Dinner is on our own.
Day 3: A morning flight takes us to Dire Dawa, located in the eastern section of Ethiopia, where we board our van to drive into the mountains. Along the way, stop to view a qat (chat) market, where the narcotic plant that is banned in the US and most European countries is being sold. Then it's on to the fortified city of Harar, a UNESCO World Heritage Site. Completely encircled by a city wall built in the 13th through 16th century and closed to visitors until 1887, the city is considered to be the fourth most holy city in Islam after Mecca, Medina and the Dome of the Rock in Jerusalem. The city's mosques include the 16th century Grand Mosque with is beautiful twin towers and slender minaret, and three of its multitude of holy shrines date from the 10th century. Our walk through
the town will be a step back in time. The houses of the town show the impact of African and Islamic traditions and their outstanding interior design constitute the most spectacular part of Harar's cultural heritage. And women dressed in their vibrantly colorful traditional clothing sell everything from firewood to fruit. After dark we go outside the wall to watch as the 'Hyena Man' fearlessly calls these wild dog-like creatures to come feed. As he offers pieces of meat, the animals slowly circle and ultimately are snatching the offal off a stick held in his mouth. Overnight in Harar in the simplest hotel of the trip. (B/L/D)
Day 4:  This morning we continue our explorations of this historic and fascinating town and then return to Addis Ababa and the Hilton Hotel. Dinner is on our own. (B/L)
Omo Valley Post-Trip Extension
The Omo Valley of southern Ethiopia is one of the last undiscovered places on our planet. Three of Ethiopia's eight UNESCO World Heritage Sites are found here and more than 200,000 people representing many different tribes call the area home. The many ethnic groups inhabiting the hills and banks along the Omo River are so cut off from the rest of that world that they have no written languages or calendars.
This region is also rich in natural beauty. The wildlife here is spectacular – the region displays the outstanding biodiversity of Ethiopia with more than 80 large mammal and over 300 bird and species. In this refuge see elephants, hippopotamuses, crocodiles, lions, leopards, cheetahs, giraffes, buffaloes, gazelles and much more!
Learn about this unique land on this six-day pre-trip extension.
Day 14: At the conclusion of the main tour, overnight at the Hilton Hotel in Addis Ababa. Dinner is on our own.
Day 15: Sleep in or spend a leisurely morning exploring the area around the hotel before catching the afternoon flight to Arba Minch, meaning 'Forty Springs' in Amharic. Nestled along the banks of two large lakes, this small town is exceptionally lush and picturesque. Nearby are the villages of the Oromo peoples, the largest tribal group in Ethiopia. Continue on to the Chencha Mountains to visit a Dorze village, made up of beehive-shaped dwellings made of local grasses and wood that can reach heights of 18 feet. Weaving is a primary profession for many Dorze, however, they are also skilled farmers. Their traditional technique for terracing mountainsides ingeniously prevents soil erosion. Overnight at the Paradise Lodge. (B/L/D)
Day 16:  This morning we will embark on an exciting boat trip across Lake Chamo. Its northern shores border the Nechisar National Park and the lake itself is home to a spectacular concentration of Nile crocodiles and is popular with herds of hippopotamus! Next, continue on to Konso, a UNESCO World Heritage Cultural Landscape. With dry stone terraces, an innovative water system, and fortified settlements, it constitutes an amazing example of a living cultural tradition that stretches back more than 400 years. Anthropomorphic wooden statues, grouped to represent respected members of their communities and particularly heroic events, are an exceptional living testimony to funerary traditions that are on the verge of disappearing. In the towns, also view a complex system of stone steles that mark the passing of generations of leaders.  Continue to Jinka, located in the hills above Mago National Park, and overnight in Eco Omo Lodge in one of the safari tent rooms with an en suite bathroom. (B/L/D)
Day 17: Today visit the Mursi tribeswomen who continue to practice the custom of inserting wooden or terra-cotta discs into the ear lobes and stretching of their lower lips to accommodate large ceremonial plates. Generally speaking, the larger the lip plate the more desirable the wearer. In the afternoon we shall journey to Turmi to meet the Hamer tribes. The Hamer are a semi-nomadic, pastoral people. They put up their round huts for a few months wherever there is enough grass for their cows. When the grass has been grazed, they move on to new pasture grounds. Overnight at the Turmi Buska Lodge. (B/L/D)
Day 18:  Journey to Koricho and enjoy lofty views of the Omo River. This place is a settlement for the Karo ethnic groups. Experts in body painting, these groups use clay and locally available vegetable pigments to trace intricate patterns on their faces, chest, arms and legs. Karo men also sculpt and shave their hair into extravagant shapes topped off with several ostrich feathers. Stop by the Dimeka market and experience a stimulating dose of African cultural diversity and tradition, mingling with the different trading tribes. Transfer back to Konso and overnight at the Kanta Lodge overlooking the verdant hills. (B/L/D)
Day 19:  Return to Arba Minch in time to catch the afternoon flight to Addis Ababa and the Hilton Hotel.  Enjoy a free afternoon to rest prior to the late evening transfer to the airport for flights back to the USA.  Dinner is on our own. (B/L)
Day 20:  Arrive to the USA.
Tour Cost
Main Tour Cost: CALL (per person, double occupancy) includes roundtrip international airfare from Washington DC; four Ethiopian domestic flights; all hotels; gratuities to guides and drivers; most meals as noted; entry fees; and ground transportation within Ethiopia.
Cost Does Not Include (for main tour and extensions): A separate donation check for $150.00 per participant made out to the designated donation project; passport or visa fees; airport or departure taxes; alcoholic drinks, beverages or food not included on regular menus; laundry; excess baggage charges; personal tips; email, telephone and fax charges; necessary vaccines or tests; or other items of a personal nature.
Single Supplement: CALL. Should a roommate be requested and one not be available, this supplement will be charged.
Harar Extension Cost: CALL (per person, double occupancy) includes roundtrip airfare from Addis Ababa to Harar; all hotels; meals as noted; entry fees.
Harar Extension Single Supplement: CALL. Should a roommate be requested and one not be available, this supplement will be charged.
Omo Valley Extension Cost:  CALL (per person, double occupancy) with a minimum of four paid participants includes two Ethiopian domestic flights; all hotels; most meals as noted; entry fees; and ground transportation within Ethiopia.
Omo Valley Single Supplement: CALL. Should a roommate be requested and one not be available, this supplement will be charged.
Fuel Surcharges: Far Horizons must pass on price increases when fuel charges are levied.
Donation Checks: As a tour company that benefits from the cultural and natural riches of our destinations, we have a policy of donating to the scientific and cultural projects and museums we visit. This has created a bond between Far Horizons and the academic and local communities that has helped us establish an extensive list of lecturers and contacts in each of our destinations. We ask that each participant write a check to the noteworthy project we designate. The donation amount is $150.00 per person and is made by check directly to the donation project. We will be designating a donation project for this trip shortly. Note that the donation is required as part of your registration for the trip and that it is non-refundable.
Registration
A deposit of $750 per person is required along with your completed and signed registration form. Final payment is due 120 days before departure. Upon receipt of your deposit and completed registration form, you will be sent a reading list and a tour bulletin containing travel information. Prior to the trip, we will send links to various websites of pertinent interest to the trip. Click here to download our Registration Form.
Cancellations and Refunds
Cancellations received in writing at least 120 days before departure will receive a refund less a $450 per person administrative fee. Cancellations received less than 120 days before the departure date will not receive a refund. If for any reason you are unable to complete the trip, Far Horizons will not reimburse any fees. Upon registering for the tour, the purchase of travel protection with both trip cancellation and emergency evacuation is strongly advised. Insurance recommended by Far Horizons can be reviewed by clicking HERE.
Air Ticketing
If you do not fly on the designated group flight, you are responsible for all flight arrangements and transportation (including airport transfers) to join the group. If Far Horizons must change the trip dates or cancel the trip for any reason, Far Horizons is not responsible for any air ticket you may have purchased.
Note About Itinerary Changes
Changes in our itinerary, accommodations, and transportation schedules may occur. A good book to read as well as a flexible attitude and a sense of humor are essential.
Travel in Ethiopia
This trip is for the hardy! This itinerary has been designed to be as comfortable as possible, but Ethiopia is under-developed and the infrastructure is not what we have learned to expect in more modern countries. Our bus is well maintained, but may not be new and there may be some long days with travel over unpaved or partially paved roads. We have carefully chosen hotels that are the best available, but they are frequently not up to Western standards. Within the past two years, the government has privatized most of the old hotels and improvements have been made to make them more comfortable. And there have been many new hotels constructed and we are using several of them.  Many of the religious buildings in Ethiopia are not open to women, and we have included sites in which all are welcome.  Walks of approximately 20-40 minutes may be required to reach some areas, including walks over steep gradients and over poorly maintained paths. The adventurous nature of the itinerary makes it essential that participants be in good physical condition and have the ability to maintain a flexible attitude. Team spirit and a sense of humor will be helpful! If you have questions about your ability to handle this sort of challenge, please call us.