Egyptian Art Tour in Boston, Philadelphia, Brooklyn, New York City
Explore the Best Egyptian Museums in the United States
With Professor Bob Brier and Art Historian, Patricia Remler
Highlights on Far Horizons' Egypt in East Coast Cities Tour
This 7-day Egyptian art tour is our thoughtful attempt to design an educational vacation in the USA based around helping guests explore the very best Egyptian exhibits the East Coast of the USA has to offer.
This tour is led by leading egyptologists Professor Bob Brier and Patricia Remler.

Visit five museums in four cities: Boston, Philadelphia, Brooklyn, New York City, seeing each city's greatest collection of Ancient Egyptian art and artifacts.

You will also enjoy a private presentation on Nubian Art by the former curator at the Museum of Fine Arts, Boston.

Take part in a private viewing of Harvard's 3D virtual reconstruction of the Giza Plateau.

Examine Cleopatra's Needle in Central Park, originally raised in Egypt in 1475BC

Enjoy a festive farewell dinner party at the home of the study leaders (limited to 14 participants)
Discover the Egyptian Art in Boston, Philadelphia, Brooklyn, & New York City
Travel & Tour Egypt in East Coast Cities – Daily Itinerary
Day 1: Arrive to Boston. Overnight for 3 nights
Day 2: Boston's Museum of Fine Arts.
Day 3: Harvard Museum of the Ancient Near East and Digital Giza Project.
Day 4: Brooklyn Museum. Overnight New York for 3 nights.
Day 5: University of Pennsylvania Museum in Philadelphia.
Day 6: Metropolitan Museum of Art in New York City.
Day 7: Depart New York City.
Western interest in ancient Egyptian history and culture has led to extensive archaeological expeditions and innumerable collections of these magnificent antiquities in museums worldwide. If you're looking for the equivalent tour in Europe, consider our Tour of Egyptian Art in Nine Outstanding European Museums
Far Horizons proudly presents a truly unique 7-day excursion to Boston, Philadelphia, Brooklyn and New York City with an emphasis on the Egyptian art at each city's great museums.  
Beginning in Boston, we walk through the Museum of Fine Arts.  Here, you will enjoy a private presentation on Nubian Art by the former curator at the MFA, Dr. Rita Freed.  At Harvard University, you will learn about the ground-breaking work being done on the digital Giza Project.  
At the University of Pennsylvania in Philadelphia, you will view the extraordinary Egyptology assemblage in the newly renovated Museum of Archaeology and Anthropology, and at the Brooklyn Museum. 
Finally, we spend the day examining the bounteous Egyptian collection at the Metropolitan Museum of Art in New York City and nearby Cleopatra's  Needle – an Aswan granite obelisk from Egypt that was transported and erected in Central Park.
Professor Bob Brier and art historian Patricia Remler will teach us about these outstanding Egyptian relics and their migration to their museums in the USA. 
Overnights will be in 4- and 5-star, centrally located hotels to help guests experience all that Boston and New York City have to offer. And,on our last evening, we will proceed to the Bronx to the home of our study leaders who will host us for our final Egyptomania dinner party. 
Won't you join Far Horizons and an exclusive group of 13 others on this very special and unusual itinerary exploring exquisite Egyptian art? If you have any questions about this tour of Egyptian exhibits in the USA, please get in touch. And for more carefully designed vacations, browse our historical and archeological tours in the Americas.
Tour Leaders on this East Coast Tour of Egyptian Exhibits in the USA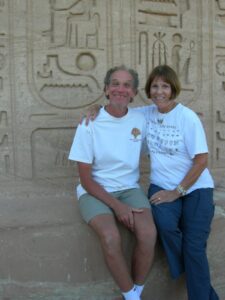 Bob Brier received his Ph.D from the University of North Carolina. He is not only one of the nation's leading Egyptologists, but a brilliant lecturer and storyteller. He is professor of philosophy at the C.W. Post Campus of Long Island University and the author of several books including Cleopatra's Needles: The Lost Obelisks of Egypt, The Daily Life of the Ancient Egyptians, and The Secret of the Great Pyramid: How One Man's Obsession Led to the Solution of Ancient Egypt's Greatest Mystery. 
Professor Brier has served as director of the "Egyptology Today" program of the National Endowment for the Humanities, and as host of the Learning Channel series, The Great Egyptians. He has twice been selected as a Fulbright Scholar, and has received Long Island University's David Newton Award for Teaching Excellence in recognition of his achievements as a lecturer.
Patricia Remler is an author, photographer, and art historian. She was the Researcher for four important Learning Channel documentaries – the three-part Pyramids, Tombs, and Mummies, the six-part series The Great Egyptians, the one-hour Napoleon's Obsession: The Quest for Egypt, and the three-part series Unwrapped, The Mysterious World of Mummies. She is the author of Egyptian Mythology A – Z.
Egypt in the USA's East Coast Cities Tour Itinerary
Touring the Museums of Boston, Philadelphia, Brooklyn, & New York City
(B) breakfast, (L) lunch, (D) dinner
Day 1:
Boston, Massachusetts
Meet at 5pm for cocktails with Bob Brier and Pat Remler at the 4-star Hilton Back Bay hotel, Boston, Massachusetts, our home for the next three nights. (Note: no airport/hotel transfer is included.) Our festive welcome dinner will be in a private room at the hotel, with stunning views of the city.  (D)
Day 2:
Boston's Museum of Fine Arts
Begin today at the Museum of Fine Arts (MFA), where the renowned exhibit of Egyptian and Nubian antiquities features an array of 45,000 sculptures, mummies, sarcophagi, and jewelry, that covers 7,000 years of Egyptian history. 
The notable group of relics was acquired mainly through the Harvard University – Boston Museum of Fine Arts Expeditions undertaken by George Reisner in the early 20th century. Of particular interest is the impressive collection of Nubian art — the largest and most important of its kind outside of Sudan.  
If available, we will meet with Senior Curator, Dr. Lawrence Berman, to enter the museum's storage area and view the vast holdings. In the afternoon, we enjoy a specially-arranged presentation on Nubian Art at the home of Dr. Rita Freed, Egyptologist and former curator for the department of ancient Egyptian, Nubian, and Near Eastern art at the MFA. Gather for our welcome dinner at a neighboring local restaurant. (B/L/D)King Menkaura and queen MFA from Larry Berman at MFA.

Day 3:
The Harvard Museum of the Ancient Near East
This morning we transfer to Cambridge, home to the Harvard Museum of the Ancient Near East (HMANE). Formerly the Harvard Semitic Museum, founded in 1889, it was conceived as a teaching tool to study the ancient histories and cultures of people who spoke Semitic languages.  
Here, our study leaders, Bob Brier and Pat Remler, will take us through the gallery dedicated to Egypt, comprising dazzling sculptures, paintings, and textiles covering four millennia from the Old Kingdom to the advent of Islam. 
After lunch at a nearby restaurant, we return to campus for a private meeting with Dr. Peter Der Manuelian, director of both HMANE and The Giza Project at Harvard University. Begun in 2000, The Giza Project's goal was to digitize the findings and provide access to all archaeological records from George Reisner and the Museum of Fine Arts' remarkable expedition to Giza.  
The project has since moved to Harvard and, under Dr. Manuelian's direction, has started a 3D virtual reconstruction of the Giza Plateau as it may have looked when first built. To date, approximately 20 tombs and monuments have been modeled in detail, with many hundreds more still to be digitized. 
Dr. Manuelian will meet with our group and explain how The Giza Project provides new ways to sightsee, explore, and absorb the pyramids and their surrounding cemeteries. Return to the hotel in the late afternoon with dinner on our own. (B/L)
We leave Boston this morning for Brooklyn, New York. After lunch at a local restaurant, we will explore the Brooklyn Museum, which has one of the finest exhibitions of Egyptian artifacts in the United States. 
A particularly striking item, the 5,000-year-old 'Bird Lady' is among the oldest statuettes found in Egypt, perhaps representing a priestess or a goddess dancing or performing ritualized mourning at a funeral ceremony. 
Between 1916 and 1947, the museum acquired the splendid collection from pioneer American Egyptologist Charles Edwin Wilbour who dug in Egypt in the late 19th century, including his professional library. 
Since 1976, the museum has also conducted excavations at the Temple Precinct of the goddess Mut at Karnak, and many of its discoveries are shown here as well. 
Continue into New York City and the 5-star Carlyle Hotel on the Upper East Side, our home for the next four nights.  Since 1930, this luxurious boutique hotel located only a few blocks from Central Park has epitomized sophistication and elegance.  Dinner will be at an elegant local restaurant. (B/L/D)
Day 5:
Penn Museum  
On day 5, we visit the University of Pennsylvania Museum of Archaeology and Anthropology in Philadelphia — commonly called Penn Museum. 
Penn Museum has recently gone through an extensive renovation. Along with the completely redesigned Africa Galleries and Mexico/Central America Gallery, a new entrance was created. If available, the Co-Curator of Egyptian Art will tell us about the formidable process of moving the museum's famous colossal pink granite sphinx that now dominates the new entry arcade. 
We then will inspect the vast amounts of Egyptian and Nubian material, unusual in that the majority was obtained through archaeological investigations. Before beginning its own projects, the museum financially supported the work of the Egypt Exploration Fund (later Egypt Exploration Society), a British organization responsible for scientific digs throughout Egypt, including that of Sir William M. Flinders Petrie. After returning to New York City in the late afternoon, dinner is on our own. (B/L)
Day 6:
Cleopatra's Needle and the Metropolitan Museum of Art
We will begin the day with an elegant brunch at the Carlyle Restaurant in our hotel. We will then walk the few blocks to Central Park with a stop at Cleopatra's Needle, a 3,000-year-old Aswan-granite obelisk from Egypt. 
Originally erected at Heliopolis on the orders of Thutmose III in 1475 BC, it was later transported by the Romans in 12 BC to Alexandria. In 1878, the Khedive gave the monument to the United States. While viewing this superb creation, we will learn about the formidable task of moving it to New York City, as well as the history behind its hieroglyphic inscriptions commemorating Ramesses II's military victories.  
We continue to the world-renowned Metropolitan Museum of Art (MET), where imposing Egyptian relics are spread over 39 rooms. The Egyptian display is arranged in chronological order to more easily understand the development of this long-lived civilization. 
One of the points of interest is the Temple of Dendur, built circa 15 BC by the Roman emperor Augustus. The temple was dedicated to the goddess Isis and to two sons of a local Nubian ruler who had aided the Romans in their wars with the queen of Meroe. Due to its original location in Lower Nubia, about fifty miles south of modern Aswan, the temple was dismantled in the 1960s to save it from the rising waters of Lake Nasser after the construction of the Aswan High Dam. 

In the late afternoon, return to the hotel to rest before our farewell dinner party at the home of our study leaders. After a memorable meal, there will be time for Bob Brier to show us through his extensive library and his personal collection of Egyptomania paraphernalia.  

(Note: transportation for the morning and afternoon visits will not be provided. From the hotel, the walk to/from the MET is approximately 10 minutes each direction. A bus will transport us to dinner.) (B-brunch/ /D)
Day 7:
Independent departures from New York City. (Note: no airport/hotel transfer is included.) (B)
Tour Cost
$7,595.00 (per person, double occupancy) (per person, double occupancy) includes all hotels; most meals (as listed in the itinerary); gratuities to drivers; ground transportation as noted in the itinerary; and entry fees.
Single Supplement: $1,495.00.  Should a roommate be requested and one not be available, the single supplement will be charged.
Cost does not include: domestic or international flights to meet/depart the group; a separate donation check (per person) for $150.00 to the donation project; passport or visa fees; airport taxes; beverages or food not included on regular menus; laundry; excess baggage charges; personal tips; alcoholic drinks; necessary vaccines and tests; telephone, email, and fax charges; or other items of a personal nature.
Fuel Surcharges: Far Horizons must pass on price increases when additional fuel charges are levied.
Donation Checks: As a tour company that benefits from the cultural and natural riches of our destinations, we have a policy of donating to the scientific and cultural projects and museums we visit. This has created a bond between Far Horizons and the academic and local communities that has helped us establish an extensive list of lecturers and contacts in each of our destinations. We ask that each participant write a check to the noteworthy project we designate. The donation amount is $150.00 per person and is made directly to the donation project. For this tour, we have designated the Giza Project at Harvard University – https://community.alumni.harvard.edu/give/34086571 – where we will receive a private tour. Note that the donation is required as part of your registration for the trip and that it is non-refundable.
Registration
A deposit of $750 per person is required along with your registration form. Final payment is due 120 days before departure. Upon receipt of your deposit and completed registration form, you will be sent a reading list and a tour bulletin containing travel information. Prior to the trip, we will send links to various websites of pertinent interest. Click here to download our Registration Form.
Cancellations and Refunds
Cancellations received in writing at least 120 days before departure will receive a refund less a $450 per person administrative fee. Cancellations received less than 120 days before the departure date will not receive a refund. If for any reason you are unable to complete the trip, Far Horizons will not reimburse any fees. Upon registering for the tour, the purchase of travel protection with both trip cancellation and emergency evacuation is strongly advised. Insurance recommended by Far Horizons can be reviewed by clicking HERE.
Air Ticketing
International or domestic flights and airport transfers are not included in the cost of the trip. Far Horizons is not responsible for any air ticket you may have purchased. Please send your complete air schedule as soon as you have it. NOTE: Please contact Far Horizons if you would like for us to handle your air ticketing.
Private Tours of Museums
The private tours of museums and talks by specialists are scheduled in advance and include a donation to each. Specialists working at these museums are excited about showing their work to interested enthusiasts. However, please be aware that there may be times when the director or a member of the staff may not be on site when our groups arrive due to other commitments.
Note about Travel
The group will be walking into and around cities and museums extensively. All participants must be physically active and able to walk independently for distances that may exceed three miles or more each day throughout our very full touring schedule. Keeping up with the group is each participant's responsibility; please do not expect assistance from the other group members or staff.  If you have questions about whether or not you are physically capable of this level of activity, please contact the Far Horizons office.
This tour is limited to 14 participants