Guatemala & El Salvador: Lost Cities of the Ancient Maya Tour
Tour Guatemala and El Salvador: These two Central American countries have much to offer the resolute Maya enthusiast. Although way off the tourist trail, fascinating Maya remains, including the UNESCO World Heritage Site of Joya de Cerén, are found here.
with Dr. Stanley Guenter
Why Take This Guatemala & El Salvador Tour?
Led by our popular Maya specialist, Stanley Guenter

Enjoy "African Queen" boat rides on jungle rivers to many of the sites

See new excavations at Ceibal

Stay in Suchitoto, named "Cultural Capital of El Salvador" by the United Nations

Visit the UNESCO World Heritage Site of Joya de Cerén, the Pompeii of the Americas

Limited to 14 participants
Daily Guatemala & El Salvador Tour Itinerary
Day 1: Fly to Guatemala City and overnight.
Day 2: Fly to the Flores, Petén. Boat to Aguateca.
Day 3: Dos Pilas.
Day 4: Punta de Chimino, Ceibal.
Day 5: Yaxhá, Topoxté.
Day 6: Fly to Guatemala City. Drive to Suchitoto, El Salvador.
Day 7: Cihuatán, Suchitoto.
Day 8: Tazumal, Santa Ana, Casa Blanca.
Day 9: Joya de Cerén, San Andrés, Cerro Verde National Park.
Day 10: National Museum. City tour of San Salvador.
Day 11: Fly back to the USA.
Explore the History of Guatemala & El Salvador

Although way off the tourist trail, the architectural remains in these two Central American countries have much to offer the resolute Maya enthusiast.
This newly-designed 11-day tour begins in the Petéx-Batún region, the most inaccessible and rarely-visited area of Guatemala. Today it remains lightly populated, and yet more than 1500 years ago Maya rulers jockeyed for supremacy as they created immense cities here.
Today, the glorious remains and the texts were written on carved stone monuments affirm the power of these kings. Our explorations take us to Dos Pilas, the most remote city in this region. The road to Ceibal and Aguateca is the Río Pasión or Passion River, and we will travel by riverboat along the waterways to see these splendid remains that have stood silently in the jungle for over 1,000 years. We will also visit Ceibal, where recent radiocarbon tests have pushed the dates for the city back to 1,000BC, the enormous Yaxhá, and the island of Topoxté.
Located in the south of the Mesoamerican cultural area, El Salvador is home to significant archaeological finds including the remains of several Mayan settlements. One such site, Tazumal, features large, mostly intact structures that date to the first century. Cihuatán was an immense post-classic city that controlled trade with Honduras and the Caribbean.
Like Pompeii and Herculaneum in Italy, Joya de Cerén was buried under layers of ash from an eruption of a volcano in about 600 AD. The remarkable preservation formed a time capsule of exceptional scientific value.
Join us to take in these amazing sites!
(For more explorations of Central and South American culture and history, explore our full range of Tours to the Americas.)
If you have any questions, please get in touch.
Your Guatemala & El Salvador Tour Leader – Dr. Stanley Guenter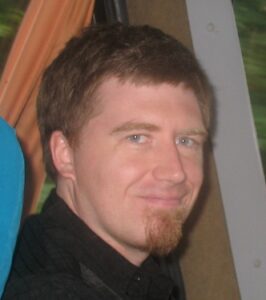 Stanley  Guenter was first introduced to the Maya culture and ancient script at the age of ten. He has been studying Mesoamerican cultures ever since. He obtained his undergraduate degree at the University of Calgary, his Master's Degree at La Trobe University, in Melbourne Australia, and his Ph.D. in Archaeology from Southern Methodist University.
He has worked on archaeological projects in eastern Tabasco, Mexico, and is currently an epigrapher and archaeologist with two archaeological projects in Guatemala: The Regional Archaeological Investigations of Northern Petén, Guatemala (RAINPEG), and the Southern Methodist University El Peru/Waka' project. Dr. Guenter is one of the outstanding rising stars of Mesoamerican writing systems and has taught and presented at many conferences in Canada, the United States, Australia, Germany, and Denmark.
He has done a full study of the inscriptions of Dos Pilas in relation to Tikal (you may see the readings on mesoweb.com). His knowledge of the written history of the ancient Maya brings sites to life!
'Stan was outstanding as the study leader. His enthusiasm was catching. He can read the glyphs upside down when showing us drawings from the books that he carried. Not only was he extremely knowledgeable, but he shared some of his adventures in his career in Archaeology. That was most entertaining.'  – Lynda Hamilton
'Stanley Guenter is amazing!!! This is the second time I have traveled with him as study leader and would not hesitate to travel with him again. He has a passion for the Maya and their archaeological sites, possessing a vast knowledge of not only the ancient hieroglyphic written language, as an epigrapher, but also the history, the kingdoms, and the current scholastic views of many aspects of the ancient Maya. He is a natural and tireless educator who is willing to share his vast knowledge of the ancient world with those who wish to learn. Stan is a fine person with an extensive academic background and a wonderful travel leader/companion. Kudos!!' – Karen Raab
Guatemala & El Salvador Tour Itinerary
(B) breakfast, (L) lunch, (D) dinner
Day 1: Fly to Guatemala
Fly to Guatemala City and overnight at the Hotel Westin Camino Real.
Day 2:​ Travel Tropical Waterways to Aguateca
An early morning flight takes us to Flores, Petén, where an "African Queen" boat ride takes us through lovely tropical waterways to the Maya city of Aguateca. Eons ago, a huge fissure split the area, and the ancient Maya built a bridge across this immense crack in the earth that still stands today. While Aguateca had been a military refuge for centuries, in the early 8th century it became a twin capital with Dos Pilas.
After the fall of Dos Pilas in 761 AD, it became the main royal capital for the last king of this dynasty, Tan Te' K'inich, ruling until the city was overrun by enemies in a fiery cataclysm. Aguateca was the last center in the Petéx-Batún to fall. We then motor up a primeval lagoon to Punta de Chimino, where the ancient Maya built a settlement on the tip of a peninsula jutting into the mighty Petéx-Batún Lagoon. Our home for the next two nights is Chiminos Lodge, a series of lovely bungalows built within the site center. (Chiminos Lodge only has five large bungalows, and singles may not be available. (B/L/D)
Day 3: Explore the Ancient Petéx-Batún Confederacy  
Our route to Dos Pilas, capital of the ancient Petéx-Batún confederacy, takes us by truck (and perhaps by foot) through six miles of jungle. Recent excavations show that at the end of the classic period hastily-built fortification walls were erected around the city's center, and some actually climb up and over the temples in order to protect the most sacred areas. Hundreds of spear points found within the walls suggest intense warfare, and the inscriptions on recently discovered hieroglyphic stairways tell the story of an audacious 21-year-old prince of Tikal, B'ajlaj Chan K'awil, who in 648 AD defeated Tikal's army and established Dos Pilas as his 'royal court in exile.'
Through military conquest and marriage alliances, he and his descendants gained control of much of southwest Petén until his grandson was ousted from Dos Pilas in 761 AD by angry former vassals. Archaeological work has proved that "blood was the mortar of ancient Maya life" (to quote Dr. Linda Schele), and the city-states were constantly at war to acquire royal victims needed for blood sacrifice to the gods. Picnic among the boldly carved monuments scattered throughout these memorable ruins before returning to the hotel for an afternoon walk through Punta de Chimino. More than 2,000 years ago, this fortified town was well protected from invasion by three moats and we will see these immense trenches and the islands created from the soil that was removed to create them. (B/L/D)
Day 4: Walk the Center of Ceibal

Today we visit the ceremonial center of Ceibal. Along the forest paths and within the site center beautifully carved monuments tell of the installation of a new ruler and an important gathering of leaders from nearby cities to commemorate this event. Finely carved stelae, or carved stone monuments, stand at the edge of the rainforest clearings and scarlet macaws can often be seen soaring along the ridges above the canopy. After a picnic lunch seated among these exquisite buildings, we will travel back down the river and drive to Lake Petén-Itzá and the Villa Maya, our home for two nights. (B/L/D)
Day 5: Visit the Yaxhá Lagoon

Our drive east takes us to Yaxhá, a lovely site overlooking a lagoon of the same name. The location of terrible battles between Tikal and Naranjo in the 8th century, this huge center now lies in the shadow of a jungle canopy.
Today the remains of this once-great city are hidden under a lush rainforest canopy. Punctuated by the loud calls of howler monkeys proclaiming their dominance over the territory, this remote national park is teeming with wildlife, including a myriad of colorful and raucous birds. Nearby is Topoxté, an island site in the Yaxhá Lagoon that has been studied and consolidated by a joint Guatemala-German project. During excavations, huge jars filled with human bones were found along with an extensive tunnel system connecting chaltunes, and underground storage containers. (B/L/D)
Day 6: Travel into El Salvador

Fly back to Guatemala City this morning and drive across the border into El Salvador to Suchitoto, a picturesque colonial town perched on a hillside overlooking a beautiful lake. Founded in 1542 by Spanish explorers, the historic center has been designated a national cultural heritage site. Overnight in the charming Casa 1800 Suchitoto. (B/L/D)
Day 7: Uncover Mesoamerican Culture

Begin this morning at Cihuatán, an immense Post-classic city located in the extreme south of the Mesoamerican cultural area. Built in the 8th century on a low ridge in the center of the Acelhuate Valley, it could control trade between the Caribbean, Honduras, and the rich river basins and coastal plain of El Salvador.
Located at the base of Guazapa Volcano, the fertile soils were utilized extensively for cacao as well as staples like corn, squash, and beans. The site was surely picked for defense as well as the Western Ceremonial Center is surrounded by a low wall that probably supported a wooden palisade. Return to Suchitoto which has a thriving arts scene. Named "Cultural Capital of El Salvador " by the United Nations, Suchitoto attracts artists from all over the world to its annual art festivals. We will stop to browse galleries showcasing the works of El Salvadoran artists. (B/L/D)
Day 8: Wander Through Casa Blanca

Our all-day tour takes us to Tazumal, surrounded by the modern city of Chalchuapa, one of the most important pre-Columbian Maya archeological sites in El Salvador. First excavated in the early 1940s by archaeologist Stanley H. Boggs, the remains are spread over a large area with the major pyramid rising 75 feet. The site also displays remnants of tombs, smaller pyramids, a ball court, and a complex drainage system. Found here is an interesting carved basalt monolith standing 8 feet tall that depicts a handsomely adorned character with definite Olmec features. The site museum exhibits some of Stanley Boggs' early finds.
At Casa Blanca, another large Maya site, several pyramids have been excavated and partly restored. Most of the artifacts in the site museum are from Casa Blanca's Late Preclassic. Nearby San Andrés served as the provincial capital over the smaller settlements in the Zapotitán Valley between 600 AD and 900 AD. Archaeological evidence suggests that the Maya of San Andrés were trading with people from Honduras, Mexico, and Belize. Next, depart for the charming village of Concepción de Ataco, located in the western mountains of El Salvador and surrounded by coffee fields. Salvadoran mural painting has existed for decades. Influenced by Mexico's mural legacy, while reflecting El Salvador's own cultural and political identities, Concepción de Ataco showcases this striking street art. The walls of the town are covered with vibrant paintings, many representing the local ceremonies and traditions of the villagers, and we will stroll along the streets to view some of these fascinating canvases. Overnight for one night at the Casa 1800 Ataco in Concepción de Ataco. (B/L/D)
Day 9: Joya de Cerén, UNESCO Site

Today we visit Joya de Cerén, declared a UNESCO World Heritage Site in 1993. Like Pompeii and Herculaneum in Italy, it was buried under layers of ash from an eruption of a volcano in about 600 AD. Although a warning earthquake apparently gave residents time to flee, the ash preserved their personal belongings, from garden tools and bean-filled pots to sleeping mats and religious items, essentially freezing the agricultural village in time. The exceptional condition of the artifacts that were left behind, along with municipal structures and communal baths, provide an insight into the daily lives of a 6th-century Mesoamerican farming community. In the nearby valley of Zapotitán, lie the remains of San Andrés.
First established around 900 BC, it was destroyed in the 3rd century by a volcanic eruption. In the 5th century, the people rebuilt their city and for more than 300 years the powerful lords ruled over the area. Ceramics excavated from the site suggest that the city was an important trade center. In the afternoon, we drive into the Cerro Verde National Park, nestled between three volcanoes, to enjoy panoramic views including the crater lake Coatepeque, celebrated as one of the most beautiful lakes in the world. The lush forest here is teeming with flora and fauna and is a bird watcher's paradise with migratory species like woodpeckers, jays, emerald toucanets, and 17 species of hummingbirds. Continue to San Salvador, the capital of the country, where we overnight for two nights in the Hotel Barceló San Salvador. (B/L/D)
Day 10: The City of San Salvador

Our city tour of San Salvador begins in the Museo Nacional de Antropologia David J. Guzman. This excellent museum has a range of artifacts to view, both Pre-Columbian and post-conquest, along with an exhibit on local handicrafts.
We will then see the city's cathedral and the National Theater, the oldest in Central America. Built in the French Renaissance style, it was declared a national monument in 1979. Our final stop will be in the Mercado Nacional de Artesanías in search of gifts to bring home. Our final dinner party will be in one of San Salvador's best restaurants. (B/L/D)
Day 11: Return to the USA
Fly back to the USA. (B)
Guatemala & El Salvador Archaeology Tour Cost
Cost: $8,695.00 (per person, double occupancy) includes roundtrip international airfare from US gateway city to Guatemala City, Guatemala and from San Salvador, El Salvador to US gateway city; the two domestic flights within Guatemala; all ground transportation; all hotels; all meals (except for the day of arrival); entry fees; and gratuities to guides and drivers.
Single Supplement: $645.00 Should a roommate be requested and one not be available, the single supplement will be charged. NOTE: Singles may not be available at Chiminos Lodge. (Note: Chiminos Lodge only has five bungalows and singles may not be available. But the cabins are very large and the L shape offers adequate privacy.)
Cost does not include: A nonrefundable donation as outlined; airport transfers for flights other than designated group flights; meals other than those listed in the itinerary; food, alcoholic and other beverages not on set menus; passport and visa fees; airport fees and taxes; excess baggage charges; necessary vaccines or tests; email, telephone, and fax charges; laundry or other items of a personal nature.
Fuel Surcharges: Far Horizons must pass on price increases when additional fuel charges are levied.
Donation Checks: As a tour company that benefits from the historical, cultural and natural riches of our destinations, we have a policy of donating to scholars, archaeological and cultural projects, and museums in each of our destinations. This has created a bond with the academic community that allows you to gain an 'insider's view' of work being done in each country. We ask that each participant write a check to the noteworthy project we designate. The donation amount is $150.00 per person and is made by check directly to the donation project.
Registration
A deposit of $750 per person is required along with your registration form. Final payment is due 120 days before departure. Upon receipt of your deposit and completed registration form, you will be sent a reading list and a tour bulletin containing travel information. Prior to the trip, we will send links to various websites of pertinent interest. Click here to download our Registration Form.
Cancellations and Refunds
Cancellations received in writing at least 120 days before departure will receive a refund less a $450 per person administrative fee. Cancellations received less than 120 days before the departure date will not receive a refund. If for any reason you are unable to complete the trip, Far Horizons will not reimburse any fees. Upon registering for the tour, the purchase of travel protection with both trip cancellation and emergency evacuation is strongly advised. Insurance recommended by Far Horizons can be reviewed by clicking HERE.
Air Ticketing
International flights are included in the cost of the trip. If you do not fly on the group flight, you are responsible for all flight arrangements and transportation (including airport transfers) to join the group.  If Far Horizons must change the trip dates or cancel the trip for any reason, Far Horizons is not responsible for any air ticket you may have purchased.  If you issue your own international flight, please send the complete schedule as soon as you have it.
Private Tours of Archaeological Sites
The private tours of archaeological sites and talks by specialists are scheduled in advance and include a donation to each. Specialists working at these sites are excited about showing their work to interested enthusiasts. However, please be aware that there may be times when the director or a member of the staff may not be on site when our groups arrive due to other commitments.
Note about Travel in Guatemala and El Salvador
This trip is for the hardy! The adventurous nature of the itinerary makes it essential that you be in good physical condition. Long walks may be required to reach some areas, including walks over steep gradients and over poorly maintained paths, for as many as two miles or more each day. Participants, unassisted, must be able to walk on rough trails and keep up with group members. To reach the top of some of ceremonial centers steep climbs up tall, uneven stairs are necessary. The roads in this part of the world are frequently dirt, and may involve long drives over uneven terrain. Meals will not be haute cuisine and several lunches will be picnics. Remember that bellhops are seldom found in the jungle! A flexible attitude, team spirit and a good sense of humor are essential! If you have further questions about the demands of the trip, please call us.
This Archaeological Tour to Guatemala and El Salvador is limited to 14 participants