Guatemala Tour: The Enduring Maya
Tour highland Guatemala's archaeological sites, explore traditional Maya markets, experience shamanistic practices, and enjoy the Day of the Dead kite flying festival!
with Dr. Stanley Guenter
Why travel on this tour?
See huge kites flying during Dia de los Muertos festivities at Santiago Sacatepéquez
Spend four days in Antigua, a UNESCO World Heritage City
Explore the remains of K'iche' and Kaqchikel capital cities – Iximché and Utatlán
Uncover the history of Abaj Takalik as revealed on carved stone monuments
Discover village markets in Chichicastnango and San Francisco el Alto
Learn about Maximón, a cigar-smoking, whisky-drinking indigenous deity
Experience shamanistic rituals at sacred caves
Limited to a maximum of 14 participants
Daily Itinerary
Day 1: Arrive into Guatemala City.
Day 2: Popul Vuh Musuem, Ixchel Museum, Archaeology Museum.
Day 3: Mixco Viejo.
Day 4: Antigua Walking Tour.
Day 5: Coffee Farm Tour.
Day 6: Iximche, Nimaj'ay Sacred Cave.
Day 7: Santiago Atitlan.
Day 8: San Antonio Palopó. Utatlán.
Day 9: Chichicastenango market. Pascual Abaj.
Day 10: San Francisco el Alto. San Andrés Xecúl.
Day 11: Zunil. Abaj Takalik. El Baul, La Democracia.
Day 12: Sacatepequez Kite Festival.
Day 13: Return to the USA.
What is the Kite Festival?
On November 1, or Día de los Muertos, families all over Guatemala gather in cemeteries to celebrate and remember their loved ones. In Sacatepequez, a unique festival is held. For months, the Maya communities work on constructing enormous kites made of bamboo and tissue paper festooned with electrifying multi-hued designs. And on the Day of the Dead, dressed in their most glamorous clothing, people head to the cemetery to clean their family graves and decorate the burial plots with vibrant flowers and colorful candles. It is a day of celebration, with music, dancing and abundant traditional food, along with flying the kites. The most spectacular are the massive kites standing upright on display, as large as 10-15 feet tall. It's believed that as the kites rise into the sky, they communicate with the spirits of their ancestors.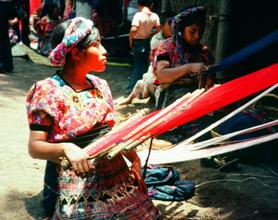 Join Far Horizons on a very special 13-day trip through the world of the Guatemalan Highland Maya to learn the history of pre-Columbian civilizations and how the Spanish conquest affected indigenous people. See the Preclassic site of Tak'alik Ab'aj , where incised monuments echo themes found throughout Maya history, and two K'iche' and Kaqchikel capital cities – Iximché and Utatlán—which were still inhabited when the Spanish arrived. These fortified cities were not easily defeated by the Spanish, as we climb over the ravines and moats protecting them we will begin to understand why. In the extraordinary city of Antigua, behold the majestic ruins of Colonial New Spain and contemplate how the architecture of Christian conversion was adapted to Maya beliefs.
Today's Highland Maya practice religious rituals based on ceremonies with roots in the world of their ancient forebears along with the world of Medieval and Renaissance Spain. We will have the opportunity to witness some of these rites during visits to churches where Maya presently worship, holy sites open to foreigners, and Quemaderos, or sacred shrines, hidden places where shamans come to worship in secret. See the blending of these beliefs as we observe the veneration of Maximónes, also known as San Simón, cigar-smoking, whisky-drinking indigenous deities that are worshiped as living gods (of course, without the approval of the Roman Catholic Church).
This wonderful trip is scheduled to include Day of the Dead festivities held in Santiago Sacatepéquez where huge, beautiful kites are flown to raise the souls of the dead to heaven and to turn away evil spirits. The inhabitants of this area believe that on November 1st they can communicate with their ancestors by flying these colorful kites high in the air with messages of happiness.
Guatemala Tour Leader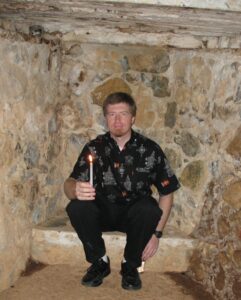 Stanley Paul Guenter was first exposed to Maya culture while living as a child in Belize in the early 1980s. He obtained his undergraduate degree at the University of Calgary, his Master's Degree in anthropology at La Trobe University, in Melbourne Australia, and his PhD in anthropology from Southern Methodist University.  A specialist on the Maya, he has taught hieroglyphic inscriptions and presented at many conferences in Canada, the United States, Australia, Germany and Denmark. Dr. Guenter has worked on archaeological projects in eastern Tabasco, Mexico and is currently an epigrapher and archaeologist with three archaeological projects in Guatemala.
"Stan is amazing! He was full of information and attentive, and was always so quick to share. He was very attentive and patient with questions. He had a great sense of humor too and a very pleasant, easy going personality. I hope you can entice him to lead future trips!" – David  Westphal

"He's a great tour leader – smart, articulate, and considerate. I would give him an A+++" – Elizabeth Wray

"Stan is fantastic!  I am very impressed by the depth & breadth of his knowledge of the Maya." – Ben Azman

"Stan really made the trip for us. He is flexible, accommodating, kind and considerate – AND (and this is a huge 'and') knowledgeable, excited, passionate, and caring about the Maya, their structures, their art, their history… His excitement and enthusiasm are contagious. Keep him!" – Pat Meany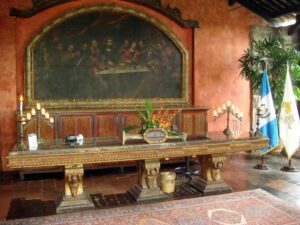 Guatemala Tour Itinerary: The Enduring Maya
(B) breakfast, (L) lunch, (D) dinner
Day 1: Fly from the USA to Guatemala City. Upon arrival, transfer to the Westin Camino Real and overnight for one night. (D)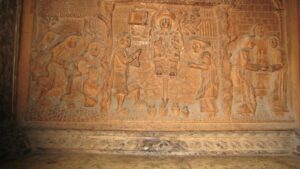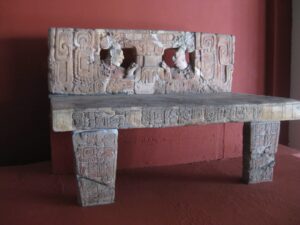 Day 2: This day is devoted to three fascinating museums. The Ixchel Museum contains spectacular Maya textiles and indigenous clothing, and the Popol Vuh Museum highlights one of the best collections of pre-Columbian and colonial art in Guatemala. In the afternoon, go to Guatemala's most renowned museum. The National Museum of Archaeology and Ethnology which contains an excellent collection of large and beautifully carved Maya monuments including a magnificent throne, uniquely decorated with two heads carved almost in full round. Time permitting, view the Great Guatemalan Sinkhole. In 2010, a gargantuan hole, 60 feet wide and 30 stories deep, opened up in the middle of Guatemala City, swallowing a three-story building. Move on to Antigua and overnight for four nights at the Hotel El Convento, an elegant hotel set in lush gardens and built around the excavated remains of a 16th-century monastery. Dinner tonight is on your own. (B/L)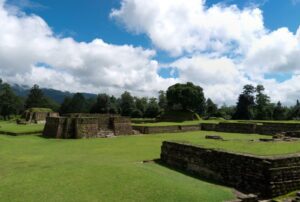 Day 3: Depart for a very special archaeological site, Mixco Viejo. Perched on a high plateau high above the Motagua River, the site was clearly constructed with defense in mind.  Designed to withstand siege, the fortified city is protected on all sides by deep ravines and can be entered only along a single-file entryway. At the time of the Spanish conquest, Mixco Viejo was a strong regional capital and the imagery of power manifest in the temple complexes, ball courts and ritual art mirrors Maya sites through time. Dinner is free to enjoy one of the city's many fine restaurants. (B/L)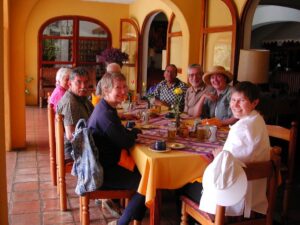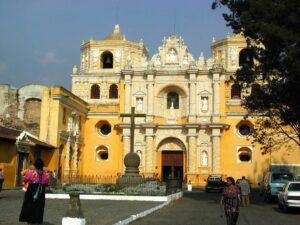 Day 4: Antigua is a peaceful and beautiful relic of bygone days with cobbled streets and whitewashed houses that look almost as they did two hundred years ago. This morning's walking tour takes us to the churches of La Merced, Santa Clara, the Cathedral, and Via Cruz past the Stations of the Cross to El Calvario at the end of the Avenida de los Pasos. Inside the overwhelming ruins of the Monastery of San Francisco, see fresco fragments and architectural details which likely date to the 16th-century. The rest of the day is free to wander this lovely city with lunch and dinner on our own. (B)
Day 5: Today venture outside the city and get a taste of local life by experiencing a special tour led by a coffee farmer. Enjoy a brief but refreshing hike up Volcán Agua to see the coffee fields and learn about the machinery used to process coffee. Conclude by roasting your own coffee employing traditional Guatemalan methods. Return to Antigua and enjoy dinner on your own. (B/L)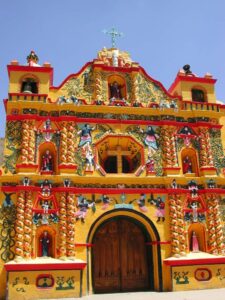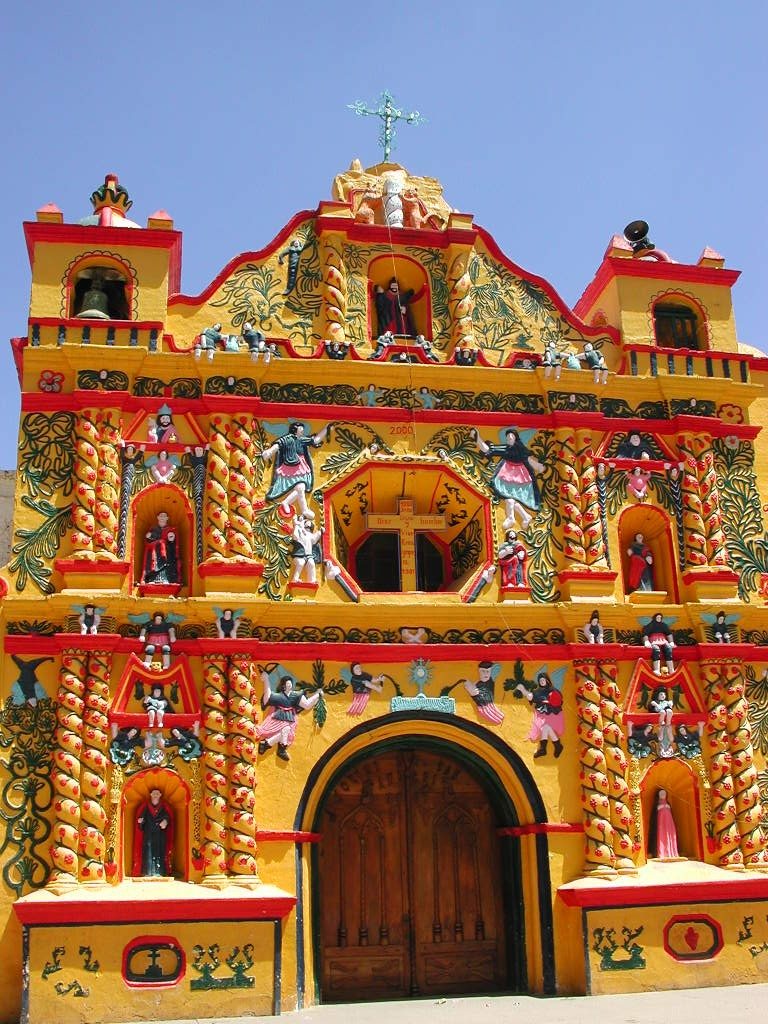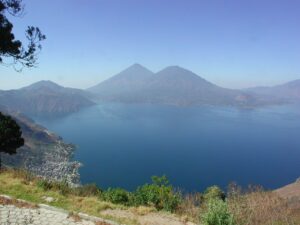 Day 6: We leave Antigua and head to the Late Postclassic capital of the Kaqchikel Maya, Iximché, protected by a defensive moat and built to repel their historic enemies, the K'iche' Maya. The K'iche' and Kaqchikel were formidable states, wealthy in trade and successful in war, both with populations in the hundreds of thousands. Their royal families claimed affiliations with the kings and courts of the rest of Mesoamerica, and their histories are preserved in sagas and stories still known and performed by their descendants. Walk through the extensive remains, and with luck, observe a present-day shaman performing age-old rituals to the gods. In the nearby village of San Andrés Itzapa, a Maximón is on display. Flashing neon lights showcase the glassed-in figure, and burning candles, fresh flowers and other offerings are laid out in front of him. Interestingly, this shrine is Ladino and not Maya. Continue to Panajachel and overnight for two nights in the beautiful Hotel Atitlán, on the shores of Lake Atitlán. (B/L/D)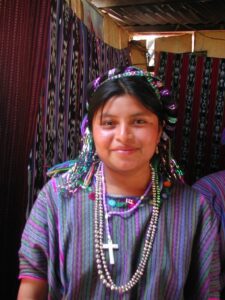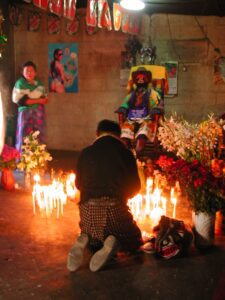 Day 7: Cross Lake Atitlán by boat to reach Santiago Atitlán, a picturesque town of winding streets lined with thatched-roof houses. Originally the ancient capital city, religious center and stronghold of the Tzutujil Maya, it is now a commercial center whose market is run by women known for their striking headdress, a thick halo formed by twisting a long ribbon around their hair before coiling it into position. Here, religious customs blend with Catholicism as revealed by the community's veneration of their Maximón. Each year he resides in a different house and is only moved in a procession during Holy Week. He is venerated with offerings of money, alcohol, incense, cigars or cigarettes in exchange for good health, good crops, and marriage counseling. As further evidence of the co-mingling of religions, the town's 16th century church contains a carved wooden altar that is decorated with saints, and in their midst sits a bas-relief of Maximón! (B/L/D)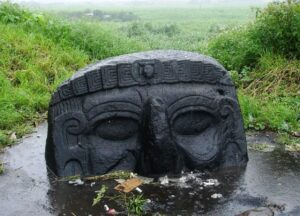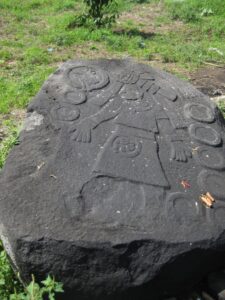 Day 8: Re-board the boat and travel along the shore of Lake Atitlán to San Antonio Palopó, a small village of Kaqchikel Maya.  After visiting the church and walking through the community, stop by the San Antonio Palopó Cooperative where a wide range of products are made, including hand-woven fabrics. After lunch, drive to Utatlán, or Qumarkaaj in the local Maya language, the K'iche' capital at the time of the Spanish conquest. In April 1524 Pedro de Alvarado arrived at Utatlán and invited the four K'iche' kings to dinner. Instead of offering a banquet, he took them captive and burned them at the stake, and then laid siege to the city. Today K'iche' Aj Q'ij, or shaman, consider the cave at Utatlán to be the most sacred place in the landscape.  Overnight tonight in the charming Hotel Santo Tomás, built around a center courtyard filled with a collection of Spanish colonial art, vibrant flowers and colorful, raucous parrots. (B/L/D)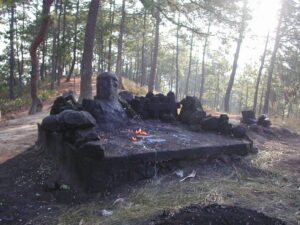 Day 9: The highland village of Chichicastenango comes alive with color as hundreds of Maya merchants from throughout the highlands arrive for Thursday market. While here, they worship at the Catholic Church carrying out rituals that are a fascinating blend of Maya traditions and Christian rites. In Chichicastenango, we will search for another Maximón that is located on the second floor of a local cantina.  Many of the Maya also worship at an ancient stone monument on a hill overlooking the town. Candles and incense are often found burning in front of Pascual Abaj, and sometimes the chunky idol is draped with parts of a chicken offered in sacrifice. If we are fortunate, we may see a ceremony in which an Aj Q'ij intercedes with the gods for his client. As we climb the hill to this sacred spot, we will stop at a mask factory to reflect upon the costumes created for the many different dances that are part of every Maya celebration. In the afternoon, transfer to Quetzaltenango, known by its Maya name of Xela, and overnight in the colonial-style, family-owned, Pension Bonifaz for two nights. (B/L/D)
Day 10: An early departure takes us to the mountainous village of San Francisco el Alto for its Friday market, the biggest and most authentic weekly market in Guatemala. In front of the 18th century church and on streets throughout the town, an endless array of textiles, pottery and clothing are presented for barter. In another part of the market, farmers sell live animals. After exploring, we will drive to the charming village of San Andrés Xecúl to gaze at one of the most extraordinary churches in the highlands. Painted bright yellow, the facade is adorned with both Christian and Maya symbols. The two jaguars at the top of the facade may represent the hero twins of the Popol Vuh. Next, stroll the cobble-stoned streets past thatched roof buildings and enter another one of the sanctuaries of Maximón, where speakers blast out, over and over, a few bars from three Christmas songs. (B/L/D)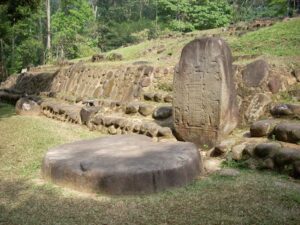 Day 11: This morning, travel to Zunil, dominated by a stunning colonial church and where the image of Maximón is still openly revered with pomp and ceremony.  Zunil's Maximón is a plastic manikin dressed in ski wear, gloves, and sunglasses with a woven bag for donations. The people here make clothing using pre-Columbian weaving techniques and the women wear striking long purple shawls. There will be time to enter the women's cooperative to see the display of locally made textiles. In the afternoon, move on to Tak'alik Ab'aj, once an important trading center. Made out of adobe brick, the ancient city features beautifully carved stone stelae. Sculptures of pot-bellied people have been found here which appear to date from the 1st century BC Similar rotund statues have been found at Tikal in the lowlands, and along the Guatemala Pacific Coast. Return to Antigua and overnight at Hotel El Convento for one night. (B/L/D)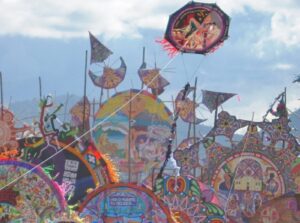 Day 12: Today is All Saint's Day, or dia de los muertos, and our early morning drive takes us to Sacatepéquez to join the local villagers for their festivities (see photos on next page). From the early morning hours, the people gather in the narrow streets and begin their procession to the local cemetery. Once there, they take part in one of the most colorful traditions of Guatemala — flying giant kites to communicate with loved ones who have passed away. The enormous kites have small messages tied to their tails in which the villagers let their dead know how they are doing and ask God for special favors. The festivities end with a sumptuous lunch and a traditional dish called fiambre, a salad, served chilled, and made with over 50 ingredients. Gather this evening for a special dinner party in one of Guatemala City's elegant restaurants. Our route takes us to the off-the-beaten tourist path to learn about the archaeology of the southern Pacific Coast. With design elements that resemble both Olmec and Classic Maya art, El Baul's carved monuments may represent the first flowering of the Maya civilization. The plaza of La Democracia is decorated with massive sculptures found on nearby plantations. Perhaps more than 2,000 years old, these puffy-jowled portraits are the sole known remnants of the Monte Alto culture. Move on to the large Maya stelae at Santa Lucia Cotzumalguapa, which reveal strong foreign influences. Many of these Pipil Maya monuments depict images of Mexican gods, speech scrolls, non-Maya glyphs and human figures wearing clothing typical of central Mexico. Overnight for one night at the Westin Camino Real in Guatemala City. (B/L/D)  
Day 13: Transfer to the airport for our flight back to the USA. (B)
Tour Cost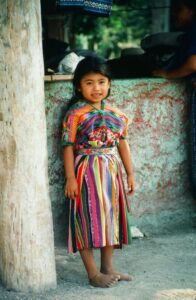 CALL (per person, double occupancy) includes international flights from the USA to Guatemala City; all hotels; most meals (as listed in the itinerary); all entry fees; gratuities to drivers and guides; and ground transportation.
Single Supplement: CALL.  Should a roommate be requested and one not be available, the single supplement will be charged.
Cost does not include: A separate $150.00 (per person) donation check; passport or visa fees; airport or departure taxes; beverages or food not included on regular menus; laundry; excess baggage charges; personal tips; gratuities to guides and drivers; email, telephone and fax charges; or other items of a personal nature.
Fuel Surcharges: Far Horizons must pass on price increases when additional fuel charges are levied.
Donation Checks: As a tour company that benefits from the cultural and natural riches of our destinations, we have a policy of donating to the scientific and cultural projects and museums we visit. This has created a bond between Far Horizons and the academic and local communities that has helped us establish an extensive list of lecturers and contacts in each of our destinations. We ask that each participant write a check to the noteworthy project we designate. The donation amount is $150.00 per person and is made by check directly to the donation project. We will be designating a donation project for this trip shortly. Note that the donation is required as part of your registration for the trip and that it is non-refundable.
Registration
A deposit of $750.00 is required along with your registration form. Final payment is due 120 days before departure. Upon receipt of your deposit and completed registration form, you will be sent a reading list and a tour bulletin containing travel information. Prior to the trip, we will send links to various websites of pertinent interest. Click here to download our Registration Form.
Cancellations and Refunds
Cancellations received in writing at least 120 days before departure will receive a refund less a $450.00 administrative fee. Cancellations received less than 120 days before the departure date will not receive a refund. If for any reason you are unable to complete the trip, Far Horizons will not reimburse any fees. Registrants are strongly advised to buy travel insurance that includes trip cancellation.
Air Ticketing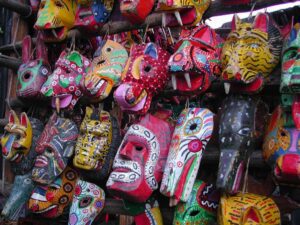 International flights from Miami are included in the cost of the trip. If you do not arrive or depart on the scheduled days, you are responsible for all transportation (including airport transfers) to join the group. If Far Horizons must change the trip dates or cancel the trip for any reason, Far Horizons is not responsible for any air ticket you may have purchased. Please send your complete air schedule as soon as you have it.
Private Tours of Archaeological Sites
The private tours of archaeological sites and talks by specialists are scheduled in advance and include a donation to each. Specialists working at these sites are excited about showing their work to interested enthusiasts. However, please be aware that there may be times when the director or a member of the staff may not be on site when our groups arrive due to other commitments.
Note about Travel in the Guatemala Highlands
This trip is designed for adventure loving travelers. We will be walking over uneven terrain for distances that may exceed a mile or more each day. Bellhops or baggage handlers will not be available for some of our accommodations and you will be responsible for your baggage. All participants are expected to be physically active and able to walk independently throughout our very full touring days. Keeping up with the group is each participant's responsibility; please do not expect assistance from the other group members or staff. By maintaining a flexible attitude you will soon be captivated by the beauty of the natural scenery, the intriguing Native culture, and the fascinating archaeological sites. A spirit of adventure will reward you with a wonderful and memorable experience!
This Tour to Guatemala is limited to 14 participants