Mexico's Yucatan Tour – Off the Beaten Path
Tour Mexico's Yucatán and Visit Uxmal and Chichén Itza along with the Hidden Cities of Balamkú, Ek Balam, and Calakmul.
with Dr. Stanley Guenter
Why Take This Tour?
Tour Calakmul, a UNESCO World Heritage Site
Tour Chichén Itzá, a UNESCO World Heritage Site
Tour Uxmal, a UNESCO World Heritage Site
Tour Campeche, a UNESCO World Heritage Site
Learn the history of the Kaan, or Snake Kingdom, the fierce empire that challenged Tikal for power
See Dzibanché, Kohunlich, Xpujil, and Balamkú, hidden for centuries in the southern jungle.
Spend time in the colonial city of Mérida, capital of the Yucatán state
Maximum 14 participants
Daily Itinerary
Day 1: Arrive into Mérida.
Day 2: Mundo Maya Museum. Izamal
Day 3: Ek Balam. Chichén Itzá.
Day 4: Tulum. Balam Na Church.
Day 5: Dzibanché. Kinichná. Kohunlich.
Day 6: Becan. Xpujil. Chicanná. Hormiguero.
Day 7: Calakmul. Balamkú.
Day 8: Campeche Museums. Edzna. Kabah.
Day 9: Uxmal.
Day 10: Dzbanché.
Day 11: Fly back to the USA.
Deep in the remote southern area along the border with Guatemala, recent excavations have exposed remains of pyramids and cities that until recently, were nearly impossible to reach. Hieroglyphic texts found here are changing our knowledge of the Maya by revealing history that has been hidden for more than one thousand years. At Dzibanché, fragments of polychrome painted stucco and graffiti bear the family glyphs of Kaan, and may have been the center of power prior to Calakmul. Balamkú displays stunning stucco murals, still covered with polychrome paint. This exciting itinerary includes four UNESCO World Heritage Sites: Calakmul, now known to have been the capital of the Kaan, or Snake, Kingdom, the formidable empire that challenged Tikal for power; Uxmal with its beautifully decorated buildings; Chichén Itzá, with its Great Ballcourt, the largest yet found in Mesoamerica; and Campeche, founded in 1540 and fortified against pirates during the 17th century.
Join Dr. Stanley Guenter, an archaeologist and Maya hieroglyph specialist, and learn about the Maya rulers' battle for power as described on the monuments
Tour Leader
Stanley Guenter was first introduced to the Maya culture and ancient script at the age of ten. He has been studying the Mesoamerican cultures ever since.  He obtained his undergraduate degree at the University of Calgary, his Master's Degree at La Trobe University, in Melbourne, Australia, and his PhD in Archaeology from Southern Methodist University. He has worked on archaeological projects in eastern Tabasco, Mexico and is currently an epigrapher and archaeologist with two archaeological projects in Guatemala: The Regional Archaeological Investigations of Northern Petén, Guatemala (RAINPEG), and the Southern Methodist University El Peru/Waka' project. Dr. Guenter is one of the outstanding rising stars of Mesoamerican writing systems and has taught and presented at many conferences in Canada, the United States, Australia, Germany and Denmark. In addition, he has done a full study of the inscriptions of Dos Pilas in relation to Tikal (you may see the readings on mesoweb.com). His knowledge of the written history of the ancient Maya brings sites to life!
Tour Itinerary
(B) breakfast, (L) lunch, (D) dinner
Day 1: Fly to Mérida, capital of Yucatán State, and overnight for one night in the boutique Rosas and Xocolate Hotel, near the historical colonial center of the city. (D)
Day 2: Opened in 2012, Mérida's new Mundo Maya Museum houses a plethora of fabulous artifacts inside an award-winning building created with three levels, representing the three worlds of the Maya, the sky, earth and underworld. Celebrating Maya culture, the museum is home to a collection of more than 1100 stunning remains of the former great civilization. We will spend the morning here before driving to the grandest of the colonial monasteries. Izamal, a place of pilgrimage prior to the arrival of the Spanish, looms spectacularly atop an enormous Maya temple platform. Steeped in history, the mission was built for Fray Diego de Landa, the controversial Bishop of Yucatán. Dedicated to the Virgin of Izamal, the beloved patron saint of the Yucatan, the rambling building sits atop one of the four principal temples in a ceremonial center sacred to Itzamná, Lord of the Sky and principal deity of the Itzá Maya. We will see the 16th century Franciscan Monastery and its Atrio, the huge enclosed front courtyard that is the most remarkable feature of the mission, unique for its great height, its vast scale and its elaborate design. After lunch in a local restaurant, continue on to Chichén Itzá, and the colonial style Mayaland Hotel, built almost 100 years ago and adjacent to the ruins. Overnight here for two nights. (B/L/D)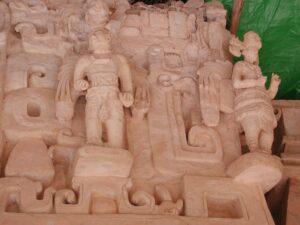 Day 3:
 Drive to nearby Ek Balam which rose to power in the late 8th century AD. The central district of Ek Balam was encircled by three walls, most likely used for both defense and to limit access during ceremonies. Ek Balam's founder of the Ek Balam dynasty built most of the Acropolis which houses his tomb. The incised stucco façade of the building where he was buried is truly spectacular – covered with life-size warriors and sacred imagery. When found by archaeologists, this mural was in pristine condition as it had been carefully buried upon his death. Return to Chichén Itzá, with the afternoon onsite. Although other Maya centers were being abandoned during the tumultuous 9th century, magnificent Chichén Itzá rose to become the most important city of its time. In its great ball court the lords of the city constructed an expression of the new age they intended to rule. Among the structures we will explore are the Castillo towering high above the plaza; the Caracol, a round temple constructed on a series of platforms probably used for tracing astronomical events; and the Temple of the Warriors, where sculptured columns form colonnades that once supported mammoth roofs. We will also walk to the cenote, known as the "Great Well of the Itzá," where artifacts of gold and jade, along with copal incense, have been found. (B/L/D)
Day 4:
 Heading south, our first stop is Tulum. Built in the compact style of the Postclassic period, this fortified settlement was still inhabited when the Spanish Conquistadores sailed past in the 16th century. Recent archaeological work indicates that the population of Tulum was foreigners to this area of the Yucatán and likely came from the area of Champoton, off the southern coast of Campeche. Delicate multi-colored paintings decorate the interior walls of one of the flat-roofed temples, and a protective wall surrounds the city. Time permitting we will stop by the Balam Na church. One hundred and fifty years ago this was the center of the town of Chan Santa Cruz, capital of the independent Maya who, in the 19th century caste wars, rebelled against their treatment on the haciendas. Overnight in the Hotel Laguna Bacalar, overlooking a lake of the same name. (B/L/D)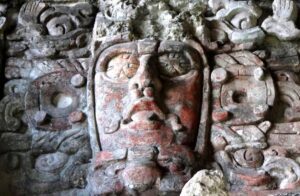 Day 5: As we move west, our first stop is Dzibanché, a site once hidden in the forest and rarely visited. Hieroglyphic steps found here contain texts extolling the captures and victories of many Snake Kingdom lords, indicating that this was the capital of the kingdom during the 6th century. Large temples tower over important tombs, one temple contained a carved wooden lintel recording the accession of a kaloomte' (a Maya imperial title) in 551 AD. A few miles north lies Kinichna with a huge pyramid dominating the landscape. Our final stop will be Kohunlich, discovered in 1971 just before looters could steal a series of spectacular stucco masks thought to portray the Sun God, K'inich Ajaw. Overnight for two nights in the charming, environmentally friendly, Chicanná EcoVillage Resort. (B/L/D)
Day 6:
Our explorations take us to four breathtaking sites. Encircled by a steep, dry moat built to ward off invaders, Becán once covered at least 60 acres, and stunningly-beautiful buildings stand as mute testimony of the city's former importance. At Chicanná, massive doorways represent the earth monster's mouth (and the entrance to the underworld) that swallows all those who step across its imposing teeth. Xpujil is noted for its false stairways that climb three steep towers to artificial temples on top. Each imposing edifice is decorated with breathtaking masks. Nearby Hormiguero is located deep in the forest and rarely visited. The center contains many impressive structures, but the colossal Temple I is the most impressive. It is extravagantly decorated with two soaring, false-staircase towers on either side of a huge monster mouth portal. (B/L/D)
Day 7:
 Begin the day at Balamkú, a lovely temple containing an exquisitely painted stucco façade. Standing two-stories tall, the frieze consists of four lords who are depicted being born out of the mouths of frogs seated atop sacred mountains. Then it's on to Calakmul, a UNESCO World Heritage Site. Located deep within the heart of the forests near the border with Guatemala, this was one of the largest and most powerful Maya cities of the Late Classic period. During this time, the site served as capital of the Kaan Kingdom which competed with Tikal for domination of the Maya world. In antiquity, an interconnected series of canals and bajos (low swampy areas) encompassing more than 40 square miles, protected the city. Excavations have uncovered fascinating structures and tombs filled with precious grave goods including at least four jade mosaic masks. Over 100 carved monuments dating from 435 AD to after 900 AD impart stories of mighty rulers and rituals they carried out to honor their gods. In the afternoon, depart the Rio Bec region and drive north to the historic fortified town of Campeche, founded in the 16th century by the Spanish, and since 1999, a UNESCO World Heritage Site. Overnight one night in Campeche at the 4-star Hotel Plaza Campeche. (B/L/D)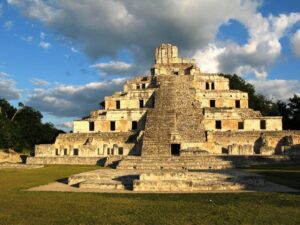 Day 8: Campeche's port prospered with local timber, silver and gold being shipped to Europe, and due to its wealth, became a target for pirates and buccaneers. As protection, in 1686, construction of huge bulwarks around the city were begun, each one over 10 feet thick. Of the original eight bastions, seven still stand and one of them, the Baluarte de Nuestra Señora de la Soledad, houses a collection of Mayan artifacts in the Museum of Maya Culture. The Museum of Mayan Stelae exhibits an important collection of carved monuments and architectural fragments from nearby Maya cities. After visiting these museums, move on to Edzná where the monumental zone of the center covers more than two square miles. The remains include fragments of at least 32 stelae, and one of the buildings on the central plaza is decorated with intricate, impressively intact carvings of the sun god with remnants of red stucco still visible. Our last stop is at Kabah to view the façade of the Codz-Pop temple, decorated with masks of the long-nosed rain god, Chac, one of the most characteristic works in the Pu'uc style. We will watch as the setting sun casts a breathtaking light upon the repeating baroque pattern of the curling noses of Chac across the front of the building. Overnight in the charming Lodge at Uxmal. Enjoy the optional sound and light show this evening. (B/L/D)
Day 9: S
pen
d the morning exploring dazzling Uxmal, a UNESCO World Heritage Site. With its splendid geometric friezes made up of thousands of hand-carved stones, Uxmal displays the peninsula's finest example of Classic Puuc architecture. The impressive Pyramid of the Magician is 100 feet tall and dominates the city and the Governor's Palace stands on three terraces overlooking the plain. In the afternoon, return to Mérida and the charming Rosas and Xocolate Hotel. Our final dinner party will be in one of Mérida's fine restaurants. (B/L/D)
Day 10: Twenty miles north of Mérida is Dzibilchaltun, the remains of a large city covering more than seven square miles and the oldest continually inhabited Maya site on the peninsula. Occupied for more than 2,000 years, it was the center of the salt trade for the entire Maya area. In the chronicles of Chilam Balam, the city is cited as the first location of Mérida, a place called Ichkantiho, "In the Sky at Five." Architecture here echoes that of distant Tikal, the homeland of the Itzá. There has been much recent archaeological work here, and the artifacts that have been found are displayed in a museum onsite. After exploring the site, we will drive to the beach at Progresso. Here we will enjoy a delicious seafood lunch with a view of the ocean. Return to Mérida in the afternoon with time for last minute shopping for typical crafts and, perhaps, a handmade hammock to carry home. Dinner is on our own. (B/L)
Day 11: An early transfer to the airport in Mérida for our flight back to the USA. (B)
Tour Cost
$8,595.00 (per person, double occupancy) includes round trip international airfare from Houston to Mérida; all hotels; meals as noted; ground transportation; entry fees and gratuities to guides and drivers.
Single Supplement: $995.00.  Should a roommate be requested and one not be available, the single supplement will be charged.
Cost Does Not Include: A separate donation check of $150.00 per person to a designated donation project; meals other than those listed in the itinerary; food, alcoholic and other beverages not on set menus; passport and visa fees; airport fees and taxes; excess baggage charges; email, telephone, and fax charges; laundry or other items of a personal nature.
Fuel Surcharges: Far Horizons must pass on price increases when additional fuel charges are levied.
Donation Checks: As a tour company that benefits from the cultural and natural riches of our destinations, we have a policy of donating to the scientific and cultural projects and museums we visit. This has created a bond between Far Horizons and the academic and local communities that has helped us establish an extensive list of lecturers and contacts in each of our destinations. We ask that each participant write a check to the noteworthy project we designate. The donation amount is $150.00 per person and is made by check directly to the donation project. Note that the donation is required as part of your registration for the trip and that it is non-refundable. We will be designating a donation project for this trip shortly.
Registration
A deposit of $750.00 per person is required along with your completed and signed registration form. Upon receipt of your deposit and completed registration form, you will be sent a reading list and tour bulletin containing travel information.  Prior to the trip, we will send links to various websites of pertinent interest to the trip. Click here to download our Registration Form.
Cancellations and Refunds
Cancellations received in writing at least 120 days before departure will receive a refund less a $450.00 administrative fee. Cancellations received less than 120 days before the departure date will not receive a refund. If for any reason you are unable to complete the trip, Far Horizons will not reimburse any fees. The purchase of travel insurance protection with both trip cancellation and emergency evacuation coverage is strongly recommended.
Air Ticketing
If you do not fly on the group flight, you are responsible for all flight arrangements and transportation (including airport transfers) to join the group.  If Far Horizons must change the trip dates or cancel the trip for any reason, Far Horizons is not responsible for any air ticket you may have purchased.  If you issue your own international flight, please send a copy of the e-ticket as soon as you have it.
Private Tours of Archaeological Sites
The private tours of archaeological sites and talks by specialists are scheduled in advance and include a donation to each. Specialists working at these sites are excited about showing their work to interested enthusiasts.  However, please be aware that there may be times when the director or a member of the staff may not be onsite when our groups arrive due to other commitments.
Note About Itinerary Changes
Changes in our itinerary, accommodations, and transportation schedules may occur. A good book to read as well as a flexible attitude and a sense of humor are essential.
Travel in this Part of the World
This trip is for the hardy! The adventurous nature of the itinerary makes it essential that you be in good physical condition. Long walks may be required to reach some areas, including walks over steep gradients and over poorly maintained paths. To reach some of the site centers entail long walks, as much as a mile or more each day. Participants, unassisted, must be able to walk on rough trails and keep up with group members. To reach the top of some of ceremonial centers steep climbs up tall, uneven stairs are necessary. The roads in this part of the world are frequently dirt or poorly paved, and may involve long drives over uneven terrain. Meals will not be haute cuisine and several lunches will be picnics. Remember that bellhops are seldom found in the jungle! A flexible attitude, team spirit and a good sense of humor are essential! If you have questions about your ability to handle this sort of challenge, please call us.
This Archaeological Tour to the Yucatan is Limited to 14 Participants