Peru: Hike the Inka Trail
Trek Peru: Hike the Inka Road to Machu Picchu and see Inka stone temples and sanctuaries only accessible by walking this sacred path.
with Dr. Kylie Quave
Why Hike Peru's Inka Trail with Far Horizons?
Private tour of Sacsayhuaman by the archaeologist working there
Private tour of the Casa Concha Museum in Cusco
Led by Inka specialist, Dr. Kylie Quave
Two days in Machu Picchu
Limited to 12 travelers
Daily Itinerary
Day 1: Depart the USA
Day 2: Lima tour
Day 3: Fly to Cusco. Ollantaytambo.
Day 4: Chincero, Moras, Moray
Day 5: Begin Hike. Llactapata
Day 6: Hike: Llulluchapampa
Day 7: Hike: Runkuraqay, Sayaqmarka
Day 8: Hike: Phuyupatamarka, Wiñaywayna
Day 9: Machu Picchu
Day 10: Morning free. Train back to Ollantaytambo
Day 11: Puka-Pukara, Qenko, Sacsayhuaman
Day 12: Cusco city tour
Day 13: Morning free. Fly to Lima. Fly to USA
Day 14: Arrive USA
Under the great emperors Pachacuti Inka Yupanqui and his son, Topa Inka Yupanqui, the Inka controlled almost one third of South America. Ruling from the capital city of Cusco, these Quechua speaking people created a road system that extended 12,000 miles through what is now central Chile northward into Ecuador. This intricate system was the crucial transportation link within the empire and was larger than the road system created by the Romans. With its carefully constructed stone staircases and tunnels, it was designed for efficient foot traffic, and still today reflects the great precision and skill of the ancient engineers. This cobweb of roads is now called Qhapaq Ñan, the Andean Road System, with UNESCO World Heritage Status.
Join Far Horizons on a 14-day journey that includes a four-day trek through the towering mountains along the road connecting the royal capital of Cusco with the hidden city of Machu Picchu. In 1981, the Peruvian government acknowledged the road's uniqueness by including it within a huge national park, the Machu Picchu Historical Sanctuary, and in 1983 UNESCO declared Machu Picchu a World Heritage property. The trip also includes the colonial city of Cusco, another UNESCO World Heritage City, the Tuesday market at Chinchero, and the formidable fortress of Ollantaytambo.
Along with only eleven others, hike through the lush cloud forest and deep canyons, across three monumental mountain passes, and through tunnels carved out of the living rock on this ancient road that ends at the dazzling fortress city of Machu Picchu. And while enjoying the breathtaking scenery along the trail, stop to explore several extraordinary archaeological complexes which include still-standing stone buildings, complex irrigation canals, and still flowing, ritual fountains.
Tour Leader
Kylie Quave received her BA from Emory University (summa cum laude) in art history and her PhD from Southern Methodist University (SMU) in archaeology. Her dissertation was on Maras in Cusco. She is Assistant Professor at Columbian College of Arts and Sciences, The George Washington University in Washington D.C. Dr. Quave has published extensively on the Inka and Cusco, including royal estates and imperial centers. She has worked on archaeological projects throughout Peru and Bolivia, and is presently the Director of the Yunkaray Archaeological Research Project in Cusco. She is fluent in Spanish. An enthusiastic and engaging instructor, Dr. Quave was the recipient of the Prize for Innovation in Teaching with Technology in 2018.
Tour Itinerary
(B) breakfast, (L) lunch, (D) dinner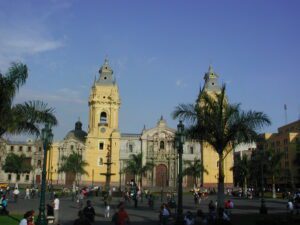 Day 1: Depart on our flight to Lima. Upon arrival, transfer to the Casa Andina Select in Miraflores, our home for two nights.
Day 2: Begin the day in Lima's Museo Oro del Perú, the renowned gold Museum, where rooms are overflowing with treasures from the many cultures that peopled Peru for more than three thousand years. For Peru's pre-Columbian societies gold was the symbol of the Sun and Inti the sun god. As we examine the displays we can easily visualize the opulence of these civilizations. From a cloak made of tiny fragments of the gleaming metal that was worn by a Lambayeque priest; to an intricate covering that once adorned an entire wall of Chan Chan, the capital of the Chimú; to precious metal sculptures; to the ear ornaments a Wari queen wore to her grave; to the celebrated golden Tumi, or ornamental knife that is the symbol of Peru; this massive collection is staggering. After lunch, see the sites in the colonial center of Lima, with UNESCO World Heritage status. We will enter the city's imposing National Cathedral, the Basilica of St. John the Apostle and Evangelist, located on the Plaza de Armas, the capital city's central square of the historic center. In 1535, Francisco Pizarro, the Spanish conqueror of Peru, laid the first stone for the church and his tomb is inside. The sanctuary is stunning with glimmering mosaics embellishing the walls and floors. We will walk into the catacombs of San Francisco Church where more than 30,000 people were buried. And the Convent of Santo Domingo, a sprawling complex of peaceful courtyards ornamented with baroque paintings, 16th century Spanish tiles and verdant plants. On Plaza Bolivar, we will see colonial house with intricately carved wooden that were built during the Spanish colonial rule in the late 17th and 18th centuries. Our drive will take us past the Presidential Palace, Built by Francisco Pizarro in 1535 and still home to Peru's president.  Gather this evening for our welcome dinner party at one of Lima's exceptional restaurants, Huaca Pucllana, overlooking the excavations of an important ceremonial and administrative center dominated by an immense adobe and clay pyramid now encircled by Lima.  (B/L/D)
Day 3: Transfer to the airport for our flight from Lima to Cusco, and immediately drive down to the Urubamba Valley where we will have lunch. In the afternoon, move on to the massive Inka fortress of Ollantaytambo, located at the western edge of the Sacred Valley and built to guard travelers on the road along the Urubamba River. Built on the side of an immense mountain, colossal terraces cascade down the slope with fortified gates and guardhouses further protecting the citadel. During the 1400s Inka Pachacuti used the area as his personal estate and ceremonial center, and it served as the last stronghold of Inka Manco Yupankqui, leader of the Inka resistance against the Spanish. Today, Ollantaytambo town still has residents living in houses built on Inka foundations. As we stroll, we will see immense stone entryways opening into wide courtyards that are the homes of local inhabitants. Don't miss the complex system created by the Inka to bring water to the residents and agricultural fields. Our hotel for the next two nights is the Hotel Pakaritampu in the outskirts of Ollantaytambo, where a series of bungalows are surrounded by original Inka agricultural terracing and with sweeping views over the gorgeous landscape. (B/L/D)
Day 4: Begin today in Chinchero where village homes are constructed on the underpinnings of Inka structures.  A massive stone wall with ten trapezoidal niches borders the main plaza. Overlooking the square is an early 17th-century adobe church, Nuestra Senora de Montserrat, standing on the remains of an imperial Inka royal palace. Both the exterior and interior walls are emblazoned with charming floral and religious designs applied in the late 1600s, protected by an intricate Islamic-style Mudejar ceiling. The vestiges of edifices and the still standing agricultural terraces (which are still in use) suggest that Chinchero was used by the Inka royalty as a country retreat. Here we enjoy a private weaving demonstration and a special lunch of local cuisine. Continue to Maras where a series of pools cascades down a bluff creating salt pans that have existed since pre-Inka times and are still actively used. Our leader, who studied Maras, will give us an updated interpretation of this interesting site. Our final stop is Moray where deep terracing creates what may be a prehistoric experimental farming station. Different levels of concentric terraces were carved into a huge earthen bowl here, and each layer has its own micro-climate.  (B/L/D)
Day 5: Our bus will take us to Piscacucho at Km 82 where our gentle trek will begin along the left bank of the Urubamba River with splendid views of the 19,000-foot tall, snow-capped Waqaywillka, or Mt. Verónica. We will pass the hill fort of Willkaraqay, a terraced village at the junction of the Rio Kusichaca and the Rio Urubamba. From here we look upon the stunning city of Llaqtapata, or Patallacta, the first of the Inka complexes that we see. Our lunch will be overlooking the ruins. As we gaze upon its multitude of agricultural terraces, we realize that the city must have been a breadbasket for the surrounding towns, including Machu Picchu. After lunch among the ruins, the trail takes us to the Native community of Huayllabamba where the trail ascends steeply to a large pampa. Camp tonight at Huayllabamba, at 9,800 feet. (B/L/D)
Day 6: Begin this morning by hiking gradually uphill for two hours, often up flights of stairs, to Warmiwañusqa Pass (or Dead Woman's Pass!), the highest point of our trek at just over 13,910 feet. As we climb, we traverse several environmental zones – from temperate valley forest through gorgeous patches of cloud forest to the treeless grasslands of the windswept highlands. We break at 12,200 feet before the summit at Llulluchapampa, and as we picnic enjoy a stunning view of Mount Huayanay and Cordillera Vilcanota above the cloud forests. With luck we will view many rare birds including one of Peru's 127 species of hummingbirds, the giant hummingbird, or macho qente. Then it's off again and climb for two more hours to the summit from where the views are stunning!! Happily, the rest of the afternoon is downhill to reach our camp at Pacaymayo, at 11,200 feet. (B/L/D)
Day 7: This morning's hike takes us to Runkuraqay, an Inka tambo or semi-circular watchtower, constructed to guard the valley. We then ascend to the second pass that is just under 13,000 feet, and walk past the glorious twin lakes of Yanacocha. As we hike down from this pass, the glorious city of Sayaqmarka will come into view. It is dramatically located on the edge of a rocky promontory with breathtaking vistas of the Aobamba Valley and the distant snow-covered peak of Mt. Pumasillo. This royal center is positioned on the edge of a cloud forest filled with a treasure trove of exquisite orchids and colorful birds, and to reach it we must climb a narrow, steep staircase cut out of the mountainside's stone face.  We also pass by Conchamarka, a small, recently discovered tambo, and then set up lunch at Chaquiqocha, with memorable views over the valley to Sayaqmarka. Protected on three sides by sheer cliffs. Sayaqmarka was created using an ingenious canalization system that carried water to all sections including ceremonial baths. We climb 98 stone steps to the protruding ridge that supports the Inka buildings, and walk through fortification walls to observe a temple of the sun, a solar observation post. In the afternoon, we hike for two more hours on a short ascent that takes us though the first tunnel – an engineering marvel 215 feet in length with stairs carved out of solid rock. Coming out the other end, we climb again to arrive at the third and last gap on the trail, Phuyupatamarka Pass, just under 12,000 feet in altitude. Original stones line this part of the trail as it winds sharply down into the cloud forest until we see magnificent Phuyupatamarka lying below us. What a day! (B/L/D)
Day 8: The intrepid will want to get up early to see the sun rise over Apu Salkantay Glacier, soaring 20,560 feet high. After a leisure breakfast at camp we will say good bye to our wonderful crew. The trail takes us to Phuyupatamarka, established on the edge of a gorge dominating the Urubamba Valley and is considered one of the most beautiful Inka sites in Peru. This bastion settlement was constructed around a plaza encircled by steep agricultural terraces and still functioning ritual fountains with swiftly flowing fresh water cascading down the slope. Sinuous curves and twisting platforms follow the contours of the promontory on which Phuyupatamarka was built. Back on the trail! As it abruptly descends, we walk down several stone staircases, one of them a curving flight of steps, pass through a second tunnel, and continue along a path above the Urubamba Valley to Wiñaywayna, perhaps the most picturesque of the citadels along the Road. It is named for an orchid native to the area that blooms all year and garlands the town with hues of brilliant scarlet, violet and gilded umber. Stunningly located on the steep slope overlooking the Urubamba River, Wiñaywayna's architecture is truly impressive. Nearby is Intipata, or Sun Place, with its convex series of agricultural platforms. Two more hours of trekking takes us to the Intipunku, or Gate of the Sun, where we have our first glimpse of the magnificent citadel of Machu Picchu spread out below. After resting and taking in the unforgettable panorama, continue down the wide paved trail for another hour to the ruins, and on to the Inkaterra Machu Picchu Pueblo Hotel for a hot shower, an optional revitalizing massage, and a well-deserved iced drink. Our home for the next two nights, this delightful, luxurious inn, set like a gemstone in a privately-owned 12-acre cloud forest, is made up of a series of charming whitewashed bungalows set in tropical gardens in a curve of the Urubamba River. (B/L/D)
Day 9: Sunrise through the jungle mist awaits us at Machu Picchu, designated UNESCO World Heritage. This elegant mountaintop city was probably constructed as a royal palace complex for the emperor Pachakuti and his family in the early 15th century, and appears to have been an important spiritual and ceremonial location.  It was never found by the Spanish conquerors, and was lost to westerners until 1911 when a local farmer showed the city to the explorer, Hiram Bingham. We will spend the morning onsite with lunch at the Sanctuary Lodge located near the entrance to park. The afternoon will be free to enjoy the lodge or return to the ruins (an extra ticket must be purchased). (B/L/D)
Day 10: This morning, including lunch, is on our own. For those still wanting another challenge, the top of Huayna Picchu*, the lofty granite peak that overlooks Machu Picchu awaits.  Near the top of the mountain, pass through ancient terraces so inaccessible and so narrow that they were probably not used for agricultural purposes, but instead were ornamental hanging gardens to be admired from the city below. Or take advantage of the hotel's spa, visit the Machu Picchu site museum, or wander the small village. In the afternoon, board our train to return to Ollantaytambo and return to the Hotel Pakaritampu for one night. (B/ /D)
Day 11: This morning's sites are captivating and diverse remains of the Inka civilization. Our drive into the highlands takes us to Qenko, a small, enigmatic sanctuary whose focus is an enormous 20-ft high rock carved in the shape of a puma. This large limestone rock has niches, steps and a series of zigzagging channels carved on it and in the cave-like galleries. The small military fort of Puka Pukara was most likely built to guard the road into the capital. Saksaywaman is a huge fortress constructed on an artificially leveled mountaintop overlooking Cusco. It consists of three outer defenses of colossal walls, and according to early Spanish chroniclers, was said to be a Royal House of the Sun. If on site, Dr. Alexei Vranich will meet with the group to talk of his work here. In the afternoon, enjoy a walking tour of Cuzco, the capital of the Inka Empire, a UNESCO World Heritage property and first seat of power for the conquering Spaniards. Visit the Cathedral that was built on the site of the Inka palace of Virakocha and contains an altar of solid silver. See Santa Domingo Church, built on the walls of the Inka Temple of the Sun, and Qorikancha, the most magnificent complex in pre-conquest Cusco. When first seen by the Spanish, the walls were covered in sheets of gold studded with emeralds and turquoise. The windows were constructed so that the sun would enter and cast a near blinding reflection of golden light off the precious interior.  Overnight in the Novotel Hotel in Cusco for two nights.  Dinner is on our own.  (B/L)
Day 12: Gather this morning to walk to two of Cusco's newest and most stimulating museums. The Museum of Pre-Columbian Art, a branch of Lima's Rafael Larco Museum, is housed within a 15th century Inka palace  that later became the mansion of the Spanish conqueror, Alonso Díaz. The collection contains 450 extraordinary artifacts dating from 1250 BC to1532 AD. The nearby Casa Concha Museum contains artifacts designed to trace Peruvian history from pre-Inka civilizations and Inka culture, including the impact of the Conquest and colonial times on the native cultures. On view are ceramics, textiles, jewelry, mummies, architectural models, and an interesting collection – reputed to be the world's largest – of Inka drinking vessels, or qeros, carved out of wood, many meticulously painted.  The afternoon is free for further explorations. Dinner is on our own. (B/L)
Day 13: The morning is on our own for further explorations of the lovely city of Cusco, before meeting for our final lunch together in one of Cusco's excellent restaurants.  Our afternoon flight returns us to Lima and the international airport for our evening flight back to the USA (B/L)
Day 14: Arrive USA.
Tour Cost
$8,995.00 (per person, double occupancy) includes all hotels; tents and other camping equipment; most meals as listed in the itinerary, gratuities to guides, drivers, and porters; domestic flights in Peru; ground transportation, entry and service fees.
Single Supplement: $895.00. Should a roommate be requested and one not be available, the single supplement will be charged.
Cost does not include: Round trip international airfare; a separate $150.00 donation check made out to a designated donation project; passport or visa fees; airport or departure taxes; personal sleeping bag; beverages or food not included on regular menus; laundry; excess baggage charges; alcoholic drinks; necessary vaccines or tests; email, telephone and fax charges, laundry, and other items of a personal nature.
Fuel Surcharges: Far Horizons must pass on price increases when additional fuel charges are levied.
Donation Checks: As a tour company that benefits from the cultural and natural riches of our destinations, we have a policy of donating to the scientific and cultural projects and museums we visit. This has created a bond between Far Horizons and the academic and local communities that has helped us establish an extensive list of lecturers and contacts in each of our destinations. We ask that each participant write a check to the noteworthy project we designate. The donation amount is $150.00 per person.

Registration
A deposit of $750 per person is required along with your registration form. Final payment is due 120 days before departure. Upon receipt of your deposit and completed registration form, you will be sent a reading list and a tour bulletin containing travel information. Prior to the trip, we will send links to various websites of pertinent interest. Click here to download our Registration Form.
Cancellations and Refunds
Cancellations received in writing at least 120 days before departure will receive a refund less a $450 per person administrative fee. Cancellations received less than 120 days before the departure date will not receive a refund. If for any reason you are unable to complete the trip, Far Horizons will not reimburse any fees. Upon registering for the tour, the purchase of travel protection with both trip cancellation and emergency evacuation is strongly advised. Insurance recommended by Far Horizons can be reviewed by clicking HERE.
Air Ticketing
International flights are not included in the cost of the trip. If you do not arrive or depart on the scheduled days, you are responsible for all transportation (including airport transfers) to join the group. If Far Horizons must change the trip dates or cancel the trip for any reason, Far Horizons is not responsible for any air ticket you may have purchased. Please send your complete air schedule as soon as you have it. NOTE: Please contact Far Horizons if you would like for us to handle your air ticketing.
Private Tours of Archaeological Sites
The private tours of archaeological sites and talks by specialists are scheduled in advance and include a donation to each. Specialists working at these sites are excited about showing their work to interested enthusiasts. However, please be aware that there may be times when the director or a member of the staff may not be on site when our groups arrive due to other commitments.
Note about Travel in Peru
This trip is for the hardy! This trip is designed for fit, energetic people who like to be active and have a spirit of adventure and a positive attitude. You should be an experienced hiker in excellent physical condition and without fear of heights. The portion of the Inka road we walk is more than 25 miles in length, generally steep going up and down stairs and stone pathways, and at times is narrow and edged by a steep precipice. The trail traverses three passes that are 11,000-13,000 feet high. We will camp for three nights, and there are no bellboys along the Inka Trail. The ability to maintain a flexible mind-set, team spirit, and a good sense of humor are helpful! If you have questions about your ability to handle this sort of challenge, please call us.
*  In order to safeguard Machu Picchu and the Inka Trail, the Peruvian government has restricted the number of visitors. Permits must be acquired as the trail cannot be hiked without one. A separate permit is required to climb Huayna Picchu (for a separate cost) and must also be issued in advance. All registrations must be received by six months prior to the departure of the trip in order to have time to gain the necessary permits.
This Archaeological Tour to Peru is limited to 12 participants