Peru Tour: Inka and Their Ancestors
Machu Picchu, Caral, Nazca Lines, Revash, Kuélap, the tombs of La Señora de Cao and the Lord of Sipan – explore Peru's most recent discoveries
with Professor Clark Erickson
Nasca Lines Post-trip Extension
June 30 – July 3, 2023
Why Take This Tour?
Seven UNESCO World Heritage Sites: Lima's historic center, Caral, ChanChan, Machu Picchu, Qhapaq Ñan, Cusco, Nasca Lines
Private sunset tour with the project director at Chanquillo, the world's oldest astronomical observatory
Private tour of El Brujo with the archaeologist who led the team that discovered La Señora de Cao
Private tour of Sacsayhuaman by the archaeologist working there
Private tour of the Machu Picchu Museum in Cusco
Optional extension to Kuélap and Revash
Optional extension to fly over the Nasca Lines
Two days in Machu Picchu
Limited to 14 participants
Daily Itinerary
Main Tour
Day 1: Arrive in Lima.
Day 2: Pachacamac. Lima city tour.
Day 3: Caral.
Day 4: Forteleza. Sunset tour of Chanquillo.
Day 5: Las Aldas. Sechin.
Day 6: Huaca del Sol. Huaca de la Luna. Chan Chan.
Day 7: El Brujo. Senora de Cao Museum. Huaca Rajada.
Day 8: Sican. Museum. Lord of Sipan Museum. Tucumé Museum and Las Balsas.
Day 9: Fly to Cusco. Ollantaytambo Fortress.
Day 10: Train to Machu Picchu, Qhapaq Ñan.
Day 11: Morning in Machu Picchu. Train to Ollantaytambo.
Day 12: Chinchero. Maras. Moray.
Day 13: Sacsayhuaman. Cusco Tour.
Day 14: Pikillaqta. Cusco Tour.
Day 15: Fly to Lima. Fly to Miami (or join post-trip extension to Nasca)
Day 16: Arrive in Miami.
Post-trip Extension to Nasca Lines
Day 1: Arrive Lima. Drive to Paracas.
Day 2: Fly over Nasca Lines.
Day 3: Ica Museum. Tambo Colorado. Transfer to Lima.
Day 4: Arrive in the USA.
"I want to thank you for the trip of a lifetime – Peru. Absolutely fabulous! You seem to have your finger on the pulse and that is what makes a difference. To the whole crew at Far Horizons, thank you, a job well done – I say this because as a client there was not a single moment when confidence was shaken about the outcome of an adventure. Everyday was outstanding!!!! " – Kathleen Cunningham
"Amazing trip- we are still in awe of our experience. This is our first of this type of trip—we were absolutely blown away and are now totally hooked. We look forward to our next adventure with Far Horizons." – Joe and Ali Herzog
The fabled cities of the Inka are ingrained in our consciousness with images of towering stonewalls and glittering golden armor.  But the Inka were only the last in a long line of rich and fascinating cultures – Chavin, Moche, Wari, and the Chimú – that peopled the coastal areas and high Andes of what is now Perú.
Our journey begins along the north coast where most of the recent exciting discoveries are being made – Pachacamac perhaps the most important pilgrimage site in Peru and Sipán where archaeologists have uncovered one of the richest tombs ever found. By special arrangement, we will be hosted by the project director to view sunset at Chanquillo, a 2,300-year-old solar observatory that has made headline news. In Peru's highlands enjoy a private tour of the Casa Concha Museum housing the finds from Hiram Bingham's excavations at Machu Picchu.
This very special journey includes seven UNESCO World Heritage Sites: Lima's Historic Center; Caral, created 5,000 years ago and perhaps the oldest city in the New World; magnificent ChanChan, one of the largest pre-Columbian cities of the New World; Qhapaq Nan, the extensive road system that was created by the Inka Empire and flows through six South American countries; the fabled Inka citadel of Machu Picchu; Historic Cusco; and the Nasca Lines where pre-Columbian geoglyphs were etched into desert sands.
The descendants of these ancient cultures still live in much the same way as their ancestors.  Their colorful weavings echo the fabrics of earlier times, and their faces mirror those of their predecessors.  We will visit their picturesque towns and colorful markets, and hear the Quechua language still spoken here, along with the strains of traditional flute music.
Tour Leader
Clark Erickson received his MA and PhD in anthropology with a specialty in Andean archaeology, from the University of Illinois, Urbana-Champaign.  He is both Professor in the Department of Anthropology at the University of Pennsylvania and Curator of the American Section at the University of Pennsylvania Museum of Archaeology and Anthropology. Since 1974, Professor Erickson's Andean and Amazonian research focuses on the contribution of archaeology to understanding the complex human history of the environment and cultural activities that have shaped the Earth. He has worked throughout Peru, Ecuador, and Bolivia. Dr. Erickson is editor of two recent volumes Time and Complexity in Historical Ecology: Studies in the Neotropical Lowlands and Landscapes of Movement: Trails, Paths, and Roads in Anthropological Perspective .
"Dr. Erickson was wonderful! Congenial, well connected, well informed… a natural teacher"  – Catherine Gerrish

"Clark was an exceptional study leader. It was obvious that he had put in a huge amount of work to provide us with so much up to date information." – Janet Jenkins

"I've been to 34 countries in Asia, Europe, Africa and South America and tell people emphatically, that this was my favorite trip!" – Tony Hyman
Tour Itinerary
(B) breakfast, (L) lunch, (D) dinner
Day 1: Depart the USA on an international flight to Lima. Upon arrival, transfer to Casa Andina Select, our home for the next two nights.
Day 2: Our drive south along the Panamerican Highway takes us to Pachacamac, once the home to a famed oracle. For almost 2,000 years, this was a pilgrimage site for all pre-Inka societies. The ceremonial center was named for the deity, Pachacamac also known as 'Earth-maker', a powerful and feared god that was the creator of the world and of earthquakes. During excavations in 1939, the still-intact, wooden idol was found and can be seen within the site museum. Within the monumental ceremonial center are found great pyramidal temples, some with the remains of frescoes decorating the adobe walls. Here we will also see a piece of the Inka highway, Qhapaq Ñan. Upon return to Lima, in the afternoon, go to the Rafael Larco Herrera Museum to view its fabulous assembly of artifacts, including a fascinating and amusing collection of erotic pottery, and the historic center of Lima. Time permitting, drive through Lima's historic area, a UNESCO Heritage Site. Gather this evening for our welcome dinner at one of Lima's fine restaurants. (B/L/D)
Day 3: Depart Lima to drive north to monumental Caral, one of several pre-ceramic period sites located in the Supe Valley and a recently declared UNESCO World Heritage Site. Studies show that a complex, highly structured society existed here that flourished at the same time that the pyramids were being built in Egypt. Radio-carbon dates show that this enormous city dates back to 2700 BC, nearly a millennium earlier than previously believed, and is the oldest urban site in the New World. Caral thrived for five centuries, with public architecture, ceremonial plazas and irrigation — all signs of a society with strong, centralized leadership. After a picnic lunch, continue to the Empedrada Lodge and overnight for one night. (B/L/D)
Day 4: Our explorations of the north coast continue with a stop at the massive adobe Fortaleza de Paramonga built during the Chimú Empire. However, the formidable defensive walls were not enough to stop the Inka army from conquering the city. It is still possible to see remnants of murals admired by Hernando Pizarro when he passed by in 1533, along with remnants of the Qhapaq Ñan or Inka highway, a UNESCO World Heritage Site. In the afternoon, we travel by 4-wheel drive vehicles to Chanquillo a ceremonial center and solar observatory located in the Casma-Sechin river valley of the arid coastal plain. Two thousand years ago, towers were built on the top of a low ridge to observe the movement of the sun through the solar year, solstice to solstice. This suggests the sun may have played an important role in religious and political life two millennia before the appearance of the famous Inka sun cult. The Chanquillo ridge top towers are now regarded as the oldest observatory in the new world, and the astronomical observations appear to be linked at the site with seasonal ritual activity. By special arrangement, we will meet with the Chanquillo Project Director, Dr. Ivan Ghezzi, and board our four-wheel drive vehicles for a tour of the site and for sunset. In the evening, transfer to Casma and overnight at Las Aldas Hotel. This rustic seaside hotel provides simple but atmospheric accommodation. (B/L/D)
Day 5: Our day begins with the nearby site of Las Aldas. Next, we continue on to the 4,000-year-old Sechin Alto, the largest architectural complex in the New World. The site is remarkable for its enormous mound that anchored a U-shaped complex of circular sunken plazas and flanking platform mounds. Inhabited for much of the second millennium BC. Cerro Sechin is best known for the wall enclosing the administrative center, where tall stone monoliths are decorated with carvings of warriors and gruesomely mutilated human victims. After lunch, we make our way to Trujillo, a beautiful colonial city in the Moche Valley of northern Peru.  Founded in 1535 and named after Francisco Pizarro's birthplace in Spain, Trujillo was the resting spot along the Spaniards' route between Lima and Quito and became known as the viceroyalty's "lordliest city."  We will admire its well-preserved 16th century homes with intricate wooden balconies and window screens as we tour the city. Overnight for two nights at the Costa del Sol Centro in Trujillo. (B/L/D)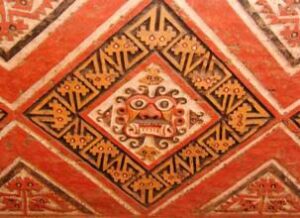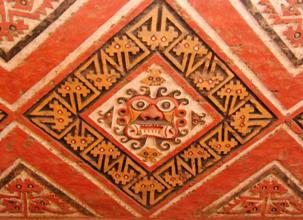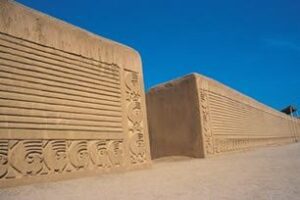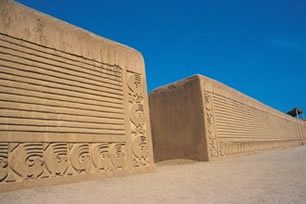 Day 6: This morning we visit several captivating complexes. The largest mud brick structure ever erected in the New World and constructed of more than 7,000,000 bricks, the Huaca del Sol, or Pyramid of the Sun, was built about the time of Christ and dominated the ancient capital of Moche. At the nearby Huaca de la Luna or Pyramid of the Moon, archaeologists have recently uncovered friezes still exhibiting colors that cover the huge stepped platforms. Then it is on to Chan Chan, a UNESCO World Heritage Site. Overlooking the sea and covering over 20 square kilometers, this capital of the ancient Chimú Empire was constructed entirely of adobe mud-brick. One of the largest pre-Columbian cities in South America, it is made up of immense palace complexes built for the rulers (the smallest is the size of six football fields!). Each is covered with intricate friezes exquisitely decorated with fish, birds and the moon in elegant repetitive patterns. Enjoy dinner tonight on your own in one of Trujillo's many fine restaurants. (B/L)
Day 7: Extensive excavations have been undertaken at the Moche complex of El Brujo, in the Chicama Valley. Archaeologists have discovered beautifully painted murals depicting prisoners and spider 'decapitators' that once formed the exterior of the pyramid. Located adjacent to the site, a colonial church was recently excavated as well. However, the most sensational discovery at El Brujo was the intact tomb of La Señora de Cao, a mysterious tattooed female mummy that was displayed on the cover of National Geographic magazine soon after being found in 2006. The Tattooed Lady soon caught the attention of the world. Wrapped in exquisite textiles, and adorned with dazzling nose-rings, gold jewelry and other fine items, archaeologists believe that the young woman was important and may have been the first evidence of women rulers in pre-Hispanic Peru. Here, we will have a private meeting with the archaeologist who led the team who found this mysterious lady, and enter the new Cao Museum. As we drive towards Chiclayo, gateway to Peru's northern archaeological zone, we will make a stop at a local pottery workshop at San Jose del Moro. Overnight for two nights in the Costa del Sol in Chiclayo. (B/L/D)
Day 8: The area around Chiclayo has long been inhabited by succeeding cultures. Over two decades of scientific investigation at Batán Grande by the Sicán Archaeological Project has told us much about the Sicán people. They constructed monumental temples and palaces, along with highly refined irrigation systems that turned the desert into rich agricultural fields. The nobility were buried in deep shaft tombs, some 40 feet deep, along with rich collections of jewelry and religious paraphernalia created from multihued feathers, gold and silver. The Sicán Museum displays the stunning artifacts found during excavations along with models of the tombs that were discovered. The incredible discovery of the burials tombs of Sipán (not to be confused with Sicán) within Huaca Rajada electrified the archaeological world. When archaeologists opened the un-looted wooden sarcophagus of a Moche king, they found not only his remains but also a remarkable cache of gold and silver ornaments, semi-precious stones, pottery and a number of sacrificed servants who accompanied him to the next world.  Far more significant than the monetary value of the artifacts is the new light that the discovery has cast upon this hitherto little known civilization. These dazzling finds are now housed in the breathtaking Tombas Reales Museum. (B/L)
Day 9: Transfer to the airport for our flights to Lima and on to Cusco. Upon arrival, drive into the Valley of Urubamba and Ollantaytambo. Built by the founder of Machu Picchu, Emperor Pachacuti (the earth shaker), as a royal estate in the mid-15th century, it was a stronghold against the Spaniards and the capital for resistance leader Manco Inca Yupanqui in the mid-16th century. Along the streets of the old section of town stand some of the oldest continually occupied buildings in the Americas with pristine Inca stonework. And the streets have a fully functional plumbing system created when the city was constructed. The town is shadowed by agricultural terraces still irrigated by mountain water. At the base of the mountain is a carefully designed water system of canals and fountains still in use today. Overnight for one night at the Hotel Pakaritampu. (B/L)
Day 10: 
Early this morning, board the train for a ride through the Urubamba River Valley to Machu Picchu, fabled lost city of the Inka. This beautiful mountaintop city might have been constructed as a royal palace complex for the emperor Pachacuti and his family in the early 15th century, and appears to have been an important spiritual and ceremonial location.  It was never found by the Spanish conquerors and was unknown to outsiders until 1911 when a local farmer showed the city to the explorer, Hiram Bingham.  Spend the day exploring this magnificent site. Overnight at the Machu Picchu Pueblo Hotel in Aguas Calientes, set in the lush rainforest filled with blooming orchids and bromeliads and with delightful bungalows scattered along the Urubamba River. (B/L/D)
Day 11: Sunrise through the jungle mist awaits those who wish to return to Machu Picchu. Hikers may choose to climb to the top of Huayna Picchu*, the towering granite peak that overlooks Machu Picchu for a spectacular view of the ruins.  Near the top of the mountain, pass through ancient terraces so inaccessible and so narrow that they were probably not used for agricultural purposes, but instead were ornamental gardens to be admired from the city below. Or walk a portion of the Inka trail, Qhapaq Ñan, to the Sun Gate. After lunch on our own, board the train to Ollantaytambo and return to the Hotel Pakaritampu for one night. (B/D)  *At least six months notice required to secure entrance for this hike.                                                                                                                                                                    
Day 12: Today we will see three of the most fascinating sites in Peru. Begin at Maras where a series of pools cascades down a bluff creating saltpans that have existed since pre-Inca times and are still actively used.  Next is Moray where impressively deep terracing creates what may be a pre-historic experimental farming station. Different levels of concentric terraces were carved into a huge earthen bowl here, and each layer has its own microclimate. Located in a high valley, Chinchero is a graceful, traditional Andean village, arguably the loveliest in the Peruvian highlands, that dates from before the conquest and was once the country estate of the late 15th-century Inka Tupac Yupanqui. Encircled by lush farming terraces, houses are built on the foundations of Inka buildings, including the early 17th-century church. Constructed of adobe bricks, lovely frescoes and mural paintings decorate both the exterior and interior. Chinchero's markets are held in the shadow of the church within the central plaza and are one of the best places in the entire valley for Andean textiles. Spend time bartering for crafts before enjoying a private weaving demonstration. Overnight for three nights at the Novotel Hotel in Cusco, around the corner from the cathedral and main square. (B/L/D)
Day 13: Our drive into the highlands takes us to Sacsayhuaman, a huge fortress constructed on an artificially leveled mountaintop overlooking Cusco. It consists of three outer defenses of colossal walls, and according to early Spanish chroniclers, was said to be a Royal House of the Sun. If on site, Dr. Alexei Vranich will meet with the group to talk of his work here. Proceed back to Cusco and enjoy a walking tour of the city. (B/L)
Day 14: Begin today at Pikillaqta, a pre-Inca urban center for the Wari culture in the 6th to 12th centuries.  A hydraulic system of canals, reservoirs, aqueducts have been excavated here that provided water for irrigation for the cultivation of maize. Maize was important to the Wari and was painted on pottery along with deities and other supernaturals. Midday, return to Cusco, capital of the Inka Empire and first seat of power for the conquering Spaniards. Visit the Cathedral, which was built on the palace of Inka Viracocha and contains an altar of solid silver, and Santa Domingo Church, built on the walls of the Inka Temple of the Sun, Koricancha. This was the most magnificent complex in
pre-conquest Cusco with walls covered in sheets of gold studded with emeralds and turquoise, and windows constructed so the sun would enter and cast a near blinding reflection of golden light off the precious interior. The Museum of Machu Picchu is housed within a Spanish colonial mansion, Casa Concha, and is built on top of the palace of Tupac Inca Yupanqui. It contains the collection of artifacts from Machu Picchu, including 360 pieces returned by Yale University that were taken during Hiram Bingham's 1911 expedition. The museum director, Jean-Jacques Decoster, will give us a private tour. The rest of the afternoon is free before our farewell dinner party. (B/L/D)
Day 15: Enjoy free time in Cusco before flying to Lima to catch our overnight flight to Miami. (B) (or join Nasca extension).
Day 16: Arrive back in the USA.
Nasca Lines Post-trip Extension
Day 15: Fly to Lima. After a light lunch, travel south paralleling the ocean along the Pacific Highway to Paracas and the Paracas Hacienda Hotel, our home for the next two nights. (L/D)
Day 16: This morning, board a small plane to fly over the famous Nasca Lines. Visible best from the air, the huge images are of animals and enigmatic "lines". Return to our beachside resort this afternoon with free time relax and dinner on our own. (B/L)
​Day 17: Driving back to Lima, we will make two stops. In Ica, visit the Regional Museum, housing an excellent collection of Paracas textiles and Nasca ceramics. Also displayed are quipus, knotted strings used by the Inkas as a writing system, along with a large-scale model of the Nasca Lines. Tambo Colorado was a lovely Inka complex that is reminiscent of the pueblos of the American Southwest. Rectangular buildings built of adobe enclose a large, trapezoidal plaza, and in the center sits the remains of an Ushnu, a wide throne platform common at Inka administrative centers. Within the mud walls, ornamented with painted bands of white, red and yellow, can be seen elaborate lattice work, niches, and corbeled arches. Continue to Lima at stay at the Costa del Sol Airport Hotel until it is time to transfer to the airport for late night flights back to the USA. (B/L)
Day 18: Arrive back in the USA.
Tour Cost
$9,595.00 (per person, double occupancy) includes three domestic flights, all hotels, meals as listed in the itinerary, gratuities to guides and drivers, ground transportation, entry and service fees.
Single Supplement: $995.00. Should a roommate be requested and one not be available, the single supplement will be charged.
Cost Does Not Include: Roundtrip international airfare; a separate $150.00 donation check; passport or visa fees; airport or departure taxes; beverages or food not included on regular menus; laundry; excess baggage charges; personal tips; alcoholic drinks; necessary vaccines or tests; email, telephone and fax charges; or other items of a personal nature.
Nasca Lines Extension Cost: $1,695.00 (per person, double occupancy) includes the flight by private plane;  all hotels, meals as listed in the itinerary, ground transportation, and entry fees.
Nasca Lines Extension Single Supplement: $275.00. Should a roommate be requested and one not be available, the single supplement will be charged.
Extension Cost Do Not Include: passport or visa fees; airport or departure taxes; beverages or food not included on regular menus; gratuities to guides and drivers; laundry; excess baggage charges; personal tips; alcoholic drinks; email, telephone and fax charges; necessary vaccines or tests; or other items of a personal nature.
Fuel Surcharges: Far Horizons must pass on price increases when additional fuel charges are levied.
Donation Checks: As a tour company that benefits from the cultural and natural riches of our destinations, we have a policy of donating to the scientific and cultural projects and museums we visit. This has created a bond between Far Horizons and the academic and local communities that has helped us establish an extensive list of lecturers and contacts in each of our destinations. We ask that each participant write a check to the noteworthy project we designate. The donation amount is $150.00 per person and is made by check directly to the donation project. For this trip, please make your checks payable to the "World Monuments Fund" with a notation on the memo line 'for the Chankillo Project.' Note that the donation is required as part of your registration for the trip and that it is non-refundable.
Registration
A deposit of $750 per person and the separate donation check for $150.00 (made out to the designated project) are required along with your registration form. Final payment is due 120 days before departure. Upon receipt of your deposit and completed registration form, you will be sent a reading list and a tour bulletin containing travel information. Prior to the trip, we will send links to various websites of pertinent interest to the trip. Click here to download our Registration Form.
Cancellations and Refunds
Cancellations received in writing at least 120 days before departure will receive a refund less a $450 per person administrative fee. Cancellations received less than 120 days before the departure date will not receive a refund. If for any reason you are unable to complete the trip, Far Horizons will not reimburse any fees. Upon registering for the tour, the purchase of travel protection with both trip cancellation and emergency evacuation is strongly advised. Insurance recommended by Far Horizons can be reviewed by clicking HERE.
Air Ticketing
If you do not fly on the group flight, you are responsible for all flight arrangements and transportation (including airport transfers) to join the group. If Far Horizons must change the trip dates or cancel the trip for any reason, Far Horizons is not responsible for any air ticket you may have purchased. If you issue your own international flight, please send the complete schedule as soon as you have it.
Note About Itinerary Changes
Changes in our itinerary, accommodations, and transportation schedules may occur. A good book to read as well as a flexible attitude and a sense of humor are essential.
Private Tours of Archaeological Sites
The private tours of archaeological sites and talks by specialists are scheduled in advance and include a donation to each. Specialists working at these sites are excited about showing their work to interested enthusiasts. However, please be aware that there may be times when the director or a member of the staff may not be onsite when our groups arrive due to other commitments, or that the date or time of our visit to their project must be changed.
Travel in this Part of the World
The adventurous nature of the itinerary makes it essential that you be in good physical condition. Long walks, as many as two miles or more each day, may be required to reach some areas, including walks over steep gradients, sand, and over poorly maintained paths. Participants must be able to walk on rough trails unassisted and keep up with group members. Reaching the top of some of the sites entails climbing up steep, uneven stairs. Although the altitude in the Sacred Valley, including Machu Picchu is under 8,000 feet, the height of Kuelap is 9,843 feet and Cusco is 11,152 feet. Meals will be primarily Peruvian dishes and several lunches will be boxed. Bellhops will not be available at all hotels and you will be responsible for your own luggage. A flexible attitude, team spirit and a good sense of humor are essential! If you have questions about your ability to handle this sort of challenge, we suggest you carry the brochure to your physician and discuss your abilities. If you have further questions about the strenuousness of the trip, please call Far Horizons.
THIS ARCHAEOLOGICAL TOUR TO PERU IS LIMITED TO 14 PARTICIPANTS