The Archaeology of Belize Tour
Tour Belize: Walk through the remains of Maya cities long hidden under lush rainforest canopy. Learn about the country's profusion of fascinating wildlife and unique and diverse cultural groups.
With Stanley Guenter
Why take this Belize Archaeology Tour?
Private tour of Xunantunich with the Project Director
Private tour of Cahal Pech with the Project Director
Private tour of the Belize Zoo 
Evening cocktail cruise on the New River
Learn about a unique culture at the Garifuna Museum
Enjoy a chocolate-making class
Maximum 14 participants
Tour Belize – Daily Itinerary
Day 1: Arrive Belize
Day 2: Lamanai
Day 3: Altun Ha.
Day 4: Museum of Belize. Belize Zoo.
Day 5: Cahal Pech. Xunantunich
Day 6: Caracol.
Day 7: Dangriga Garifuna Museum.
Day 8: Lubaantun, Nimli Punit.
Day 9: Fly to Belize City. Fly to the USA.
The Belize Zoo
Ecological Development Fund
Founded in 1983 by Sharon Matola, the Belize Zoo is home to more than 175 animals of about 48 species, all native to this environmentally rich country. An exciting opportunity has arisen as the 945 acres next to the zoo is for sale, and it adjoins 1700 acres of land which is currently a conservation parcel. Several rare and endangered species are found here, including tapir and yellow-headed parrots.  Won't you help support this worthy cause? Please click here to find out more about the project and to donate. Thank you!
A Tour of Belize's History and Culture
Rediscover hidden temples and palaces that have stood in forested splendor for thousands of years… boat down a lazy river where the elusive crocodile floats among lily pads…sink your toes into the white sandy beach in the land of the Garifuna… travel with our archaeological specialist, who has intimate ties with the country and its people. For even more travel options, browse our wider range of Tours of North and South America, including our Mexico Tour: In the Path of the Ancient Olmec.
Far Horizons proudly offers our Belize archaeology tour – a colorful abundance of archaeology, culture, and natural history.  During this special 9-day trip, explore lost Maya ceremonial centers concealed by jungle shadows, and meet people from the country's varied ethnic groups, while seeing spectacular wildlife that other countries around the world label "endangered."
Long thought to be a backwater of the ancient Maya civilization, archaeological work here has proven the opposite.  Explore Caracol, conqueror of Tikal in the 6th century; Lamanai, an important commercial center for more than 3,000 years; Xunantunich where recent excavations have uncovered the tomb of an important king; Altun-Ha, a major center that controlled the Maya trade routes along the Caribbean coast; and the remote southern cities of Lubaantun and Nimli Punit, where yet another inscribed stela has recently been found. 
Keep reading to learn more about this incredible Belize archaeological tour, and please get in touch if you have any questions. 
Archaeological Belize Tour Leader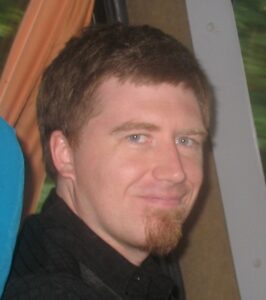 Stanley Guenter was first introduced to the Maya culture and ancient script at the age of ten. He has been studying Mesoamerican cultures ever since. He obtained his undergraduate degree at the University of Calgary, his Master's Degree at La Trobe University in Melbourne Australia, and his PhD in Archaeology from Southern Methodist University. He has worked on archaeological projects in eastern Tabasco, Mexico and is currently an epigrapher and archaeologist with two archaeological projects in Guatemala: The Regional Archaeological Investigations of Northern Petén, Guatemala (RAINPEG), and the Southern Methodist University El Peru/Waka' project. Dr. Guenter is one of the outstanding rising stars of Mesoamerican writing systems and has taught and presented at many conferences in Canada, the United States, Australia, Germany and Denmark. He has done a full study of the inscriptions of Dos Pilas in relation to Tikal (you may see the readings on mesoweb.com). 
"Stan is amazing! He was full of information and attentive, and was always so quick to share. He was very attentive and patient with questions. He had a great sense of humor too and a very pleasant, easy going personality. I hope you can entice him to lead future trips!" – David  Westphal

"He's a great tour leader – smart, articulate, and considerate. I would give him an A+++" – Elizabeth Wray

"Stan is fantastic!  I am very impressed by the depth & breadth of his knowledge of the Maya." – Ben Azman

"Stan really made the trip for us. He is flexible, accommodating, kind and considerate – AND (and this is a huge 'and') knowledgeable, excited, passionate, and caring about the Maya, their structures, their art, their history… His excitement and enthusiasm are contagious. Keep him!" – Pat Meany

"Stanley is an excellent leader. He managed by his presence and manner to make the group a cohesive unit while allowing for individual differences in ability and pace.  We also respect his knowledge and willingness to share his opinions and back them up with facts and logical arguments." –Anne and Joe Frankel

"I enjoy Stanley's information very much and especially his enthusiasm about all things archaeology.  He is always ready to go deeper into the glyphs and the history." – Ann Higgins
Belize Tour Itinerary
(B) breakfast, (L) lunch, (D) dinner
Day 1: Fly from Miami to Belize
Upon arrival, drive north to the New River.  From here, a river cruise through unspoiled lowlands takes us to our lodgings for the next two nights, the Lamanai Outpost Lodge. Along the way, we may see hawk-like snail kites, ospreys, gray-necked woodrails, and northern jacanas, locally known as Jesus Christ birds or "lily trotters" as they appear to walk on water. 
Our accommodations at the lodge feature charming wooden casitas built on a bluff overlooking an uninhabited lagoon on the edge of Lamanai National Park. Join a sunset cocktail cruise before gathering for a special welcome dinner at the lodge.  (D)
Day 2: Touring Lamanai
We spend today at Lamanai. Archaeological excavations have revealed that the site was occupied as early as 1500 B.C. Maya were still living here in 1641 when Catholic priests attempted to convert them — there is evidence that the city had a continuous occupation for over 3,000 years. 
One of the most intriguing pieces found here is Stela 9, a finely-carved monument carved in 625 to commemorate Lord Smoking Shell, who had died 17 years earlier. As we walk through the ruins, we may also visit the historic section of the site. Standing in front of the ruins of the church is an unpainted stela carried here by the 17th-century Maya from the prehistoric part of the site. (B/L/D)
Day 3: Tour of Altun Ha



Today, we depart back down river and drive to Altun Ha, the first archaeological site in Belize to be scientifically excavated. Occupied since 1000 B.C., the site flourished throughout the Classic period before being abandoned around A.D 900.  
The site's many pyramids cluster around two large plazas and many unusually rich tombs were discovered within them. One of these, nicknamed the "Sun God's Tomb" contained the largest carved block of jade ever found in the Maya area, and was thought to portray the Sun God himself, K'inich Ahau. 
You will overnight tonight in The Great House, a Belizean landmark located in the renowned Fort George area. Built in 1927, this magnificent four-story residence is probably the largest classic wooden home still in existence in Belize. Originally built as a family home, it is now a small hotel that will take us back to the early colonial times of Belize. (B/L/D)
Day 4: Visit the Belize Museum and Belize Zoo
The day begins at the Belize Museum, housed within a two-story brick fortress built in 1857 that was once Her Majesty's Prison. Home to some of the most hardened criminals from Belize's colonial period to shortly after Independence, today the transformed Museum of Belize provides visitors with a historical roadmap into Belize's vibrant past while retaining mementos of the building's former residents. 
As we drive southwest from Belize City, we will stop at the Belize Zoo, dedicated to the preservation of Belize's magnificent biodiversity. Here, Sharon Matola, the Founding Director of the zoo (and former lion tamer!), will meet with us to introduce us to the Belizean indigenous animals housed at the zoo. Overnight for three nights at Sweet Songs Lodge, a jungle lodge in western Belize's Cayo District. (B/L/D)
Day 5: Visit Cahal Pech and Xunantunich

Cahal Pech, situated along the west bank of the Macal River, offers a commanding view of the Maya Mountains to the south and the fertile valleys of the Belize River below.  The city's late Preclassic temples and two separate ball courts display fine examples of Maya craftsmanship, suggesting this site was a royal hilltop residence.  We will meet with the project director of this site for a private tour. 
After lunch in a local restaurant, continue to Xunantunich, reached only by hand-cranked ferry across the Mopan River and a mile hike on the other side.  The tallest pyramid at this site, towering over the surrounding countryside, displays a splendid 30-foot long stucco frieze dating to A.D. 800-900 at a time when much of the rest of the Maya world was collapsing. If available, Dr. Jaime Awe, the project director, will join us to tell about the discovery of a royal tomb in 2016 that suggested tantalizing connections to the Snake Dynasty.  (B/L/D)
Day 6: Tour of Caracol
Hidden deep within the Maya Mountains lies the remote Maya city of Caracol, one of the largest of the ancient American cities and the largest in Belize. It is noted not only for its size, but also for its prowess in the Snake Kingdom war that includes the defeat of Tikal in 562 AD and subsequent conquest of Naranjo in 631 AD. 
In 1986, a ball court marker was found that recorded the military victory of Yajawte' K'inich of Caracol and his allies over the warlords of Tikal. This magnificent city was built in an area without a natural water source, but the ancient Maya constructed a reservoir system that is an engineering masterpiece that still functions today. There will be time to walk through the canopy deck to observe the animals that appear after dark. (B/L/D)
Day 7: The Gulisi Garifuna Museum and Punta Gorda



Our drive along the Hummingbird Highway takes us to the town of Dangriga, home to the Garifuna, a unique Belize ethnic group. The Gulisi Garifuna Museum will be our first stop to see the displays about Garifuna history and culture. 
Lunch will be at the Pelican Beach Resort, with views beyond the white sand beach to the sparkling azure sea beyond. We will then continue south across river after river to Punta Gorda and the Cotton Tree Lodge, a resort that is a Jungle Lodge, organic farm and a 12,000-acre nature reserve. This is our home for the next two nights. (B/L/D)
Day 8: Touring Lubaantun and Nim Li Punit
Today's all day tour takes us through the spectacular jungle-shrouded Maya Mountains to two archaeological sites. Lubaantun was a late Classic ceremonial center noted for its unusual style of construction, distinctive for southern Belize. Shadowed by the jungle canopy and standing on stone terraces are large temples made of dressed stone blocks with no mortar binding them together. 
Nim Li Punit was an important city during the Late Classic Period, and may have held a special relationship with nearby Lubaantun. Of the more than 25 stone monuments found at the site, at least eight are carved. One of them is 32 feet long and is the tallest inscribed stela in Belize. Nim Li Punit means "Big Hat" in the local Maya language, and is named for the impressive headdress worn by the ruler depicted on the monolith. Enjoy a farewell dinner at the hotel. (B/L/D)
Day 9: Journey Home
Fly from Punta Gorda to Belize City in time for our flight back to the USA. (B)
Tour Cost
CALL (per person, double occupancy) includes round trip international airfare from Miami to Belize; one domestic flight (Punta Gorda to Belize City); all hotels; meals as noted; ground transportation; entry fees; and gratuities to guides and drivers.
Single Supplement: CALL.  Should a roommate be requested and one not be available, the single supplement will be charged.
Cost does not include: A tax-deductible check for $150.00 per person made out to the donation project; passport or visa fees; airport or departure taxes; beverages or food not included on regular menus; laundry; excess baggage charges; personal tips; alcoholic drinks; telephone and fax charges; necessary vaccines or tests; or other items of a personal nature.
Fuel Surcharges: Far Horizons must pass on price increases when additional fuel charges are levied.
Donation Checks: As a tour company that benefits from the cultural and natural riches of our destinations, we have a policy of donating to the scientific and cultural projects and museums we visit. This has created a bond between Far Horizons and the academic and local communities that has helped us establish an extensive list of lecturers and contacts in each of our destinations. We ask that each participant write a check to the noteworthy project we designate. The donation amount is $150.00 per person. For this trip we have designated the Belize Zoo and Neotropical Conservancy, Inc. (BZNC) and we kindly request that you send your donation (made out as above) to the Far Horizons office.
Registration
A deposit of $750 per person is required along with your registration form. Final payment is due 120 days before departure. Upon receipt of your deposit and completed registration form, you will be sent a reading list and a tour bulletin containing travel information. Prior to the trip, we will send links to various websites of pertinent interest. Click here to download our Registration Form.
Cancellations and Refunds
Cancellations received in writing at least 120 days before departure will receive a refund less a $450 per person administrative fee. Cancellations received less than 120 days before the departure date will not receive a refund. If for any reason you are unable to complete the trip, Far Horizons will not reimburse any fees. Upon registering for the tour, the purchase of travel protection with both trip cancellation and emergency evacuation is strongly advised. Insurance recommended by Far Horizons can be reviewed by clicking HERE.
Air Ticketing
International flights are included in the cost of the trip. If you do not fly on the group flight, you are responsible for all flight arrangements and transportation (including airport transfers) to join the group. If Far Horizons must change the trip dates or cancel the trip for any reason, Far Horizons is not responsible for any air ticket you may have purchased. If you issue your own international flight, please send the complete schedule as soon as you have it.
Private Tours of Archaeological Sites
The private tours of archaeological sites and talks by specialists are scheduled in advance and include a donation to each. Specialists working at these sites are excited about showing their work to interested enthusiasts. However, please be aware that there may be times when the director or a member of the staff may not be on site when our groups arrive due to other commitments.
Note about Travel in Belize
This trip is designed for adventure loving travelers . Belize's tourist infrastructure is quite different than what you may be used to. We will sometimes be traveling into remote areas where roads are dirt or partly paved. The road systems will at times be relatively undeveloped, so even relatively short distances may take a long time to cover.  We will be walking over uneven terrain for distances that may exceed a mile or more each day; hiking boots are strongly advised. bellhops or baggage handlers will not be available at our jungle lodge accommodations.  You will be responsible for carrying your own baggage. All participants are expected to be physically active and able to walk independently throughout our very full touring days. Keeping up with the group is each participant's responsibility; please do not expect assistance from the other group members or staff.
One of the pleasures of traveling through Belize is that it is off-the-beaten-tourist-trail and the landscape largely unspoiled. By maintaining an adaptable attitude you will soon be captivated by the beauty of the natural scenery and the fascinating archaeological sites you will visit. A spirit of adventure will reward you with a wonderful and memorable experience!
This Archaeological Tour to Belize is limited to 14 participants