Christmas in Oaxaca tour that highlights the colorful celebrations of the season, the fascinating archaeology, and the unique folk art of the neighboring villages
With Dr. Stanley Guenter
Why travel on Far Horizons' Christmas in Oaxaca Tour ?
See all three of Oaxaca's UNESCO World Heritage Sites
Specially arranged demonstrations by village artisans
Private concert on one of the historic organs
Experience holiday processions, or posadas
Enjoy the Noche de los Rabanos, a festival celebrating the humble radish
Limited to only 14 travelers
Oaxaca Tour – Daily Itinerary
Day 1: Fly Houston to Oaxaca
Day 2: Oaxaca City tour.
Day 3: Yagul, Xaaga, Mitla, Tlacochahuaya
Day 4: Monte Alban, Radish Festival
Day 5: Atzompa, San Jose el Mogote, Huijazoo
Day 6: Dainzu, Lambityeco, Teotitlan del Valle
Day 7: Artisan villages
Day 8: Zaachila, Cuilapán Convent
Day 9: Return to USA
What is the Radish Festival?
La Noche de los Rabinos, or The Night of the Radishes, is one of the most unusual festivals in the world. No one knows why it was started, but every year for more than one hundred years, on December 23rd, the lowly radish is promoted to center stage. In the zocalo, or central square of Oaxaca City, talented artists present this humble root that now has been carved into whimsical depictions of saints, nativity scenes, mythological animals, and symbols of ancient civilizations. The most creative displays receive prizes.
Mexicans often say, "Somos muy fiesteros," we love a good celebration! Nowhere
else like in Oaxaca does this statement ring true. Throughout December, city streets come alive with color and pageantry as citizens commemorate everything from their patron saint's day to the artistry of the lowly radish. Christmas preparations and celebrations take place almost daily from mid-month until the end of the year, and nightly posadas (religious processions) accompanied by music and song recall the Holy Family's search for lodging in Bethlehem.
We have designed a very special trip that includes leisurely excursions to Zapotec and Mixtec archaeological sites some rarely visited by tourists, private access to the studios and workshops of well-known artists and craftspeople, and dining on delicious regional cuisine in several of the city's most outstanding restaurants. Visit renovated Colonial churches built in the 17th century, some containing exquisite, hand-made and recently-restored pipe organs from the same era. Enjoy specially-arranged private talks and demonstrations by renowned collectors and artists in the villages of Santa María Atzompa, San Martin Tilcajete, San Bartolo Coyótepec, Santo Tomás Jalieza, Ocotlán, and Teotitlán del Valle.
Christmas in Oaxaca Tour Leader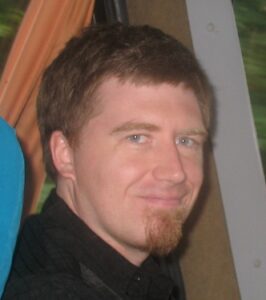 Stanley Paul Guenter obtained his undergraduate degree at the University of Calgary, completed his Master's Degree at La Trobe University, in Melbourne Australia, and his PhD in Archaeology from Southern Methodist University. He has worked on archaeological projects in eastern Tabasco, Mexico and is currently an epigrapher and archaeologist with two archaeological projects in Guatemala's Peten: The Regional Archaeological Investigations of Northern Peten, Guatemala (RAINPEG), and the Southern Methodist University El Peru/Waka' Project. Dr. Guenter's knowledge of ancient Mesoamerican cultures makes him am ideal leader for this a fascinating Christmas trip.
Christmas in Oaxaca Tour Itinerary
(B) breakfast, (L) lunch, (D) dinner
Day 1: Fly from Houston to Oaxaca, a colonial city surrounded by the Sierra Madre Mountains and set in a spectacular valley with a 3000-year-old history. Throughout the region, Zapotec and Mixtec ruins and extraordinary colonial architecture recall the achievements of its inhabitants while exquisite folk art reflects the vibrancy of today's culture. Upon arrival, we check into the small and charming Hotel Azul Oaxaca, conveniently located in the historic section of the city. This will be our home for the duration of the trip.
Day 2: Our all day walking tour of the old section of the city begins with a walk to the Rufino Tamayo Museum to see a wonderful collection of pre-Hispanic art left to the city by one of Mexico's most famous painters and muralists. Stop to see the Cathedral of Oaxaca containing an organ constructed in 1690. Lunch will be in a delightful restaurant located near the zócalo. Spend the afternoon in the Santo Domingo Cultural Center, housed in the cloister of the breathtaking Church of Santo Domingo. Until 1992, the ex-convent was used as an army base.
Recently
restored, it now is a museum displaying an amazing array of stunning artifacts from the valley sites as well as the extraordinary Mixtec treasures found at Monte Albán. Lunch today will be in Cabuche, serving traditional food from all over Mexico. Our welcome dinner will be in Origen, one of Oaxaca's many fine restaurants where Chef Rodolfo Castellano uses recipes that have been passed down through generations of his family. This evening we may encounter a posada, a reenactment of the search for shelter in Bethlehem of Joseph and his pregnant wife Mary that occurs each evening for the nine nights before Christmas. Carrying candles, these small groups walk through their neighborhood singing carols, frequently with two small children dressed as the Virgin and her husband. Each posada is hosted by one family but the entire community is invited to contribute food and drinks. (B/L/D)
Day 3: The hilltop remains of Yagul is crowned by a fortress with magnificent views of the surrounding countryside. As we walk within the fortified walls we will view buildings encircling plazas, several Mixtec tombs and the valley's largest ballcourt. From here, depart for the Mixtec archaeological site of Mitla, renowned for its spectacular fine-cut mosaic fretwork on the interior and exterior walls of palace buildings. Nearby, Xaaga is a small Zapotec site and on a hillside above the village, there are 10,000 year old prehistoric paintings still visible. Continue on to Tlacochahuaya's late 16th century convent to see its ancient sun clock and interior walls adorned with traditional paintings by Native artists and housing a pipe organ originally constructed in 1650 that has been recently restored. By special arrangement, if she's available, we meet with Cicely Winter, a member of the Historic Organ Restoration Project, who will talk with us about the history of these musical instruments and the restoration project, and give us a short recital on this lovely organ. (B/L/D)
Day 4: Our morning will be spent at magnificent Monte Albán spanning the crest of an artificially flattened mountain top. Dating from 500 BC, Monte Albán was a major Zapotec ceremonial center; more than 150 tombs have been found here containing some of the richest treasures in the Americas. Here, we will see the famous danzantes, incised figures once thought to be dancers but which are now thought to represent mutilated captives. Upon returning to Oaxaca, we will spend time in the Saturday market where merchants from throughout the valley come to lay out a profusion of hand-made crafts, indigenous foods and medicinal herbs. This is one of Mexico's largest traditional markets and at Christmas the bounty is prodigious. Lunch will be in Itanoní, a restaurant that pays tribute to the sacred corn plant with special recipes—all based on the local Maize crops. Tonight, Oaxacans celebrate La Noche de Rábanos, or Night of the Radishes, an extraordinary festival combining religion, agriculture and art. Oaxaca's zócalo is transformed with garlands of flower-studded laurels as families compete for prizes with displays of elaborate and intriguing sculptures, all made from fresh radishes. Dinner is on our own to search out one of the city's excellent restaurants. (B/L)
Day 5: Today is filled with fascinating archaeological sites. High on a hilltop perches Atzompa, a Mixtec fortified city and a satellite of the great Zapotec capital of Monte Alban. Although only partly excavated, archaeologists have found three ball courts and other important buildings. The views of the valley below are breathtaking. San José el Mogote precedes Monte Álban by many centuries and may have existed from as early as 1500 BC before being abandoned around 400BC. During this time, it grew to control the entire Valley of Oaxaca. And as it grew monuments and palaces were constructed to reflect this new center of power, but was eventually abandoned with the rise in importance of Monte Álban. In 1985, an important tomb was discovered in the site of Huijazoo. The entryway contains a bas-relief with richly dressed priests topped by a large monolithic lintel displaying a feline head whose open jaws hold a precious bird head. In Santa María Atzompa we will meet a great master of pottery, Angélica Vásquez Cruz. She began to work in clay when she was a child of seven, learning from her parents, and today her creations encompass a wide range of images from lovely angels to majestic female figures. In March of 2009 the past president of Mexico, Felipe Calderón, presented Angélica the National Arts and Sciences Award in the "Arts and Traditions" category. This is the night of the calendas, a procession around the zócalo of motorized floats representing different churches of the city and the celebration that concludes the Posadas. Each float is accompanied by a brass band, and the simultaneous blaring of different songs adds to the atmosphere of fun. Dinner is on our own this evening. (B/L)
Day 6: Two rarely visited archaeological sites are our destination this morning. Lambityeco was not begun until about 300 AD, late for this area. An important find here was a tomb containing large, carved stucco heads of the God of Fertility, Cocijo. Dainzú is an extensive site containing several platforms and a ballcourt similar to the one found at Monte Albán. Nearby is Teotitlán del Valle, a village whose name means Place of the Gods in the Nahuatl language. After the conquest, Dominican missionaries introduced sheep to this town and since then it has become distinguished for the manufacture of hand-loomed rugs, blankets and serapes. By special arrangement, we meet privately with renowned weaver Faustino Ruiz for a demonstration and talk about his work using only hand-made natural dyes and wools. Our Christmas lunch will be as guests in a local Zapotec family home, and our Christmas dinner will be in one of the historic center's fine dining spots. (B/L/D)
Day 7:In the 1990's Rodolfo Morales, an internationally-renowned, Zapotec artist returned to Oaxaca and created a foundation with the goal of restoring colonial churches in Oaxaca. Together with Rufino Tamayo and Francisco Toledo, he helped make Oaxaca a center for contemporary art. Drive to Ocotlán de Morelos, his home town, to see the church and ex-convent that has been transformed into a dazzling and exquisitely tasteful complex containing a museum displaying the artwork of local artists and artisans. While in Octolán, we will meet with one of the legendary Aguilar sisters in their home studios, internationally renowned contemporary folk artists. First "discovered" by Nelson Rockefeller in his visits to Mexico in the 1970's in search of fine pieces for his collection, their painted clay figures appear in important collections of Mexican folk art all over the world. In San Bartolo Coyótepec, the valley's famed black pottery is hand-molded by an age-old technique and fired in pit kilns. Here we will enjoy a private demonstration by Carlomagno Pedro Martinez. In the village of San Tomás Jalieza we visit the lovely home of Abigail Mendoz for a
demonstration of the traditional method of back-strap weaving. Then it's on to the home of the Fuentes family in San Martin Tilcajete to view the whimsical brightly colored woodcarving style that is now associated with Oaxaca. Finally, travel to Santa Ana Zegaché to see another of the charming 16th-century churches restored by Rodolfo Morales. Our final dinner party will be in the elegant Casa Oaxaca, where Chef Alejandro Ruiz creates some of the most creative cuisine in southern Mexico. (B/L/D)
Day 8: Today begins with a visit to Zaachila. According to the codices, after the Zapotec kings abandoned Monte Albán, Zaachila became their capital. The tombs that have been found here are decorated with relief sculptures of the rulers and the gods they served.
We continue to the 16th-century Dominican convent of Cuilapán. This imposing and truly unforgettable church and monastery complex stands alone in the landscape, a timeless remembrance of the influence of the Dominican clergy in Colonial Mexico. Lunch will be at the renowned La Capilla Restaurant where we will experience the local gastronomy. Dinner is on our own. (B/L)
Day 9: Transfer to the Oaxaca City airport for our early morning non-stop flight to Houston. (B)
Christmas in Oaxaca Tour Cost
CALL (per person, double occupancy) includes round trip international airfare from Houston to Oaxaca; all hotels; meals as noted; gratuities to guides and drivers; ground transportation; entry fees; and miscellaneous gratuities.
Single Supplement: CALL.  Should a roommate be requested and one not be available, the single supplement will be charged.
Cost does not include: A separate $150.00 (per person) donation check; passport or visa fees; airport or departure taxes; alcoholic drinks, beverages or food not included on regular menus; laundry; excess baggage charges; personal tips;  email, telephone and fax charges; or other items of a personal nature.
Fuel Surcharges: Far Horizons must pass on price increases when additional fuel charges are levied.
Donation Checks: As a tour company that benefits from the cultural and natural riches of our destinations, we have a policy of donating to the scientific and cultural projects and museums we visit. This has created a bond between Far Horizons and the academic and local communities that has helped us establish an extensive list of lecturers and contacts in each of our destinations. We ask that each participant write a check to the noteworthy project we designate. The donation amount is $150.00 per person and is made by check directly to the donation project. For this trip, we have designated the Instituto de Órganos Históricos de Oaxaca (http://www.iohio.org.mx/eng/home.htm) as we will enjoy a private concert and talk of this historic organs during the tour.  We kindly ask that you make your donation check out to 'The Westfield Center' with 'IOHIO' in the memo line and mail it to the Far Horizons office with your registration documents. Note that the donation is required as part of your registration for the trip and that it is non-refundable.
Registration
A deposit of $500.00 is required along with your registration form. Final payment is due 120 days before departure. Upon receipt of your deposit and completed registration form, you will be sent a reading list and a tour bulletin containing travel information. Prior to the trip, we will send links to various websites of pertinent interest. Click here to download the Registration Form.
Cancellations and Refunds
Cancellations received in writing at least 120 days before departure will receive a refund less a $450.00 administrative fee. Cancellations received less than 120 days before the departure date will not receive a refund. If for any reason you are unable to complete the trip, Far Horizons will not reimburse any fees. Registrants are strongly advised to buy travel insurance that includes trip cancellation.
Air Ticketing
International flights are included in the cost of the trip and we will be designating a group flight schedule. If you do not fly on the group flight, you are responsible for all flight arrangements and transportation (including airport transfers) to join the group. If Far Horizons must change the trip dates or cancel the trip for any reason, Far Horizons is not responsible for any air ticket you may have purchased. If you issue your own international flight, please send the complete schedule as soon as you have it
Private Tours
The private tours of archaeological sites and talks by specialists are scheduled in advance and include a donation to each. Specialists are excited about showing their work to interested enthusiasts. However, please be aware that there may be times when the director or a member of the staff may not be available when our groups arrive due to unforeseen commitments.
Note about Travel in Oaxaca
The group will be walking into and around Oaxaca City and archaeological sites extensively. All participants must be physically active and able to walk independently for distances that may exceed two miles or more each day. Keeping up with the group is each participant's responsibility; please do not expect assistance from the other group members or staff. You will be on your feet for much of each day. By maintaining a flexible attitude you will soon be captivated by the beauty of the natural scenery, the intriguing history, and the fascinating archaeological sites. A spirit of adventure will reward you with a wonderful and memorable experience! If you have questions about your ability to participate on this trip, please contact Far Horizons directly.
This Christmas in Oaxaca tour is limited to 14 participants