Guatemala: In the Path of the Snake Kingdom
Delve deep into the place of the Kaan, or Snake, family's role in Maya History while exploring the remote ruins of El Mirador, La Corona, and Holmul
with Professor Marcello Canuto
Why Take This Tour?
This Guatemala tour is led by the director of the La Corona Project
Travel by private chartered helicopter
Private tour of La Corona
Private tour of Holmul
Full day at El Mirador
Maximum 9 participants
Daily Itinerary
Day 1: Depart the USA. Arrive Guatemala City.
Day 2: Anthropology Museum. La Corona Lab. Fly to Flores.
Day 3: Holmul by truck.
Day 4: Helicopters to La Corona.
Day 5: Helicopters to El Mirador. Fly to Guatemala City.
Day 6: Fly back to the USA.
The Petex-Batun is the most inaccessible and rarely-visited region of Guatemala. Today it is lightly populated, and yet more than 1,500 years ago Maya rulers jockeyed for supremacy as they created immense cities here. During the 1990s mounting evidence indicated that a single kingdom, the 
Kaan 
or Snake, had a disproportionate influence in the ancient Maya world. Today, the glorious remains and texts written on carved stone monuments affirm the power of this royal family.
We travel by privately chartered helicopter to La Corona and El Mirador, two of the most remote Maya cities in this region. We will also journey through the jungle to Holmul, where recent discoveries provide tantalizing connections to the Snake Kingdom. Walking through the verdant rainforest teaming with wildlife combined with the lack of crowds guarantees a very special experience, even for the seasoned traveler.
Journey with Far Horizons on a 6-day exploration through out-of-the-way areas of Guatemala's Petén in search of the connections to the Kaan Royalty, and learn of the captivating finds made at some of the most influential sites!
'I think this was one of the very best trips I've ever taken...' Roberta McIlhenny
Tour Leader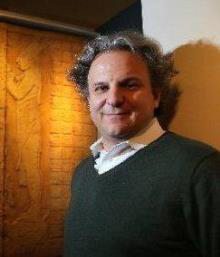 Marcello Canuto received his BA from Harvard University and his PhD from the University of Pennsylvania, both in Anthropology. After teaching for several years at Yale University, Dr. Canuto is now Associate Professor at Tulane University, and holds the prestigious position of Director of the renowned Middle America Research Institute there. He has published numerous articles and is the author of Archaeology of Communities: New World Perspective. He has been Assistant Curator, Pre-Columbian Collections, Peabody Museum since 2003, and Consultant, United Nations Development Programme, Guatemala since 2008. Dr. Canuto is the Director of La Corona Regional Archaeological Project in Guatemala.
Tour Itinerary
(B) breakfast, (L) lunch, (D) dinner
Day 1: Fly to Guatemala City and overnight at La Inmaculada, a quiet boutique hotel. (D)
Day 2: This morning will be spent in the National Museum of Anthropology and Ethnology. Although this is the repository of thousands of archaeological and ethnological artifacts, our time will be spent examining objects relating to the Snake Kingdom, including Panel 1 from La Corona. We continue to the La Corona archaeological lab for a 'behind the scenes' examination of many of the monuments found onsite, including the blocks of the hieroglyphic stairway, found in 2012, that document the arrival of a princess from Calakmul, the capital of the Snake polity, who traveled to La Corona to marry the ruler, and her subsequent climb to power as Queen. In the afternoon, transfer to the airport for our flight to Santa Elena, located on Lake Petén- Itzá. The Hotel Camino Real Tikal, with a helicopter pad on the property, is our home for the next three nights. (B/L/D)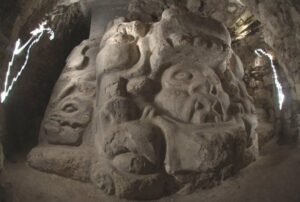 Day 3: Holmul was discovered in 1909 but archaeologists avoided the site in the decades that followed, probably because no texts had been found. Looking for clues to the early development of Maya civilization Tulane University's Dr. Francisco Estrada-Belli formed the Holmul Archaeological Project and returned to the site in 2000. Many exciting finds followed, including carved stelae, tombs, painted murals, stunning monumental masks, and most recently a unique stuccoed building dedicated to the re-establishment of the local dynasty through the offices of Naranjo and the Kaan kings. This discovery confirms the hypothesis that Holmul was a small but strategically important kingdom on which both Tikal and Kaan kings exerted their hegemony at different times. To reach the site, we will travel by truck along dirt tracks. (B/L/D) .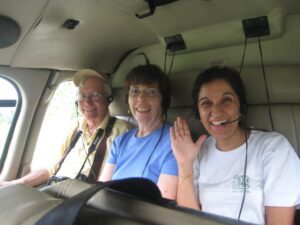 Day 4: After boarding our chartered helicopters this morning, we will fly over the canopy of the vast Maya Biosphere Reserve, the last tract of virgin rainforest in Central America. One of the most ecologically diverse regions on our planet, the Reserve is home to massive anteaters, wild cats, and scarlet macaws, as well as plants and trees found nowhere else on earth. La Corona first discovered in 1996, and later identified as the long-sought Site Q, the source of a series of looted limestone reliefs of extraordinary beauty and quality that are in museums and private collections all over the world. The location of Site Q has been one of the great mysteries for scholars of the Maya civilization, and the mystery was solved in 2005 when Dr. Marcello Canuto found a panel at La Corona that mentioned two Site Q rulers. The elaborate scene and lengthy hieroglyphic text commemorate the fascinating history of intermarriage between the rulers of La Corona (Saknikte') and princesses of the Snake court. We will spend today onsite. (B/L/D)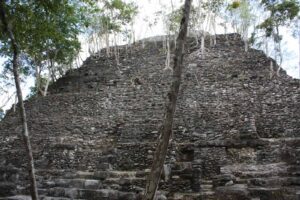 Day 5: The Mirador basin of northern Petén is home to the largest ancient freeway system in the Western hemisphere and some of the largest pyramids in the world. The most exciting is El Mirador, a superpower that rose to prominence in the Maya pre-classic period and was at the height of its power from 300 BC to 150 BC. The city's main buildings, covering an area of more than a square mile, are dominated by La Danta complex, more massive than the Great Giza Pyramid in Egypt. There have been many exciting finds at this site, including stucco friezes depicting two examples of Late Preclassic deity impersonators that originally adorned a pyramid complex. In the late afternoon, we take a flight back to Guatemala City. (B/L/D)
Day 6:  Transfer to the airport for our return flight to the USA. (B)
Tour Cost
CALL (per person, double occupancy) based on a minimum of 5 participants, maximum of 7 participants.
CALL (per person, double occupancy) based on a minimum of 8 participants, maximum of 9 participants.
Includes all hotels, all meals, ground transportation, round trip flights between Guatemala City and Flores, private helicopters for two days, entry fees and gratuities.
Single Supplement: CALL. Should a roommate be requested and one not be available, the single supplement will be charged.
Cost does not include: Round trip international airfare; a separate donation as outlined below; passport or visa fees; airport and or departure taxes; food, alcoholic beverages and other drinks not on the regular menu; excess baggage charges; laundry, telephone, fax or email charges; and other items of a personal nature.
NOTE: Each helicopter seats 3 participants plus 1 staff member, and the cost is based not only on the flight time and distance flown, but also the wait time. The trip price reflects these costs. There is a maximum weight limit on each helicopter of 800 pounds so participants will be directed to their helicopter by the pilots based upon the total weight of the four people onboard each one.
Fuel Surcharges: Far Horizons must pass on price increases when additional fuel charges are levied.
Donation Checks: As a tour company that benefits from the cultural and natural riches of our destinations, we have a policy of donating to the scientific and cultural projects and museums we visit. This has created a bond between Far Horizons and the academic and local communities that has helped us establish an extensive list of lecturers and contacts in each of our destinations. We ask that each participant write a check to the noteworthy project we designate. The donation amount is $150.00 per person and is made by check directly to the donation project. Note that the contribution is required as part of your registration for the trip and that it is non-refundable.
Registration
A deposit of $1,000.00 and the separate donation check for $150.00 (made out to the designated project) are required along with your registration and credit card authorizations forms. Final payment is due 120 days before departure. Upon receipt of your deposit and completed registration form, you will be sent initial trip documents.  Click here to download our Registration Form.
Cancellations and Refunds
Cancellations received in writing at least 120 days before departure will result in an administrative fee of $500.00. Cancellations received less than 120 days prior to departure will not receive a refund. If for any reason you are unable to complete the tour, we will not reimburse any fees. The purchase of travel insurance protection with trip cancellation, trip interruption and emergency evacuation is strongly recommended.
Air Ticketing
The international flights are not included in the trip cost.  If Far Horizons must change the trip dates or cancel the trip, Far Horizons is not responsible for any air ticket you may have purchased.
Private Tours
The private tours of archaeological sites and talks by specialists are scheduled in advance and include a donation to each. Specialists working at these sites are excited about showing their work to interested enthusiasts. However, please be aware that there may be times when the director or a member of the staff may not be onsite when our groups arrive due to other commitments.
Travel in this Part of the World
This trip is for the hardy! The adventurous nature of the itinerary makes it essential that you be in good physical condition. To reach most of the site centers entail long walks, as many as two miles or more each day, over steep gradients and over poorly maintained trails. All participants are expected to be physically active and able to walk unassisted. Keeping up with the group is each participant's responsibility. Hiking boots that cover the ankles are also required attire during the day while in the Petén.
To reach the top of some of the ceremonial centers steep climbs up tall, uneven stairs are necessary. To reach Holmul, we will be riding in the back of trucks on dirt tracks. Meals will not be haute cuisine and several lunches will be picnics. A flexible attitude, team spirit and a good sense of humor are essential! If you have questions about your ability to handle this sort of challenge, we suggest you carry the brochure to your physician and discuss your abilities. If you have further questions about the difficulty of the trip, please call us.
This Archaeological Tour of Guatemala is limited to 9 participants