Myanmar Tour: Burma the Land of Golden Pagodas
Tour Myanmar and Discover the Best of Burma: Bagan, Old Mandalay, Mrauk-U, Pindaya Caves, and Inle Lake
with Dr. Bryce Beemer
Dates
January 3 – 17, 2018
Why Take The Myanmar Tour?
Tour Sri Ksetra, Myanmar's first UNESCO World Heritage Site
Optional post-trip extension to remote Mrauk-U, the last great capital of the Rakhaing state
Visit tribal areas
Two full days tour of Inle Lake
Limited to a maximum of 14 participants
Myanmar Tour Daily Itinerary
Day 1: Depart USA.
Day 2: Arrive in Yangon.
Day 3: All day tour of Yangon.
Day 4: All day tour of Yangon.
Day 5: Drive to Pyay. Shwesantaw Pagoda.
Day 6: Akauk Taung Caves. Sri Ksetra and museum.
Day 7: Drive to Bagan. Sunset at Sunset at Shwesandaw Temple.
Day 8: Full day tour of Bagan temples.
Day 9: Mt. Popa. Bagan temples.
Day 10: Fly to Mandalay. Full day tour.
Day 11: Mingun Bell, Mingun Paya, Hisnbyume.
Day 12: Fly to Heho. Continue on to Inle Lake.
Day 13: Explore Inle Lake and its pagodas by boat.
Day 14: Explore Inle Lake market. Fly back to Yangon and on to USA.
Post-trip extension to Mrauk U
Day 14: Overnight in Yangon.
Day 15: Fly to Sittwe. Continue to Mrauk-U by boat.
Day 16: Temples of Mrauk-U and the archaeological museum.
Day 17: Villages in the Chin State.
Day 18: Return to Sittwe. Fly to Yangon. Return flights to the USA.
Day 19: Arrive USA.
The spellbinding gilded pagodas of Myanmar are an omnipresent backdrop to daily life in both rural and urban areas. The shimmering golden stupas of these magnificent constructions stand as testaments not only to the country's Buddhist tradition, but also to the ingenuity, strength and resiliency of the Burmese themselves.
The hospitality of the longyi-wearing people, many with their cheeks covered in creative thanaka paste designs, coupled with the incredible cultural, historical and political complexity of this nation make Myanmar a truly unique place to experience. Join Far Horizons on a remarkable two week tour through Myanmar (Burma), a once forbidden land, and view intricately decorated pagodas and temples as well as picturesque villages and colorful local markets.
Explore Bagan, the 'city of four million pagodas;' Pon Win Daung temple, where over 400 Buddha images are carved into the limestone hillside; Mandalay's old Royal City; Yangon, the capital of Myanmar until 2005. The final few days will be spent along Inle Lake surrounded by rural villages and aquatic gardens floating on beds of water hyacinth and one of the most picturesque locations in the country.
And don't miss out on the optional pre-trip extension to remote Mrauk-U, the city that served as the last great capital of the Rakhaing state, which affords the opportunity to encounter Chin tribeswomen, renowned for their elaborately tattooed faces.
Tour Leader
Bryce Beemer received his MA in Asian Studies fro the University of Hawaii at Mānoa and his PhD in History from the same institution. A cultural historian with a specialty of Buddhist art and iconography, he first went to Myanmar in 1997 and has returned several times since. In 2008-9, Dr. Beemer was the recipient of the Fulbright-Hays award for Graduate Research in Burma and Thailand. From 2013-2015, he was Visiting Assistant Professor, History, at Colby College, and was Research Professor, SIEAS, Sogang University (Korea), in 2015-2016. Dr. Beemer speaks both Thai and Burmese.
Myanmar Tour Itinerary
(B) breakfast, (L) lunch, (D) dinner
Day 1: Depart the USA.
Day 2: Arrive in Yangon. Transfer from the airport and settle into the Kandawgyi Palace Hotel, situated on the shores of the tranquil Kandawgyi (Royal) Lake and our home for three nights.
Day 3: Centuries ago, Yangon was only a small fishing village. Today it is the most populated city in the country. Surrounded by water, Yangon served as capital of Myanmar until 2005 and remains an important center of commerce. Today we venture to downtown Yangon and see Sule Pagoda said to enshrine a hair of the Buddha. Built in an octagonal shape, this unusual configuration continues up the roof to the top. Then it's on to Chaukhtatgyi Paya where an impressive reclining Buddha stretches 216 feet in length. Glass eyes peer out from this massive figure, giving it a lifelike air. Continue to one of the most sacred sites for the Burmese people, Singuttara Hill crowned with the Shwedagon Paya, the most famous pagoda in the country. The golden stupa dominates the city and is covered with hundreds of pounds of gold and is inlaid with thousands of jewels including diamonds, rubies, sapphires, emeralds, pearls and jade. Stop into the home where General Aung San lived with his family for just over two years before he was assassinated in July 1947. His widow and three children, including Aung San Suu Kyi, stayed on until 1953. (B/L/D)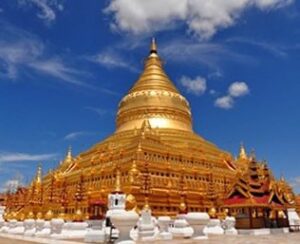 Day 4: The National Museum of Myanmar houses an extensive collection of adornments and ceremonial dresses, works of art, and other fascinating artifacts, including the Sihasana or 'Lion Throne' which was used by the last king of Burma. Made of wood and inlaid with gold and lacquer work, this piece is truly stunning. In the afternoon, spend some free time strolling in sprawling Bogyoke Aung San Covered Market where a plethora of shops display the largest selection of handicrafts in the country. Dinner is on our own to discover one of Yangon's excellent restaurants. (B/L)
Day 5: Depart Yangon for our drive to Pyay, 150 miles north of Yangon and one of Myanmar's many old capitals. Located along the Irrawaddy River, the lovely town is crowned by stupas. In the afternoon, climb the hill in the center of town to Shwesandaw Pagoda, one of Myanmar's biggest pilgrimage sites, to delight in the panoramic views of the river at sunset. Overnight for two nights at the Lucky Dragon Hotel. (B/L/D)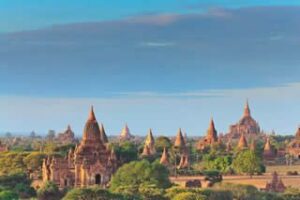 Day 6: In 2014, three ancient cities were designated UNESCO World Heritage, Myanmar's first. The remains of the three brick, walled and moated cities of Halin, Beikthano and Sri Ksetra are located in vast irrigated landscapes along the Irrawaddy River basin. Built during the Pyu Kingdoms, they flourished for over 1,000 years between 200BC and 900AD. We will explore Sri Kestra, the largest of the cities, where palace citadels and monumental stupas still stand, including the huge, cylindrical Baw Baw Gyi, one of the oldest pagodas in the country. The small museum onsite displays the archaeological findings. In the afternoon, venture to Akauk Taung caves, where many beautiful Buddha images carved into the cliff face overlooking the Irrawaddy River. (B/L/D)
Day 7: Depart Pyay and drive to Bagan. In the afternoon walk up the staircase of the Shwesandaw Temple, past the five terraces to the cylindrical stupa on top. Built in 1057 by the founder of the Bagan Kingdom, this imposing structure is said to enshrine hair relics of the Buddha. The stupa is adorned with a golden multi-tiered hti, an ornamental spire in the shape of a ceremonial umbrella found on many Burmese temples. Overnight for three nights in the Ayeyar River View Hotel. (B/L/D)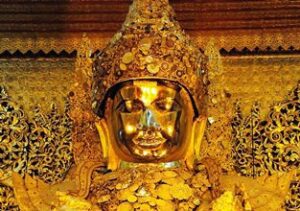 Day 8: Today we explore Bagan, the 'city of four million pagodas'. In addition to elaborate conical pagodas, this region possesses a collection of intricate temples and monasteries that keep watch over the nearby artisan workshops and charming village markets. Journey first to the imposing Htilominlo Pahto with its awe-striking golden spires and sophisticated plaster moldings. Continue on to Ananda Pahto, built in 1105 AD during the reign of King Kyanzittha of the Pagan Dynasty. Next, learn about Bagan, its history and art at the Bagan Archaeological Museum. After discovering the secrets of Bagan's past, bask in the glory of the golden Shwezigon Paya. Completed in 1102 AD this resplendent pagoda is said to enshrine relics of the Buddha. Conclude the afternoon by visiting artisan workshops, observe local artists as they create beautiful craft items and pieces of the distinctive lacquer ware of this area.  (B/L/D)
Day 9: An optional sunrise balloon ride over Bagan is available this morning. Then depart the city to drive to Mt. Popa, an extinct volcano crowned by golden stupas dramatically dominating the landscape. Perched atop this huge rocky outcrop is the sacred Popa Taungkalat monastery, the home of 37 Mahagiri nats, or aminist spirits, that were once so important to early kings that it was essential for them to consult these supernatural beings before commencing their reign. After lunch at a nearby resort overlooking Mt. Popa, return to Bagan with a short stop at a village with palm leaf products. This afternoon we will visit additional pagodas before returning to the hotel for sunset overlooking the Irrawaddy River and an al fresco dinner at one of the temples. (B/L/D)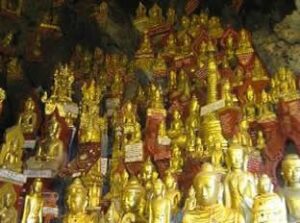 Day 10: Our early morning flight takes us to Mandalay, the last royal capital of the Burmese Empire. This vibrant city situated in the heart of the country contains the revered remains of the old Royal City, sacred monasteries and contemporary art and architecture. Mandalay is known as the country's cultural capital and is noted for its local woodcarvings, silverware, tapestries, silk cloth, and other traditional craft products. Our all day exploration begins at the spiritually important Mahamuni Paya. Ancient tradition mentions five images of Buddha that were made during his lifetime, and one is housed within this magnificent pagoda. The golden figure sits peacefully as crowds of people reach out to him. Close by is the Shwenandaw Kyaung, an elegant teak monastery covered with ornate carvings representing Buddhist myths. Next, see Kuthodaw Pagoda said to house the world's largest 'book' consisting of 729 marble slabs that have been devoutly inscribed with Buddhist scriptures. Move on to the iconic U Bien's Bridge, the longest teak footbridge in the world. This delicate walkway continues to convey pedestrians across the placid surface of Taungthaman Lake. Conclude the afternoon with drive to the top of Mandalay Hill for a panoramic vista of the city at sunset. (B/L/D)
Day 11: Travel by boat to the ancient village of Mingun on the western bank of the Irrawaddy River, to view the impressive Mingun Bell. Made of bronze and weighing almost 200 pounds, this massive bell was the heaviest functioning bell in the world until the year 2000. Next, visit Mingun Paya. Construction began in 1790, but the temple was ultimately left unfinished. Thousands labored to erect this breathtaking monument, but work stopped in when the king passed away in 1819. Though in a ruined state today, the grandeur reflected in the enormous dimensions of the temple make it a striking sight.  Move on and marvel at the gleaming white façade of the Hsinbyume Pagoda, an architectural depiction of Mount Meru, the center of the universe according to Buddhist cosmology.  Return to Mandalay, taking the scenic route, passing picturesque villages.  (B/L/D)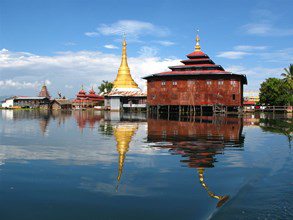 Day 12: Fly from Mandalay to Heho and journey on to Pindaya. Located on a ridge above the town is Shwe Oo Min Pagoda and the Pindaya Caves, a series of three richly-adorned caverns. This pilgrimage site houses over 8,000 images of Buddha. No other place in Myanmar displays such a fascinating range of styles, not only in the images, but also in the ornamental designs which surround the images. End the day in Nyaung Shwe, home to the captivating Shwe Yaunghwe Kyaung Monastery, famed for its unique oval windows. Arrive at the Inle Lake View Resort and overnight for the next two nights. (B/L/D)
Day 13: Travel by boat around Inle Lake, surrounded by rural villages and aquatic gardens floating on beds of water hyacinth, experience one of the most picturesque locations in all of Myanmar. See the ancient ruined stupas and temples at the lake-side village of Indein. A covered walkway leads to the hilltop temple Shwe Inn Thein Paya with over a thousand pagodas. Some have been lovingly revived and gilded in shimmering gold whereas others lean precipitously, collapsing into the vegetation. In the afternoon, see Phaung Daw Oo Pagoda. The five ancient gilded Buddha images housed here make this pagoda the most sacred site on this vast waterway. Conclude the day at Nampan village to see local cigar (cheroot) making. Time permitting, we will also visit Inn Paw Khone, a small village that specializes in silk weaving. (B/L/D)
Day 14: Experience a local market which rotates between towns in the Inle Lake region on a five day cycle. Here, have the opportunity to purchase some traditional handmade crafts and fresh local produce.  Return to Heho for the afternoon flight back to Yangon. In the evening, enjoy a farewell dinner together at one of the city's fine restaurants. Transfer to the airport for the return flights home. (B/L/D)
Day 15: Arrive back to the USA.
Post-Trip Extension: Mrauk-U
January 16 – 21, 2018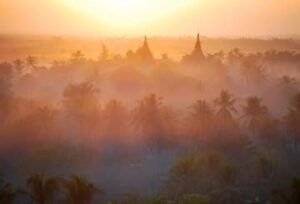 Day 14: Overnight in the Hotel Kandawgyi in Yangon.
Day 15: This morning fly north to the port city of Sittwe on the Bay of Bengal. Then continue to Mrauk-U by boat, reveling in the striking scenery and tribal villages along the Kaladan River. Located in western Myanmar, not far from the border with Bangladesh, this ancient Buddhist city served as the last great capital of the Rakhaing state from 1430 to 1784. Now a village with incomparable natural and architectural beauty, goat herders and vegetable farmers live and work next to the over 700 magnificent ancient temples and pagodas. Overnight for three nights in the Mrauk Oo Princess Hotel. (B/L/D)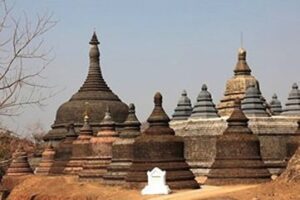 Day 16: Today we explore several of the plethora of beautiful temples located in Mrauk-U. First we visit the inspiring Dukkanthein Paya. The interior of this bunker-style complex features spiraling cloisters lined with impressive images of Buddha as well as interesting depictions of common people modeling Mrauk-U's 64 traditional hairstyles. Next we move on to the fascinating Andaw Paya an octagonal sandstone structure built to enshrine a Buddha tooth-relic. The neighboring Shittaung Paya, is an intriguing maze-like shrine decorated by tens of thousands of images of Buddha. Close by, an ornate pillar finds its home in a mint-green building. Three of this ten-foot tall obelisk's four sides are inscribed in Sanskrit, the eastern side dates back to the 5th century. Nearby is Kothaung Temple which features no less than 90,000 Buddha images. Next, journey to a Thet village and meet with people from this small tribe that maintains its centuries' old Buddhist traditions. In the afternoon enjoy a visit to the Mrauk-U Archaeological Museum. Located just inside the Royal Palace, its collection includes a vast assortment of artifacts including exquisite bronze and stone figures of Buddha, detailed paintings of Mrauk-U at its peak, ornate ceramic wares and much more! Conclude the day with a climb to the unassuming but ornate Haridaung Paya built in 1750. Found just north of the palace walls, this small temple marks a prime location for admiring the surrounding views, including a breathtaking sunset. (B/L/D)
Day 17: Journey by private boat to the remote Sin Ge village in the sparsely populated Chin state. During the voyage take in the diversity of the flora and fauna along the banks of the Lemro River. Upon arrival to the settlement, meet tribeswomen famed for their tattooed faces. According to elders, this practice began as a way to protect Chin women, renowned for their beauty, from kings of Myanmar who would travel to villages and take away the girls that they desired. Each tribe developed unique and intricate designs to distinguish the women belonging to their group. This practice has nearly vanished as new generations of girls become more exposed to globalized ideals of beauty. After this glimpse into a dying tradition, we head out to the remote tribal villages of Kyee Chaung and Kone Chaung for some tea and the opportunity to interact with the local population. (B/L/D) 
Day 18: Return to Sittwe by boat, followed by a flight back to Yangon. After dinner, transfer to the airport for the flight back to the USA. (B/L/D)
Day 19: Arrive back to the USA.
Myanmar Tour Cost
January 3 – 17, 2018
January 16 – 21, 2018 Mrauk-U Extension
$8,895.00 (per person, double occupancy) includes three internal flights; all hotels; most meals (as listed in the itinerary); gratuities to guides and drivers; and entry fees.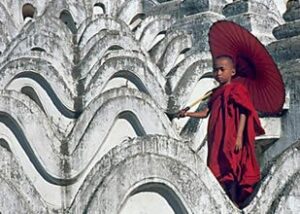 Single Supplement: $1,495.00. Should a roommate be requested and one not be available, the single supplement will be charged.
Cost Does Not Include: International airfare, separate donation as outlined below; passport or visa fees; airport and/or departure taxes; food, alcoholic beverages and other drinks not on the regular menu; excess baggage charges; laundry, telephone, fax or email charges; and other items of a personal nature.
Extension Cost: $2,995.00 (per person, double occupancy) includes internal flights; all hotels; meals as noted in brochure; entry fees; and transportation.
Extension Single Supplement: $695.00. Should a roommate be requested and one not be available, the single supplement must be charged.
Fuel Surcharges: Far Horizons must pass on price increases when additional fuel charges are levied.
Donation Checks: As a travel company that benefits from the cultural and natural riches of our destinations, we have a policy of donating to the scientific and cultural projects and museums we visit. This has created a bond between Far Horizons and the academic and local communities that has helped us establish an extensive list of lecturers and contacts in each of our destinations. We ask that each participant write a check to the noteworthy project we designate. The donation amount is $150.00 per person and is made by check directly to the donation project. Note that the donation is required as part of your registration for the trip and that it is non-refundable. We will be designating a donation project for this trip shortly.
Registration
A deposit of $500.00 and the separate donation check for $150.00 (made out to the designated project) are required along with your registration form. Final payment is due 90 days before departure. Upon receipt of your deposit and completed registration form, you will be sent a reading list and a tour bulletin containing travel information. Prior to the trip, we will send links to various websites of pertinent interest to the trip. Click here to download our Registration Form.
Cancellations and Refunds
Cancellations received in writing at least 90 days before departure will result in an administrative fee of $300.00. Cancellations received less than 90 days prior to departure will not receive a refund. If for any reason you are unable to complete the trip, we will not reimburse any fees. The purchase of travel protection with both trip cancellation and emergency evacuation is strongly recommended.
Air Ticketing
If you do not fly on the group flight, you are responsible for all flight and land transportation (including airport transfers) to join the group. If Far Horizons must change the trip dates or cancel the trip, Far Horizons is not responsible for any air ticket you may have purchased.
Private Tours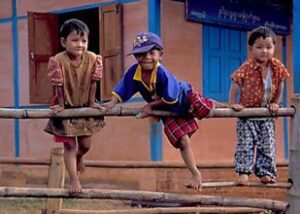 Private tours of archaeological sites and museum, and talks by specialists are scheduled in advance and include a donation to each. Specialists working at these sites are excited about showing their work to interested enthusiasts. However, there may be times when the director or a staff member may not be onsite when our groups arrive due to other commitments, or that the date or time of our visit to their project must be changed.
Note About Itinerary Changes
Changes in our itinerary, accommodations, and transportation schedules may occur. A flexible attitude and a sense of humor are essential.
TOUR TO MYANMAR IS LIMITED TO 14 PARTICIPANTS