Central Asia Silk Road Tour of Turkmenistan, Uzbekistan, Tajikistan
On our Central Asia Tour you will follow the Ancient Silk Road through Turkmenistan, Uzbekistan and Tajikistan
Study Leader To Be Announced
Why Take The Silk Road Tour?
Led by world religions specialist, Dr. Jennifer Rose
Traverse Central Asia with a tour of Turkmenistan, Uzbekistan, Tajikistan
Tour all UNESCO World Heritage Sites in Turkmenistan: Merv, Nissa and Kunya-Urgench
Tour all UNESCO World Heritage Sites in Uzbekistan: Bukhara, Khiva, Samarkand, Shakrisabz
Spend a full day in the old walled city of Khiva
Limited to a maximum of 14 participants
The Silk Road Tour Daily Itinerary
Day 1: Depart USA.
Day 2: In transit.
Day 3: Arrive in Ashgabat, Turkmenistan. Nisa.
Day 4: Anau. Ashgabat City tour.
Day 5: Merv.
Day 6: Konye Urgench. Cross into Uzbekistan. Drive to Khiva.
Day 7: Ayaz Kala. Toprak Kala. Kyzyl Kala.
Day 8: Khiva city tour.
Days 9 and 10: Bukhara.
Day 11: Travel by train to Samarkand.
Day 12: Samarkand city tour.
Day 13: Shakhrisabz.
Day 14: Travel by train to Tashkent.
Day 15: Tashkent city tour.
Day 16: Cross into Tajikistan. Khujand to Dushanbe.
Day 17: Dushanbe city tour.
Day 18: Fly to the USA.
"I loved the trip, the best I've taken. Everything came together: the extraordinary sites, the guides, the group, the chance to stay in some charming hotels, the pace, everything. I also appreciate feeling confident that the itinerary has been carefully planned and that I can rely on the trip staff for whatever I need." – Jan Austin

"Outstanding trip. Hard to take it all in with so many incredible sights. Lots of reasons to return." – Frances Underwood 

"Every hour of the trip was filled with excitement and new adventures. I came home with a vastly improved understanding and appreciation of Central Asia and how important it was along the Silk Road routes. I was overwhelmed by the stunning Islamic architecture of all the cities that we visited; I had no idea that such structures existed in this area. The fortresses in Khorezm along one of the Silk Road routes north of Khiva were really hard to believe in terms of size and complexity. " – Don Swanson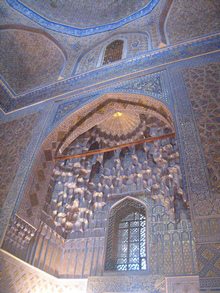 'Silk Road' – the very phrase conjures up images of camel caravans heavily laden with precious goods, slowly moving along barely-visible tracks through an endless desert. Conquered by names engraved in history books – Alexander the Great, Genghiz Khan,Tamerlane – Turkmenistan, Uzbekistan, and Tajikistan are where empires were born. But the merchants, missionaries, and warriors who traversed these paths also carried the major religions of 
Zoroastrianism
 (one of the world's oldest religions), Buddhism, Christianity, Manicheaism, and Islam over the course of time. And the architectural remains of these great belief systems are as breathtaking as they are grand.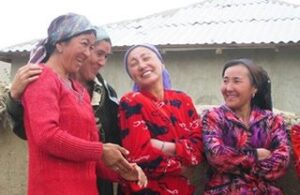 Travel with Far Horizons on the Silk road tour to these Central Asia countries that echo with history and along the way explore the legendary cities of Samarkand, Bukhara, Khiva, Nisa, Merv and Dushanbe, to name only a few, as we piece together the remnants of this ancient trade route.
Tour Leader
Jenny Rose received her MA in Religious Studies from the School of Oriental and African Studies, University of London, and her PhD from Columbia University in Ancient Iranian Studies. While writing her doctoral dissertation (since published as The Image of Zoroaster: The Persian Mage Through European Eyes), Dr. Rose was simultaneously a Senior Lecturer in Religious Studies at Brunel University, London, and the Deputy Director of a Religious Education Centre that supported the teaching of world faiths in the British public school system. She is presently an Assistant Professor in the Department of Religion at Claremont Graduate University, and is frequently an invited speaker at conferences in both North America and Europe. Apart from her two most recent publications on the Zoroastrian religion, Dr. Rose has published introductory books and other educational materials on the Jewish, Christian, Muslim, Hindu, Buddhist, and Sikh traditions. Her breadth of knowledge concerning the world's religions, and her particular interest in the historical interaction between Iranians and those of other cultures along the Silk Road, make her an ideal study leader.
Tour Itinerary
(B) breakfast, (L) lunch, (D) dinner
Day 1: Depart New York's JFK Airport.
Day 2: In transit.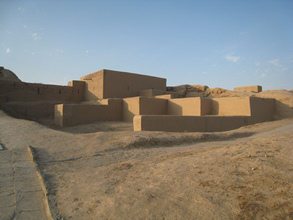 Day 3: Arrive in Ashgabat, the capital of Turkmenistan, in the early morning. Transfer to the hotel with time to rest. After a late lunch, drive to nearby Nisa, a UNESCO World Heritage Site. This huge mudbrick city, still enclosed within an imposing wall, was one of the earliest and most important cities of the Parthian Empire, a major power that dominated this region from the 3rd century BCE to the3rdcentury CE. Overnight for three nights at the Grand Turkmen Hotel in Ashgabat. (B/L/D)
Day 4: Our drive through the Kara Kum Desert takes us to Anau, a settlement, dating back seven thousand years, with evidence of a Bronze Age walled city. The city rose and fell over the millennia. In the 15th century the shrine complex of Shaykh Jamal al-Din was created. The building is unusual as it has two minarets and two domes, and above the entrance there was intricate mosaic work depicting two large yellow dragons against a blue background. Return in the afternoon for a city tour of Ashgabat, newly built after the 1948 earthquake.  We will visit the National Museum and, time permitting, the Wheat Museum. (B/L/D)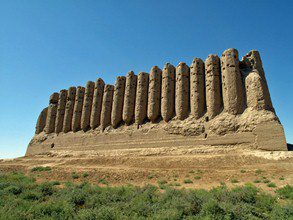 Day 5: An early morning flight takes us to the city of Mary, from where we drive to Merv, a UNESCO World Heritage Site. Across the vast flat landscape stretch the remains of an array of towns whose city walls enclose nearly 2,500 acres. There have been many incarnations of Merv.  Archaeological surveys have shown that a village existed here as far back as the 3rd millennium BCE. The Ancient Persians developed the city in the 6th century BCE and, under Alexander the Great, it was renamed Alexandria. This was the Silk Road's main trading route between Bukhara in the 12th century, before the Mongol invasion, was reputed to be the world's largest city. After exploring the extensive remains, walk through the museum that exhibits archaeological finds from sites excavated in the Mary oasis, including material from the Bronze Age sites of Gonur Depe and Togoluk, along with ancient Merv.  Return to Mary for the evening flight back to Ashgabat and the Grand Turkmen Hotel. (B/L/D)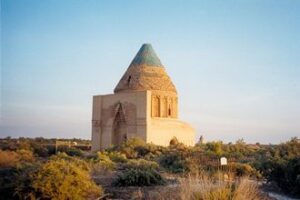 Day 6: Fly to Dashoguz and drive to the UNESCO World Heritage Site of Konye Urgench (Köneürgençin Turkmen), once the capital of the Khorezm region and part of the Achaemenid Empire. A major trade center on the Silk Road from the 10th – 14thcenturies, the old town contains a fascinating series of monuments including a mosque, the still standing gates of a caravanserai (an 'inn' for caravans), fortresses and fortification walls, several graceful mausoleums, and a brick minaret with delicate geometric designs towering almost 200 feet into the sky. After exploring this magnificent city, drive across the border into Uzbekistan and on to Khiva. Overnight for two nights in the Malika Kheivak Hotel located inside the old town city walls. (B/L/D)
Day 7: Khorezm is a large region where oases once dotted the Kyzyl Kum (red) and Kara Kum (black) Deserts with the Aral Sea on the northern edge. Spreading across today's borders of Uzbekistan and Turkmenistan, the area has been occupied since the Bronze Age and is dotted with ancient remains of settlements, some more than 5,000 years old. Fed by the fabled Oxus River, these fortified towns thrived on lush agriculture and were important stops for traders and caravans that crisscrossed this land for thousands of years.  Today's all day excursion takes us to three captivating Silk Road centers. Dating back to the 1st millennium, the impressive ruins of the fortified capital of Toprak Kala covers more than 42 acres and is encircled by mighty adobe brick fortifications topped by protective towers. It also contained a Fire Temple with a sanctuary. Towering over the city is the 2nd century palace-stronghold of the local Khorezm rulers, once containing more than one hundred rooms. It is one of the most remarkable architectural constructions of Oriental antiquity.  Nearby Kyzyl Kala, or Red Fortress, was a defensive stronghold in the line of battlements created to protect the north-eastern borders of Khorezm.  Lunch today will be in a yurt camp next to Ayaz Kala, a site consisting of three fortresses built between the 4th century BC and 7th century AD. Return to Khiva in the late afternoon. (B/L/D)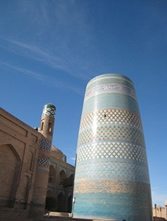 Day 8: Spend today exploring the old walled city of Khiva, once the capital of the kingdom of Khorezm and the last resting-place for caravans before crossing the desert towards Iran. Founded about 900 AD, it was conquered by Mongols in the early 13th century, invaded by Turks in the 1400s, and became part of Russia in the 1800s.  Khiva's outer city, Dishan Kala, was once protected by earthworks with eleven gates, and Ichan Kala, the inner section, still retains its enormous enclosure wall.  With wealth derived from the Silk Road trade and now a remarkable open-air museum of history and architecture, Khiva was the first site in Uzbekistan to be placed on the UNESCO World Heritage List. The historic district contains over fifty monuments as well as many traditional houses. Djuma Mosque, originally built in the 10th century was rebuilt later using over one hundred exquisitely-carved wooden columns. Sheikh Mukhtar-Vali Complex, a mausoleum built in the 16th century, is famous for its beautiful incised wooden doors. Kunya Ark was the stronghold-palace where the Khans lived from the 17th -19th centuries and housed the harem. The magnificent 19thcentury Tash-Hauli Palace was constructed around three courtyards with walls covered with striking azure tiles and brightly painted ceilings. Spend the day exploring this fascinating town and in the evening fly from Khiva to Bukhara.  Overnight for three nights in the Lyabi House Hotel, housed within a former mansion conveniently located within the historic area of the city.  (B/L/D)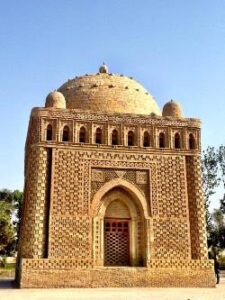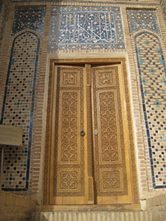 Days 9 and 10: Located on the Silk Road and more than 2,000 years old, fabled Bukhara has long been a focal point of trade, learning, culture, and religion. The most complete example of a medieval city in Central Asia, this breathtakingly beautiful city is like a whimsy from the Tales of Arabian Nights. We spend two full days exploring this UNESCO World Heritage site and will seldom be out of sight of ever more stunning monuments.  The famous tomb of Ismail Samani is a masterpiece of 10th-century Muslim architecture. Built for the founder of the Samanid dynasty, has graceful terracotta brickwork disguising walls that are six feet thick and has not needed restoration in almost one thousand years.  The city's citadel, known as the Ark, was the palace of the ruler and his family.  More than 500 years old, Balyand Mosque is filled with elaborate mosaics and gilded, vibrant paintings. One of the most impressive sights in Bukhara, the 12th-century Kalon Minaret, was probably the tallest building in Central Asia when it was first constructed. Standing almost 150 feet tall, it is a masterpiece of design with deep foundations cushioned with reeds to prevent destruction by an earthquake. Dating from the 12th century, Maghoki-Attar Mosque is thought to cover the remains of a 5th-century Zoroastrian temple. Built in 1417, the Ulugh Beg Madrasa is the oldest religious school in Central Asia and is decorated with sparkling azure tiles.  (B/L/D)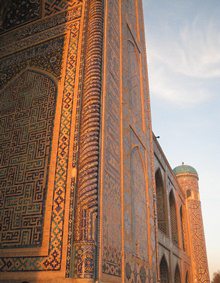 Day 11: This morning, travel by train to Samarkand, surely one of the most mythical cities in Central Asia, and the magnificence of its architecture lives up to the legend. Founded in the 7th century BCE, in the 14th century CE it became the capital of the empire of Tamerlane and is the site of his mausoleum. In the afternoon, visit Bibi-Khanum Mosque, which commemorates Tamerlane's wife and was originally built using wealth seized during his conquest of India.  Overnight for three nights in the Malika Prime Hotel in Samarkand. (B/L/D)
Day 12: Today will be spent exploring Samarkand, a UNESCO World Heritage city. Begin in the fabled Registan Square, dominated by three imposing monuments that are masterpieces of Islamic Architecture. The Ulug Beg Madrasa, built by the peaceful ruler for which it was named, was a famous theological school for the sons of wealthy families. Over the entrance way arch is a mosaic panel decorated with stylized geometric forms. The imposing entrance portal of the 17thcentury Shir Dor Madrasa depicts lion-like tigers pursuing gazelles below human-faced rising suns, a zoomorphic motif that mysteriously violates orthodox Islamic conventions. The Tilla Kari Madrasa and Mosque was conceived as the last, largest, and most embellished structure of Registan Square and encompasses extravagant gilt decoration in the mosque's domed chamber.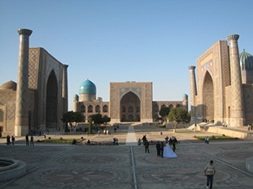 Located directly behind Shir Dar, Chorsu was the medieval commercial center. Nearby Gur-Emir Mausoleum was built for Tamerlane's beloved grandson, Muhammad Sultan. When he died at an early age, Tamerlane ordered this mausoleum built for his burial. In 1405 Tamerlane died in a nearby city and his body was brought here since it was closer than his mausoleum at Skakhrisabz. Ulug Beg was Tamerlane's grandson; he was an astronomer and a prince, the governor of Samarkand. This intellectual ruler created an amazing observatory in 1428 that housed the largest 90 degree quadrant the world had ever seen, and he constructed a three-story building to support and house it. His observatory influenced subsequent Islamic astronomy, and his star atlas, constructed from observations at Samarkand, was the first original astronomical publication since Ptolemy. It survives today as one of the great artifacts of astronomy and culture, not just of Central Asia but of the world. We will view this and the excellent onsite museum.  (B/L/D)
Day 13: Today we venture outside of Samarkand and drive to Shakhrisabz, another UNESCO World Heritage Site. Here, the 14th century conqueror Timur, known in the west as Tamerlane, took forty years to construct his palace. The exquisite beauty of the enormous iwan, or monumental entryway, is all that remains of the once huge Ak Saray Palace, but still broadcasts the wealth and power of the ruler.  Return to Samarkand in the afternoon and visit the sprawling Urgut Bazaar. (B/L/D)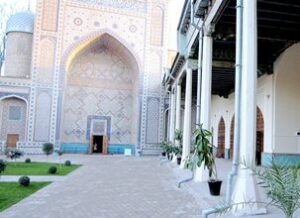 Day 14: Begin today at Shah-i Zinda, located just outside Samarkand and built into an ancient tell.  This street of extraordinary tombs belonged to Timur and his family and are richly adorned with the finest of majolica tile-work.  After lunch, we board a train to Tashkent, the capital of Uzbekistan.  Overnight for two nights at the Tashkent Palace Hotel. (B/L/D)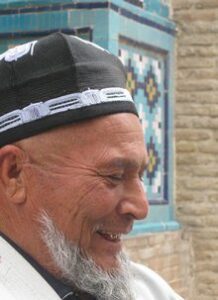 Day 15: Tashkent is often called the cultural capital of the Islamic world because of its many historic monuments. Our explorations begin in Independence Square, the largest city quadrangle in the former Soviet Union. Its most prominent feature is a globe with a map of Uzbekistan that replaces a 30-meter-tall statue of Lenin, a poetic expression of the birth of the nation. Next visit Navoi Theatre Square, where the opera house was built by the same architect who designed Lenin's Tomb in Moscow. Then see the Crafts Center, where traders have plied their goods for centuries, and the Abdul Kassim Madrasa. Enter the Russian Orthodox Church that is over 135 years old, and the oldest in Central Asia. End today's tour at one of the most remarkable medieval architectural monuments, the Barak Khan Madrasa, richly decorated with engravings, gilt, and glazed mosaic. (B/L/D)
Day 16: This morning we leave Tashkent for Tajikistan and on to Khujand, the site of another Ancient Persian city, dating back about 2,500 years. It was conquered by the Arabs in the 8th century CE, and was besieged and then destroyed by the army of Genghis Khan in the 13th century. Located on the Great Silk Road, and connecting Samarkand with the Fergana Valley, Khujand enjoyed a favorable geopolitical location and significant transport importance. Here we will visit the Historical Museum of Sughd, next to a restored portion of the Khujand Fortress, and the Muslihhiddin Medressa.  Continue on to Dushanbe, the capital of Tajikistan.  Overnight for two nights at the Serena Hotel.  (B/L/D)
Day 17: Dushanbe, which means "Monday" in Tajik, developed on the site of a Monday marketplace village. Today it is a rapidly-developing metropolis.  Our tour of the city this morning includes the Tajikistan National Museum, the Museum of Ethnography, Shohmansur Bazaar,and the Gurminj Musical Instrument Museum. In the afternoon, we travel outside the city to see Hissar Fortress, the remains of an 18th century fort occupied until 1924.  Return to Dushanbe for our farewell dinner. (B/L/D)
Day 18:   An early morning flight from Dushanbe takes us to Istanbul in time for the connecting flight to the USA. (B)
Tour Cost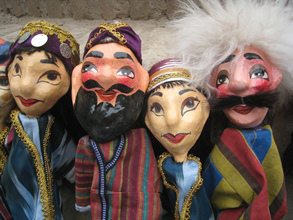 C (per person, double occupancy) includes all hotels, most meals (as noted), entry fees, ground transportation, gratuities to guides and drivers, and five internal flights.
Cost Does Not Include: A separate donation check for $150.00 per participant made out to the designated donation project; international flights to Ashgabat, Turkmenistan and returning from Dushanbe, Tajikistan; passport or visa fees (estimated visa fees of $750 per person); airport taxes; beverage or food not on regular menus; necessary vaccines and tests; alcoholic drinks, laundry, excess baggage charges, email, telephone and fax charges or other items of a personal nature.
Single Supplement: CALL. Should a roommate be requested and one not be available, the single supplement must be charged.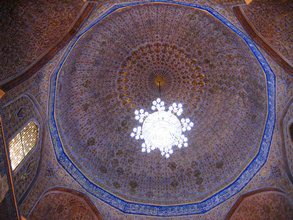 Fuel Surcharges: Far Horizons must pass on price increases when additional fuel charges are levied.
Air Ticketing: If you do not fly on the group flight, you are responsible for all flight arrangements and transportation (including airport transfers) to join the group.  If Far Horizons must change the trip dates or cancel the trip for any reason, Far Horizons is not responsible for any air ticket you may have purchased.
Donation Checks: As a tour company that benefits from the cultural and natural riches of our destinations, we have a policy of donating to the scientific and cultural projects and museums we visit. This has created a bond between Far Horizons and the academic and local communities. We ask that each participant write a check in the amount of $150.00 to the noteworthy project we designate. Note that the donation is required as part of your registration for the trip and that it is non-refundable. We will be designating a donation project for this trip shortly.
Registration
A deposit of $750.00 per person to Far Horizons and a separate donation check for $150.00 (made out to the donation project) is required upon making your reservation, along with a completed and signed registration form. Upon receipt of your deposit and a completed registration form, you will be sent travel information to assist you with planning for the trip. Final payment is due 120 days prior to departure. Click here to download our Registration Form.
Cancellation and Refunds
Cancellations received in writing at least 120 days before departure will receive a refund less a $450.00 per person administrative fee. Cancellations received less than 120 days before the departure date will not receive a refund. If for any reason you are unable to complete the trip, Far Horizons will not reimburse any fees. Upon registering for the tour, the purchase of travel protection with both trip cancellation and emergency evacuation is strongly advised. Insurance recommended by Far Horizons can be reviewed by clicking HERE.
Private Tours of Archaeological Sites
The private tours of archaeological sites and talks by specialists are scheduled in advance and include a donation to each. Specialists working at these sites are excited about showing their work to interested enthusiasts. However, please be aware that there may be times when the director or a member of the staff may not be onsite when our groups arrive due to other commitments.
Note About Travel in Central Asia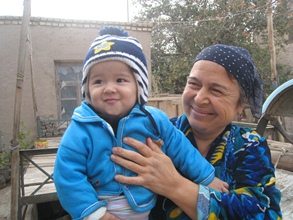 This trip is for the hardy! Newly opened to tourists, infrastructure of these countries is new and immature. The itinerary has been designed for adventure loving travelers and may involve schedule changes, unusual foods, poor roads, and local staff not used to groups of tourists. Guides may not be as knowledgeable or educated as we would like. Most of the so-called 4- and 5-star hotels were built in the 60s and 70s by the Soviets and are run by the government; they have not been maintained well and generally are not up to American standards. Recently small hotels in several cities have been built using private money, several in historic buildings. When possible, we will stayin these hotels, though they are sometimes simple. Group members must be physically active and able to walk without assistance for distances that may exceed a mile or more each day. Keeping up with the group is each participant's responsibility; assistance from the other group members will not be available.  A positive attitude, team spirit and a sense of humor are essential! If you have questions about your ability to handle this sort of challenge, please call us.
THIS ARCHAEOLOGICAL TRIP IS LIMITED TO 14 PARTICIPANTS