India Tour through Gujarat and Rajasthan
India's Tour through Gujarat and Rajasthan: Explore Ornate palaces, desert fortresses, Jain sanctuaries, Parsi fire shrines, walled cities, and Udaipur's Mahakaleshwar Temple filled with devotees worshiping Lord Shiva.
With Dr. Jennifer Rose
 Why take Far Horizons' India Tour?
• Tour to India is led by Parsi specialist, Jennifer Rose
• Visit five UNESCO World Heritage Sites
• Travel from Mumbai through India's Gujarat and Rajasthan states
• Journey by 4-wheel drive through the Great Thar Desert to visit traditional villages.
• Overnights in Heritage hotels, fortresses and luxurious spa resorts
• Limited to a maximum of 14 participants
Daily Itinerary
Day 1: Depart USA
Day 2: Arrive Mumbai.
Day 3: Mumbai city tour.
Day 4: Lonavla. Transfer to Pune with a city tour.
Day 5: Fly to Ahmedabad with a city tour.
Day 6: Ahmedabad city tour. Lothal.
Day 7: Adalaj. Modhera. Patan.
Day 8: Transfer to Udaipur. Boat ride on Lake Pichola.
Day 9: Udaipur city tour.
Day 10: Transfer to Jodhpur.
Day 11: Jodhpur city tour. Transfer to Jaisalmer.
Day 12: Jaisalmer city tour.
Day 13: The Great Thar Desert.
Day 14: Transfer to Pushkar with a city tour.
Day 15: Ajmer.
Day 16: Transfer to Jaipur with a city tour.
Day 17: Return to the USA.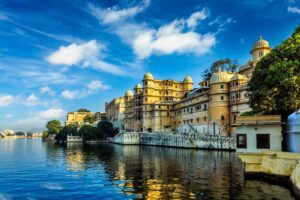 The states of Gujarat and Rajasthan, located on the northwestern border of India, are rich in tribal arts, resplendent royal architecture, and ancient remains of the many civilizations that have crossed this land. Along with many diverse and interesting cultures, a multitude of religions call this area home. One of them, the Parsis, came to India from Iran around 1,000 years ago and are devotees of Zoroastrian one of the oldest religions in the world.
This trip includes several UNESCO World Heritage sites: Victoria Terminus and Elephanta Cave in Mumbai; the ancient walled city of Ahmedabad; the spectacular Rani ki Vav stepwell in Patan; the largest fort in the world in Jaisalmer; and the Pink City of Jaipur. But there's more! See Gujarat's prehistoric Lothal, more than 4,000 years old. See Jain sanctuaries, Hindu temples, Sufi shrines, and glorious mosques. Walk through massive desert forts, magnificent city palaces, and opulent mansions. Travel by bus, 4x4, and camel through the Great Thar Desert to see small traditional villages and nature preserves.
Join only 13 others for this truly unique sojourn.
Tour Leader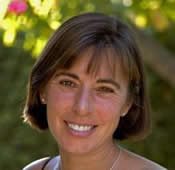 Dr. Jennifer Rose received her MA from the School of Oriental and African Studies, University of London and her PhD from Columbia University in Ancient Iranian Studies. She is presently an Assistant Professor in the Department of Religion at Claremont Graduate University, teaching classes in Zoroastrian Studies. Dr. Rose was a Senior Lecturer at the West London Institute/Brunel University in London before moving to America, and has been a Visiting Lecturer at Stanford University. For several years she was the editor for the Newsletter of the Center for Iranian Studies, Columbia University, and has published extensively in her field including three books – Zoroastrianism: A Guide for the Perplexed,Zoroastrianism: An Introduction, and The Image of Zoroaster: The Persian Mage Through European Eyes. Dr. Rose is conversational in Persian, and reads Latin, Greek, Hebrew, Avestan and Pahlavi (Middle Persian). She has been the invited speaker at conferences both in the USA and in other countries. Her warm personality and broad knowledge of the religions of India, in particular that of the Parsis, makes her an ideal study leader.
India Tour Itinerary
(B) breakfast, (L) lunch, (D) dinner
Day 1: Depart USA
Day 2: Arrive Bombay, today called Mumbai. Overnight two nights in the 5-star Trident Nariman Point Hotel, with panoramic views of the Marine Drive, or the Queen's necklace, and the Arabian Sea beyond.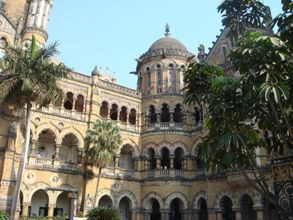 Day 3: Our day begins at the Chhatrapati Shivaji Terminus, formerly known as Victoria Terminus Station— a UNESCO World Heritage Site. Built in 1888, the Victorian Gothic building boasts a stunning stone dome, turrets,and pointed arches. It is undoubtedly the Raj's pièce de resistance.  Continue to the Gateway of India, a colossal structure overlooking the Mumbai harbor that was built in 1924 to commemorate the visit of King George V and Queen Mary. We will stop to observe Mumbai's famous stone steps, or ghats, from a bridge overlooking the open-air troughs where, daily, 5,000 men wash the clothes of the people of Mumbai and manage to get them back to their rightful owners!   Travel by boat to the tranquil, forested island of Elephanta and its unique cave temple containing a massive Trimurti, or three-faced Shiva, a UNESCO World Heritage Site. A glorious example of Hindu architecture, the 8th century cave is reached by climbing more than 100 steps to the top of the hill. Our final visit will be at Seth Jamshedji Dadabhai Amaria and Banaji Limji Agiarys, Parsi Fire Temples, where we will meet with a member of the Parsi faith to learn about one of the world's oldest religions. (B/L/D)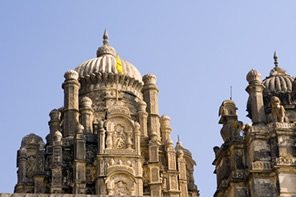 Day 4: Depart Mumbai this morning for Pune. Enroute visit Lonavla, a popular hill station.  During our journey, we will also visit Bhuleshwar Temple. The interior of this 13th century sanctuary to Shiva contains beautifully carved imagery of gods and goddesses, lions and elephants, and depicts stories from the Hindu epics of Ramayana and the Mahabharata etched in mural form.  Then it's on to Pune, 2,000 feet above sea level with a pleasantly cool climate. It's known for the grand Aga Khan Palace, built in 1892 and now a memorial to Mahatma Gandhi, whose ashes are preserved in the garden. We will climb 100 steps to the top of Parvati Hill where five temples are located, and see the 8th century Pataleshwar Cave Temple, dedicated to the Hindu godShiva. Overnight in Pune for one night in the 5-star Taj Vivanta Blue Diamond Hotel. (B/L/D)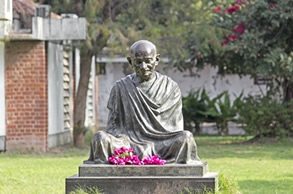 Day 5: This morning's flight takes us to Ahmedabad, the main city in Gujarat state. Founded in 1411 by Sultan Ahmad Shah, Ahmedabad is our base for the next three days. Our afternoon excursion begins at Sabarmati Ashram, one of the residences of Mahatma Ghandi from 1915 to 1933 and now a museum in his honor. Move on to the marble, two-storied Hattesingh Jain Temple with its elaborate façade decorated with intricately designed carvings and 52 shrines. Overnight for three nights in Ahmedabad at the House of MG, built in 1924 as a home for a wealthy textile magnate and attractively refurbished to retain its old-world charm. (B/L/D)
Day 6: The old walled city of Ahmedabad, on the UNESCO World Heritage Tentative List, comprises many interesting historic buildings.  The Jumma Mosque, built in 1423 by the city's founder, is one of India's most beautiful. Dominating the old city, this sandstone structure has 260 pillars, each intricately carved, supporting fifteen domes. Siddi Sayed Mosque is renowned for its stunning half circle windows with intricately carved stone latticework, called Jali. Dada Hari Ni Vav is one of Gujarat's most beautiful stepwells. The octagonal shaped structure was excavated down to ground water, five stories below the surface, with carved sculptures on the landing of each floor. Our afternoon excursion takes us to prehistoric Lothal, a major urban center of the Indus Valley settled and built about 4500 years ago. Foundations of this well-planned city are still evident, and the site's Archaeological Museum displays objects found there.  Dinner is on our own this evening. (B/L)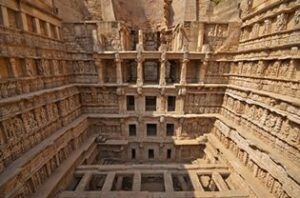 Day 7: As we spend the day outside Ahmedabad, we begin in the village of Adalaj. Here, the Ruda Step well (now dry) in 1499 was dug down to the water table and provided not only fresh water but also refreshing relief from the sweltering sun. Then we continue to Modhera. In addition to Jain temples and carved wooden houses, Modhera hosts the Sun Temple, built by Raja Bhimdev I in 1026 AD. This sanctuary is open to the sky, and its walls and pillars are lavishly ornamented with images of gods in a celestial hierarchy. The entrance hall has 12 representations of Surya, the sun, and they appear to correspond to the 12 months of the year. A spectacular tank, or artificial pool, fronts the temple and symbolizes the primordial milky ocean from which the sun emerged in the Churning undertaken by the demons and gods. We also stop at Patan, the capital of Gujarat between the eighth and fifteenth centuries. It is the home of the famous Patola silk saris and Rani ki Vav, a UNESCO World Heritage Site.Rani (Queen) Udayamati commissioned this intricately constructed vav, or stepwell, in 1063 in the memory of her husband King Bhimdev I of the Solanki dynasty. Dinner is on our own this evening. (B/L)
Day 8: We leave Ahmedabad and drive into Rajasthan state and to Rishabhdeo Temple, dedicated to Lord Rishabh dev, the first Jain Tirthankara who conquered the cycle of death and rebirth. Possibly dating back to the 9th century, it is one of the four main pilgrimages of the Jains. Continue to the charming city of Udaipur, known for its ornate palaces and in a charming setting with man-made lakes fringed by the lovely Aravalli Mountains beyond.  We will enjoy a boat ride on Lake Pichola to gain an overview of the city and to see some of the most impressive historical monuments scattered along the lakeside: the City Palace that is actually several palatial structures that were built over 400 years, the opulent mansions know as havelis, and the steps down to the water called ghats including impressive Gangaur Ghat with its three arches. Overnight for two nights at the luxurious 5-star Fateh Gahr Hotel, once a 19th century palace and now relocated high on a bluff with breathtaking views of Lake Pichola and the city of Udaipur. Constructed in the princely 'Heritage Renaissance' style, the rooms are adorned with Rajput antiques with delicate pastel frescoes on the walls and ceilings. (B/L/D)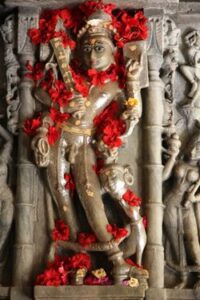 Day 9: Our all day city tour will be filled with memorable surprises. The enormous City Palace is a fusion of Rajasthani and Mughal architectural styles, and 76 generations of royalty have left their mark on this fortified edifice. Although owned by the Mewar royal family, much of it is open to the public and a portion is now a museum. Built of granite and marble and enclosed by fortification walls, our explorations will take us through a splendid variety of courtyards, pavilions, terraces, living quarters, and luxuriant gardens, each more lavish and beautiful. Jagdish Temple is located within the City Palace complex. To reach it we must climb a steep flight of steps through a colorful cacophony of chanting and smell of incense.  Just outside the city, Ahar was where the rulers of Mewar were cremated and the location of their cenotaphs, monuments to honor them. In the afternoon, we will enter Mahakaleshwar Temple, where hundreds of devotees of Lord Shiva worship each day. If we are fortunate, we will be there when one of the prayer services is occurring.  Dinner is on our own this evening. (B/L)
Day 10: Depart early for our long drive from Udaipur to Jodhpur. Along the way, stop to view the Ranakpur Temple, one of the five major pilgrimage sites of the Jains. Constructed in the 15th century, the complex has 29 halls, a multitude of domes, and pavilions supported by more than 1,000 pillars, each intricately engraved with figures of dancing goddesses. Overnight for one night at the charming Welcomhotel on the edge of the Thar desert in Jodhpur. (B/L/D)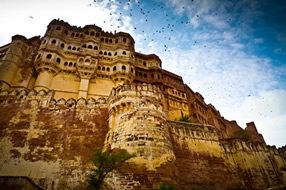 Day 11: Check out of the hotel early this morning and begin our explorations of the breathtaking sites in Jodhpur.  Soaring 300 feet over the roofs of the town, Mehrangarh Fort is one of the largest in India. The palaces within the fortification were built over period of 500 years and display many different architectural styles. The museum in the fort contains a selection of old royal palanquins, including the elaborate domed gilt Mahadol palanquin which was won in a battle from the Governor of Gujarat in 1730, along with weaponry, paintings and decorated period rooms.  After our morning sightseeing, depart for Jaisalmer. In Pokhran we enter the Fort Museum, housed within the fortress of the Rathores Clan. Overnight in Jaisalmer for two nights in the luxurious boutique Suryagarh Fort Hotel, with its ornate, sandstone exterior enclosing lush gardens, elegant courtyards, and only 62 rooms and suites. (B/L/D)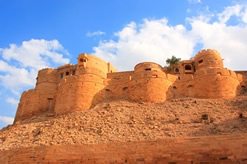 Day 12: Today we explore this fascinating desert city and UNESCO World Heritage Site. Begin in Jaisalmer Fort, one of the largest fortifications in the world. Built of shimmering golden sandstone, three formidable defensive walls protect the mansions, stables, granaries, and palaces inside that once belonged to Rajput kings. Wealthy merchants of Jaisalmer began building Jain shrines between 12th and 15thcenturies. Located within the fort, Chandraprabhu is one of the sanctuaries dedicated to the the 8th tirthankar symbolized by the moon. Some sculptures within the temple are of Ganesh, the elephant-headed god and son of Shiva that show the close ties between Jainism and Hinduism. The sumptuous Salim Singh ki Haveli islocated on a hill near the fort. It was built in the 18th century by Salim Singh, whowas the formidable prime minister of Jaisalmer when it was the capital of the princely state. This elaborate home was constructed of gorgeous honeyed sandstone, and is distinguished by its exquisite arched roof in the shape of a peacock.  The Desert Culture Centre and Museum conveys the history of Rajasthan's princely states and has exhibits on traditional Rajasthani culture. In the afternoon, drive to Kanoi Sam Village and embark by camel into the desert sand dunes. After a short ride, we will enjoy a traditional dinner with music and folk dancing. (B/L/D)
Day 13: We leave Jaisalmer today and drive to Khimsar, on the edge of the Great Thar Desert in the heart of rural India.  Upon arrival, we will board jeeps to travel to nearby villages and the Panchala Black Buck Reserve, home to three species of antelope – the Blackbuck, Chinkara and Bluebull, and on the migratory path of Demoiselle cranes. Accompanied by a steaming cup of tea, delight in the glorious sunset on the Panchala sand dunes before returning to the Fort for a lively cultural program and a lavish dinner on the ramparts of the old palace. Overnight in Khimsar Fort, built in 1523 by the 8th son of the founder of Jodhpur. Twentyone generations later a portion of the fortress is still the residence of that lineage while the rest has been opened as an elegant hotel, personally overseen by the family. (B/L/D)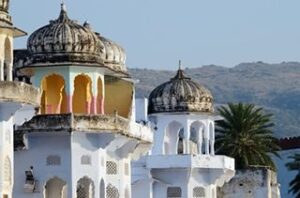 Day 14: Transfer from Khimsar to Pushkar, an important Hindu pilgrimage site. The town encircles a sacred lake that tradition says was created where Brahma dropped a lotus flower. There are a multitude of temples here, and our target is the renowned Jagatpita Temple, one of very few existing temples in India dedicated to the Hindu creator-god Brahma and remains the most prominent among them. Topped by a bright crimson spire, the sanctuary is decorated with symbols of swans, the mount of Brahma, along with other deities of the Hindu pantheon. Overnight in Pushkar for two nights at the Taj Gateway Hotel. (B/L/D)
Day 15: Five miles from Pushkar lies another Heritage city, Ajmer, our destination today. This town was a favorite residence of the mighty Mughals and one of India's most important pilgrimage centers for both Hindus and Muslims. Among the many holy sanctuaries here is Dargah Sharif, the shrine of Khwaja Muin-ud-din Chishti who founded India's Sufi order.  Originally from Persia, he devoted his life to the service and welfare of the poor and downtrodden. The saint's tomb is topped by a dazzling white marble dome and thecrypt inside is surrounded by a platform covered with silver. Digambara Jain temple was constructed in the 19th century. The entrance gate of the temple is made of imported red sand stone. The main hall presents a series of large, gilt-coverer wooden figures depicting Jain mythology and the first floor houses an astonishing collection of gold plate replicas of every Jain temple of the country. It is estimated that nearly 1000 kg of gold has been used in their creation. Our last stop will be the Mughal Museum. In 1570, Emperor Akbar constructed an elegant citadel and pleasure retreat of red sandstone that now is a rich storehouse of Mughal and Rajput body armor, other artifacts of the medieval period, and delicate Hindu figurines dating back to the 6th and the 7th century.  Gather this evening for our final dinner party. (B/L/D)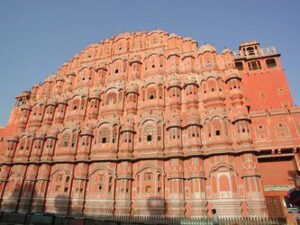 Day 16: An early departure takes us from Pushkar to the pink city of Jaipur, the picturesque capital of Rajasthan and a colorful showcase of Rajasthani architecture.  Glorious palaces and temples are scattered throughout the town in an assortment of styles that span the centuries.  Raja Jai Singh, the founder of Jaipur, was no ordinary man. He was a scholar and an astronomer, and in building Jaipur, he gave India its first planned city. High walls enclose the old city, and the seven sections within are laid out in a planned pattern, as dictated by the Shilpa Shastra, anancient architectural treatise.  We will visit the City Palace, a blend of traditional Rajasthani and Mughal architecture.  Now housing the Sawai Man Singh Museum, it is encircled by walls and situated among lush gardens. The museum contains a select collection of various types of Rajasthani dresses, a fascinating armory of Mughal and Rajput weapons, and spectacular swords, some encrusted with jewels and encased in magnificent scabbards.  In the center of the compound with balconies and windows studding its seven-story façade, Chandra Mahal is still the residence of the royal family.  Time permitting, we will enter the Jantar Mantar, an open-air royal observatory with its gigantic, astronomical instruments.  Then it's on to the Hawa Mahal, or the Palace of Winds, to admire this edifice built in 1799 to enable the women of the court to watch street processions while remaining in a strict state of purdah. This five-story façade contains 593 finely screened windows and balconies.   In the evening, we will fly to Delhi and overnight in the Holiday Inn Airport Hotel. Dinner is on our own this evening. (B/L)
Day 17: Return to the USA. (B)
Tour Cost
February 3 – 19, 2018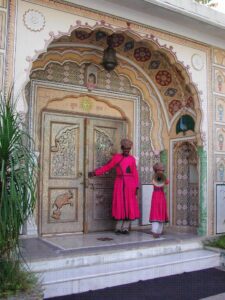 $9,595.00 (per person, double occupancy) includes group accommodations based on double occupancy; most meals (as listed in the itinerary); airport transfers for the group flights; entry fees to sites named in itinerary; ground transportation throughout the tour; gratuity to drivers and guides; emergency evacuation insurance for each participant.
Cost Does Not Include: international airfare from the USA; a donation as outlined below; passport or visa fees; airport and or departure taxes; food, alcoholic beverages and other drinks not on the regular menu; excess baggage charges; laundry, telephone, fax or email charges; and other items of a personal nature.
Single Supplement: $1,395.00. Should a roommate be requested and one not be available, the single supplement will be charged.
Fuel Surcharges: Far Horizons must pass on price increases when additional fuel charges are levied.
Donation Checks: As a tour company that benefits from the cultural and natural riches of our destinations, we have a policy of donating to the scientific and culturalprojects and museums we visit. This has created a bond between Far Horizons and the academic and local communities that has helped us establish an extensive list of lecturers and contacts in each of our destinations. We ask that each participant write a check to the noteworthy project we designate. The donation amount is $150.00 per person and is made by check directly to the donation project. Note that the donation is required as part of your registration for the trip and that it is non-refundable. We will be designating a donation project for this trip shortly.
Registration
A deposit of $500.00 per person is required along with your registration form. Final payment is due 90 days before departure. Upon receipt of your deposit and completed registration form, you will be sent a reading list and a tour bulletin containing travel information. Prior to the trip, we will send links to various websites of pertinent interest to the trip. Click here to download our Registration Form.
Cancellations
Cancellations received in writing at least 90 days before departure will result in an administrative fee of $300.00 per person. Cancellations received less than 90 days before departure will not receive a refund. If forany reason you are unable to complete the tour, we will not reimburse any fees. Registrants are strongly advised to buy travel insurance that includes trip cancellation.
Air Ticketing
If you do not fly on the group flight, you are responsible for all flight arrangements and transportation (including airport transfers) to join the group. If Far Horizons must change the trip dates or cancel the trip for any reason, Far Horizons is not responsible for any air ticket you may have purchased.
Note About Itinerary Changes
Changes in our itinerary, accommodations, and transportation schedules may occur. A good book to read as well as a flexible attitude and a sense of humor are essential.
Private Tours of Archaeological Sites
Private tours of archaeological sites and talks by specialists are scheduled in advance and include a donation to each. Specialists working at these sites are excited about showing their work to interested enthusiasts. However, please be aware that there may be times when the director or a member of the staff may not be onsite when our groups arrive due to other commitments.
Hotels
Where possible, we have carefully chosen hotels that are characteristic of the environment through which we are traveling. Most are housed in historic places and forts.
Travel in India
The group will be walking into and around sites extensively, frequently over uneven paths. All participants must be in good health, physically active, and able to walk independently and unassisted for distances that may exceed a mile or more each day. As a courtesy to your fellow travelers, you must be able to keep up with the group during the daily outings. Please remember that many of the sites are on mountain tops and to reach them means climbing. Be prepared!  Additionally, please carefully choose the footwear with strong support for your feet and ankles. If you are not physically strong, are walking with a cane, or have problems with climbing, please be aware that there will be no one to assist you.
We are covering a large territory and there will be several long days. Team spirit and a good sense of humor are vital!
THIS TOUR TO INDIA IS LIMITED TO 14 PARTICIPANTS