Tour Western China's Silk Road
Tour China's Silk Road and discover Kashgar's medieval market, Turpan, Kuqa, Urumqi and much more
With Professor David Brophy
Dates
October 10 – 26, 2017
Why take Far Horizons' Silk Road of China Tour?
Our China Tour is led by David Brophy, specialist on the social and political history of China's northwest, particularly Xinjiang
Private tours of the UNESCO World Heritage Caves at Mogao in Dunhuang
Two full day tours in Xi'an
Tour the Terracotta Warriors Museum, a UNESCO World Heritage Site
Travel by plane, train, bus, jeep, and camel!
Maximum 14 participants
The China Silk Road Daily Schedule
Day 1: Depart the USA.
Day 2: Arrive to Xi'an, China.
Day 3: Xi'an city tour.
Day 4: Xi'an city tour. Fly to Dunhuang.
Day 5: Yulin Caves. Yueya village.
Day 6: Mogao Caves Tour.
Day 7: Yumenguan Pass. Fly to Turpan.
Day 8: Gaochang. Bezeklik Caves. Astana Tombs. Jiaohe.
Day 9: Sugong Minaret. Drive to Urumqi. Xinjiang Regional Museum.
Day 10: Fly to Hotan. Old city tour.
Day 11: Rawak Ruins. Moyu countryside bazaar.
Day 12: Hotan Museum. Train to Kashgar.
Day 13: Kashgar Sunday Market. Id Kah Mosque.
Day 14: Kashgar's Yarkand Tomb. Train to Kuqa.
Day 15: Kizil Caves. Gaha cave. Subashi Ruins.
Day 16: Fly to Urumqi. Fly to Xi'an.
Day 17: Flight to the USA.
The name "Silk Road," introduced to the intrepid traveler's vocabulary over a century ago by the Swedish explorer Sven Hedin, conjures up images of desert caravans, lush oases, snow-capped mountains, and colorful markets where exotic goods change hands amid the cacophony of even more exotic languages. Where many destinations promise enchantment and adventure, travel on the Silk Road through China is one of the few that really delivers.
Join us for an exciting 17-day China tour along the Silk Road, the most ancient of Eurasian trade route. Traveling by plane, train, bus, jeep, donkey cart, and camel, we will visit such legendary sites as the Thousand Buddha Caves of Dunhuang, where Chinese, Tibetan, Indian, and Mediterranean religion and art met and mixed in the first millennium AD; the oasis town of Turpan, with the ruined city of Gaochang; Kashgar, home of Central Asia's most fabulous bazaar; and archaeological ruins from 2,200 years ago at Kucha and Khotan, remote outposts of the Han dynasty still keeping lonely vigil over the rim of the formidable Taklamakan desert. The tour includes two days of sightseeing in the old Tang capital of Xi'an. Our China Silk Road tour is sure to be the trip of a lifetime!
Tour Leader
David Brophy received his BA in Chinese/Philosophy from the University of Melbourne, Australia, and his MA and PhD from Harvard University. He is currently a Senior Lecturer in the Department of History at the University of Sydney and will be an Associate Research Fellow at Columbia University in Spring 2017. He is the author of two recently-published books on Western China: The Origins of Qing Xinjiang: A Set of Historical Sources on Turfan and Uyghur Nation: Reform and Revolution on the Russia-China Frontier.  He speaks Mandarin, Uygur, Turkish, Russian and Persian. . Dr. Brophy's specialized research on the social and political history of China's northwest, his numerous travels to the sites on our itinerary, and his warm personality, make him an ideal leader for any journey along the Silk Road.

China Silk Road Tour Itinerary
(B) breakfast, (L) lunch, (D) dinner
Day 1: Depart San Francisco on a non-stop flight to Xi'an.
Day 2: Arrive to the ancient city of Xi'an, the last stop on the famed trade route of the Silk Road, that ancient braid of caravan trails stretching for more than 2,500 miles from China through Central Asia to the Mediterranean. For 1,120 years, Xi'an served as the seat of twelve imperial dynasties, including the Tang dynasty (AD 618-907), a time when the Silk Road was at its height. Overnight for two nights in the Grand Mercure Hotel. Dinner is on our own.
Day 3: Begin today with a visit to the tomb of the first emperor of Qin (Qin
Shihuangdi), located in the outskirts of Xi'an. Here we see one of the most astounding archaeological finds of the 20th century, the famous army of life-sized terracotta warriors and horses guarding the resting place of China's first emperor, who died in 210 BC. We continue on to the Shan'xi Historical Museum, the Bell and Drum Towers (which date from the 14th century) and finally the Great Mosque.  Covering over 426,000 square feet, it is the oldest and one of the most renowned mosques in China.  It was founded in 742, however, the majority of the existing Xi'an Great Mosque was constructed during the Ming Dynasty and further expanded in the Qing Dynasty. . Our evening exploration is of the night market in the old Muslim quarter of the city, followed by our welcome dinner. (B/L/D)
Day 4: In the morning, we will venture to the Small Wild Goose Pagoda and Museum, significant to the city of Xi'an as the site of the old Han and Tang capital Chang'an. Afterwards, we will begin to make our way to the airport for our flight to Gansu Province in northwest China.  Along the way, we will stop in Han Yang where we will see the Han Yang Tomb and the Mini Terra Cotta Warriors. Enjoy a picnic lunch in the area of the Han Yang tomb and continue to the airport.  Our destination is the town of Dunhuang, a crucial junction of the Silk Road located at the edge of the Gobi desert. This area was a center for East-West cultural and trade exchanges as early as the Han and Tang dynasties, and an astonishingly rich variety of cultural relics remains. By the 4th century AD, the Silk Road had brought Dunhuang both commercial prosperity and a growing Buddhist community. Overnight in the Hotel Silk Road Dunhuang for three nights. (B/L/D)
Day 5: Our full day journey takes us east as we travel to the Yulin Caves, where forty-two caves house 250 polychrome statues and Buddhist wall paintings, dating from the Tang Dynasty to the Yuan Dynasty (7th to 14th centuries). The scenes depicted here include representations of China's ethnic minorities, farming scenes such as milking a cow, wine-making, a smelting furnace, and a marriage ceremony.  We return to Dunhuang this afternoon. (B/L/D)
Day 6: We are fortunate today to get an intimate look at the Mogao caves, one of the most perfectly preserved of the world's great religious sanctuaries and listed by UNESCO as a World Cultural Heritage Site. Here we are guests of the Dunhuang Academy (the recipient of our donations). The director of the Academy and her staff will open some of the caves that are closed to the public and allow us to examine up close the spectacular murals lovingly painted on the walls and ceilings, most of which date from the 7th to the 11th centuries. In addition, three tombs dating from the 5th and 6th centuries are open to visitors. Filled with one of the most extensive and exquisite collections of Buddhist paintings and sculptures in the world, every surface of the walls and ceilings are covered with decorated stucco, meant to bless those departing on the next stage of their journey or to celebrate a successful return. Lunch is provided by our gracious hosts at Dunhuang Academy.  (B/L/D)
Day 7: As protection from ongoing invasions by Xiongnu forces in the western region, Emperor Wu of the Han dynasty (114 BC) had formidable walls and beacon towers built. Remnants still stand and we will travel to Yumenguan Pass, or Jade Gate Pass, to see these military strongholds and the new museum that contains artifacts of the era beautifully displayed. This was a vital strategic point through which passed heavily-laden camel caravans transporting rich fabrics, aromatic spices, and prized jade when traveling westward from Dunhuang to follow the southern route of the Silk Road in Central Asia. The Silk Route was dependent for its existence and survival upon a line of oases strategically sited along the edge of the forbidding Taklamakan Desert. This afternoon, we will fly to Turpan, a desert oasis that sits almost 500 feet below sea level in the second lowest spot on earth. This sleepy desert town is shaded by poplar trees and grape arbors, populated by the Turkish-speaking Uighurs. Overnight for two nights at the Huozhou Hotel in Turpan.  (B/L/D)
Day 8: Today's all-day exploration takes us to several memorable sites. The Astana Tombs is a Tang-era site where the royalty of the old kingdom of Gaochang were interred. Of the more than 1,000 tombs, only three are open. We will walk down a steep, narrow
passage, at the bottom of which lies a small chamber with perfectly preserved mummies still on display. The walls of one chamber display murals depicting Jade Man, Gold Man, Stone Man and Wooden Man, said to symbolize Confucian virtues.  We will also venture to Bezeklik Caves, a complex of 77 rock-cut caves dating from the 5th to 14th century. Most of the caves have rectangular spaces with rounded arch ceilings often divided into four sections, each with a mural of the Buddha. The effect is of entire ceiling covers with hundreds of Buddha murals. Turpan is irrigated by a vast system of hand-dug underground channels (called karezes) that funnel the melting snow of the Heavenly Mountains into the city. This 2,000-year-old irrigation system has kept the city alive while other desert boomtowns have withered up and died.  This afternoon, we will visit a local farm house where we will share in the bounty of the oasis with a tasting of the locally made wine. Continue to the natural fortress of Jiaohe, built with rammed earth and bricks 2,300 years ago.  Sited on top of a high plateau formed by two rivers, the beautiful city that existed here was destroyed by Genghis Khan.  The size of the existing ruins indicates its great prosperity during the Tang dynasty and its significant role in the economic development of
Western and Eastern countries. (B/L/D)
Day 9: We begin today with a visit to Sugong Minaret, built in the mid-eighteenth century by the chief of Turpan Prefecture as a memorial to his father, before driving from Turpan to Urumqi, a city nestled in the mountains on the fringe of this beautifully desolate region. After lunch we will explore the Xinjiang Regional Museum to view the fine collection of relics from Astana. Wander through Urumqi's bustling bazaar, getting a glimpse of true local life, before dinner and overnight at the Grand Mercure Hotel, Urumqi. (B/L/D)
Day 10: In the morning we fly from Urumqi to Hotan, a rural oasis amidst the dry, shifting sands of the desert. A short drive to the ruins of the ancient Chinese city of
Melikawat.  The deserts around Hotan are strewn with the remains of abandoned cities but perhaps the most compelling site can be said to be that of Melikawat.  A Tang-dynasty settlement, this was once a major Buddhist center and capital city of the Yutian state, but now the battered, wind-eroded walls provide precious little shelter for the remains of pottery kilns, Buddhist stupas and scattered potsherds that have survived the harsh and ravaging effects of the desert.  We see the city ruins in the fading light of sunset by horse drawn wagon, then make our way back to town. The afternoon finishes with a visit to the Damko Temple Ruins, the Atlai Silk workshop, and the Jade Workshop (time permitting). Overnight for two nights at the West Lake International Hotel, Hotan. (B/L/D)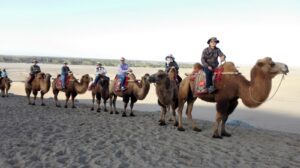 Day 11: Today's trip will be a highlight as we travel deep into the endless desert. First, travel by 4-wheel drive jeeps to the edge of the cultivated area, and then take a two-mile camel ride to Rawak, the ruins of the earliest pagoda of China. As we travel through the glorious desert on the back of our two humped dromedary, it will be almost as if we have been carried back to a point in the ancient past, to the height of the Silk Road era; to be a dauntless courier on an epic caravan journey. After our trek through the desert dunes, we will enjoy a refreshing picnic lunch.  This afternoon we venture to a countryside bazaar in Moya where we also visit a Mulberry paper making artisan shop. (B/L/D) Day 12: Begin at the Hotan Museum to view their fascinating collection of artifacts.  Continue on to the train station for our journey to Kashgar. Dinner will be onboard the train as we arrive in the late evening and transfer to the Jinjiang Hotel, our home for the next two nights. (B/L/D)
Day 13: Spend the morning at the Upal Kashgari tomb.  This sepulcher of Mahmud Kashgari is more like a library than a mausoleum, as many Islamic scholars through the years have enshrined their books here with the remains of this 11th century scholar and linguist.  Next we head back to town for Kashgar's Sunday bazaar. This market is well known as one of the great markets of Central Asia and a delightful mélange of sounds, sights, and smells awaits us in this ancient marketplace. Here colorful Uighurs hawk their wares in an exotic scene of handicrafts, fabrics and rugs, and food and spices. Leaving the bazaar in the early afternoon, we visit the 15th century Id Kah Mosque, in typical Uighur architectural style, located in the center of Kashgar and considered the biggest mosque in China. (B/L/D)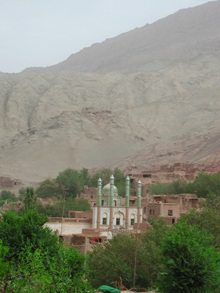 Day 14: This morning we will spend in Old Town Kashgar visiting the arts and crafts market and the tomb of Apak Hoja, built in 1640 and the largest Islamic mausoleum in China.  Enjoy a leisurely lunch on the way to the train station where we will depart for Kuqa.  We will have dinner on the train and, once arrived, we will stay at the Kuqa Hotel for two nights.  (B/L/D)
Day 15: The area around the town of Kuqa is scattered with Buddhist cave sites and ancient ruins. We will visit the huge Kizil Grotto Temples, containing 236 caves from the Wei and Jin Dynasties (4th-5th centuries AD), among some of the largest and the oldest in China. Kizil was actually a monastery made up of different kinds of caves, some for meditation and residence, others for religious teaching and worship, and yet others for the burial of the relics of eminent monks. We will lunch in the caves and, in the afternoon, we will view the ruins of Subashi, the ancient capital of the Kingdom of Guici. Here, where we will see two Buddhist temples from the Sui and Tang dynasties. Our farewell dinner will be tonight. (B/L/D)
Day 16: A late morning flight will take us to Urumqi for a connection on our flight back to Xi'an.  Transfer to the Grand Mercure Xi'an hotel for one night. (B/L/D)
Day 17: Transfer to Xi'an International Airport for return flight to the USA. (B)
China Silk Road Tour Cost
October 10 – 26, 2017
$9,195.00 (per person, double occupancy) includes five domestic flights in China; two trains; all hotels; meals as noted in the brochure; gratuities to guides and drivers; entry fees; and land transportation.
Cost Does Not Include: The tax-deductible check for $150.00 written to the "British Library/International Dunhuang Project"; international airfare to/from Xi'an; passport or visa fees; airport taxes; food, alcoholic beverages and other drinks not on the regular menu; laundry; excess baggage charges; telephone, fax or email charges; or other items of a personal nature.
Single Supplement: $895.00. Should a roommate be requested and one not be available, the single supplement must be charged.
Fuel Surcharges: Far Horizons must pass on price increases when additional fuel charges are levied.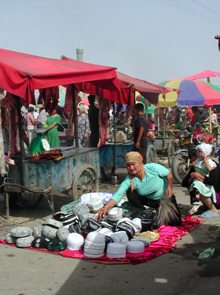 Donation Checks: The cost of the trip does not include the separate donation check for $150.00 (per person) to the "British Library/International Dunhuang Project". The International Dunhuang Project (http://idp.bl.uk) is a ground-breaking international collaboration to make more than 100,000 manuscripts, paintings and artifacts from Dunhuang and other Silk Road sites freely available on the internet with top quality color images. As a tour company that benefits from the historical, cultural and natural riches of our destinations, we have a policy of donating to scholars, archaeological and cultural projects, and museums in each of our destinations. This has created a bond with the academic community that allows you to gain an 'insider's view' of work being done in each country.
Registration
A deposit of $500.00 to Far Horizons and a separate check for $150.00 to British Library/International Dunhuang Project is required upon making your reservation, along with a completed and signed registration form. Upon receipt of your deposit and a completed registration form, you will be sent travel information to assist you with planning for the trip. Final payment is due 90 days prior to departure. Click here to download our Registration Form.
Cancellation and Refunds
Cancellations received in writing at least 90 days before departure will result in an administrative fee of $300.00 per person. Cancellations received less than 90 days before departure will not receive a refund. If for any reason you are unable to complete the tour, we will not reimburse any fees. Registrants are strongly advised to buy travel insurance that includes trip cancellation protection.
Note About Itinerary Changes
Changes in our itinerary, accommodations and transportation schedules may occur. A flexible attitude and a sense of humor are essential.
Air Ticketing
If you do not fly on the group flights, you are responsible for all flight arrangements and transportation (including airport transfers) to join the group. If Far Horizons must change the trip dates or cancel the trip for any reason, Far Horizons is not responsible for any air ticket you may have purchased.
Private Tours of Archaeological Sites
The private tours of archaeological sites and talks by specialists are scheduled in advance and include a donation to each. Specialists working at these sites are excited about showing their work to interested enthusiasts. However, please be aware that there may be times when the director or a member of the staff may not be onsite when our groups arrive due to other commitments.
Travel in this Part of the World
We will often travel through unpredictable territory with a will of its own. If its itinerary changes… so does ours! Hotels and transportation in remote areas may not be up to western standards. There may be times when no bellhops are available. We spend two days traveling by 4×4 into remote areas and some hiking will be required. At times we will be walking over uneven terrain for a mile or more; hiking boots are strongly recommended. All participants are expected to be physically active and able to walk independently throughout our very full touring days. Keeping up with the group is each participant's responsibility; please do not expect assistance from the other group members or staff. Several days will include long drives in the bus. A flexible attitude, team spirit and a good sense of humor is helpful! If you have questions about your ability to keep up with the group or the strenuous nature of this trip, please contact the Far Horizons staff.