Bulgaria Tour: Land of History
Travel to Bulgaria: The Sveshtari Thracian tomb, the Rogozen Collection of silver, medieval cities, rock-hewn churches, the Madara Rider rock relief
with Dr. Emil Nankov
Why Take this Tour?
Travel with Dr. Emil Nankov, who excavated Heraclea Sintica and Parthicopolis
Private presentation and tour of the excavations at Yunatsite with local archaeologists
View a preserved 2,500 year old Thracian chariot with skeletons of two horses still hitched in place
Examine the astounding Rogozen Treasure which included 165  finely-decorated silver dishes
See the precious collection of the Valchitran Gold Treasure that may have been dedicated to Dionysus
Tour Bulgaria's Seven UNESCO World Heritage Sites
Maximum 14 participants
Daily Itinerary
Day 1: Depart the USA.
Day 2: Arrive Bulgaria. Tour Sofia.
Day 3: Tour Sofia.
Day 4: Vratsa. Veliko Tarnovo.
Day 5: Nicopolis ad Istrum. Arbanasi.
Day 6: Tour Veliko Tarnovo. Ivanovo. Tour Ruse.
Day 7: Sveshtari Thracian Tombs. Demir Baba Teke. Veliki Preslav.
Day 8: Pliska. Madara Rider. Devnya Mosaics. Stone Forest.
Day 9: Tour Varna. Kaliakra Fortress. Aladja Monastery.
Day 10: Tour Varna. Tour Nessebar.
Day 11: Kazanluk. Thracian Tombs. Shipka.
Day 12: Pomorie Tomb. Karanovo Mound & Thracian Tomb. Tour Stara Zagora.
Day 13: Hlyabovo Thracian Dolmen Cluster. Madzharovo Rock Niches. Dolni Glavanak Stone Circle. Perperikon.
Day 14: Tatul Thracian Sanctuary. Harmankaya Rock Sanctuary.
Day 15: Tour Plovdiv. Belintash Thracian Sanctuary. Asenova Fortress.
Day 16: Private Tour of Yunatsite.
Day 17: Private Tour of Heraclea Sintica & Parthicopolis. Rila Monastery.
Day 18: Depart Sofia.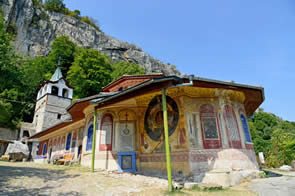 Bulgaria displays a treasure trove of historic monuments that span thousands of years of history.  The Thracians left behind an abundance of artwork in their spectacular tombs. The country contains cities and forts of Roman and Byzantine Empires, lavish medieval architecture and artistry, along with buildings left from the almost 500 years of Ottoman control.
Far Horizons covers the country from the mountains in the southwest, to the Black Sea on the east, and to the Danube River on the north. The enticing itinerary includes all seven UNESCO World Heritage sites: the rock-hewn Churches of Ivanovo; the ancient city of Nessebar; Madara Rider where a knight triumphing over a lion is carved high onto a cliff; glorious Rila Monastery; Boyana Church with its striking 12th century murals, and the Thracian tombs in both Kazanlak and Sveshtari.
Won't you join only 13 others on this 17-day itinerary which explores this captivating country noted for its imposing mountains, picturesque villages, enchanting cuisine, excellent wine, stunning historic sites, and welcoming people?
Tour Leader
Emil Nankov received his BA and MA in Archaeology from Sofia University in Bulgaria, and his PhD in History of Art and Archaeology from Cornell University. He was a Teaching Fellow at both University of Minnesota and Cornell University, and he has been the Academic Director of the American Research Center in Sofia since 2014. Dr. Nankov is a prolific writer and has edited A Companion to Ancient Thrace and is finalizing History of the Sling in Thrace. He taught at the International Summer Institute in Bulgaria in both 2010 and 2013, and since 2010 teaches at the American Research Center in Sofia. Dr. Nankov has worked on projects throughout the eastern Mediterranean, and was the Director of the Archaeological Field School at two projects in Bulgaria: Heraclea Sintica from 2012-2014 and Parthicopolis Field School 2015 to present.  He reads Ancient Greek, Latin, French, German, Italian, and speaks Bulgarian and Modern Greek in addition to English.
Tour Itinerary
(B) breakfast, (L) lunch, (D) dinner
Day 1: Depart the USA.
Day 2: Arrive into the capital city of Sofia this morning and transfer to the five-star Grand Hotel Sofia, our home for two nights. Take some time to rest before enjoying a walking tour of Sofia in the afternoon. The city of Sofia covers layers of civilization, and its churches and monuments reveal more than 2,000 years of history, including Greek, Roman, Ottoman and Soviet influence. Begin with a stop at Alexander Nevski Cathedral, built as a memorial to honor the Russian Emperor Alexander the 2nd, also known as the Tsar – Liberator, whose army liberated Bulgaria from the five-century long Ottoman Dominion in 1878. Venture below St. Sofia Basilica and wander among Roman walls, these excavations of the forum include tombs and four churches from the 4th century. Dinner is on our own tonight.
Day 3: Our day begins at the Boyana Church, a UNESCO World Heritage Site and a glorious example of medieval art and architecture. The complex is made up of three buildings with one of them containing splendid 13th -century wall paintings. Continue on to the National Museum of History. We will visit the National Archaeology museum, regarded as the largest research archaeological unit in southeast Europe. Walk into the 16th century Banya Bashi Mosque, designed by the great Ottoman architect, Mimar Sinan, and the only remaining example in Bulgaria of a domed roof on a cubic base. Next to the mosque are the Baths of Sofia, used as the city's public baths until 1986. Not far lies the magnificent Sofia Synagogue, the third largest in Europe. It regularly conducts public worship but also contains a museum about Jewish culture and historical heritage in the country and the rescue of Jews during World War II. Bulgaria was the only nation in Europe to save its entire Jewish population from the Nazi death camps, and King Boris has the wartime distinction of being the only world leader to defy Hitler face-to-face. (B/L/D)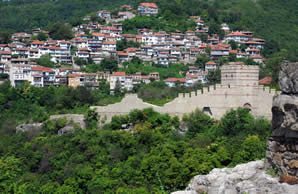 Day 4: Depart Sofia and drive through lush countryside to Vratsa. The Vratsa History Museum located partially within the Tower of Meshchii, a fortified 16th century residential stronghold. Spread through several halls, the exhibitions include the Rogozen Collection, the richest Thracian treasure yet discovered within Bulgaria. It consists of gold-plated silver dinnerware that belonged to a Thracian royal dynasty. Drive on to Veliko Turnovo, the medieval capital city of Bulgaria. Overnight for two nights at the Hotel Meridian Bolyarski in Veliko Turnovo. (B/L/D)
Day 5: Nicopolis ad Istrum lies just outside Veliko Turnovo. This Roman, later Byzantine, town was founded by Emperor Trajan at the end of the 1st century.  On the UNESCO World Heritage Tentative List, the site's striking architecture and Hellenistic sculpture show a similarity with those of the ancient towns in Asia Minor. After walking through the old city, continue to the charming village of Arbanassi, now an open air museum. During the 17th and 18th centuries the village became an affluent crafts and trade hub. During this period, wealthy traders constructed impressive stone houses resembling small fortresses, along with richly embellished churches and monasteries, many covered in colorful painted frescoes. Konstantsaliev House, a fortress-home surrounded by high stone walls, is an example of the unique style of architecture in the village. Our next destination is nearby Transfiguration, or Preobrazhenski, Monastery with both its exterior and interior painted in vibrant scarlet hues. Upon returning to Veliko Turnovo we will visit Trapezitsa Fortress, high on a hill dominating the city. Dinner is on our own. (B/L)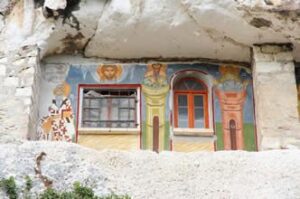 Day 6: This morning we see Tsarevets Royal Hill and Trapezitsa Hill. Next, we drive north, to the UNESCO World Heritage Site of Ivanovo is a complex of rock-hewn churches, chapels, and monasteries constructed during the 12th century. The interior of the caves are covered with the original extraordinary 14th-century wall paintings. Continue to Ruse, located on the right bank of the Danube with the country of Romania on the opposite side of the river. It is considered one of the most beautiful towns in Bulgaria due to its Neo-Baroque and Neo-Rococo architecture. Guarding the city is the Roman Fort of Sexaginta Prista, built as part of a major fortification system along the Danube River. The Ruse Regional Museum contains the 5th-century BC Borovo Treasure, a hoard of gold-plated silver dining items, many displaying images of Greek gods.  Spend one night in the Hotel Ana Palace in Ruse. (B/L/D)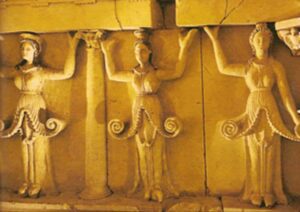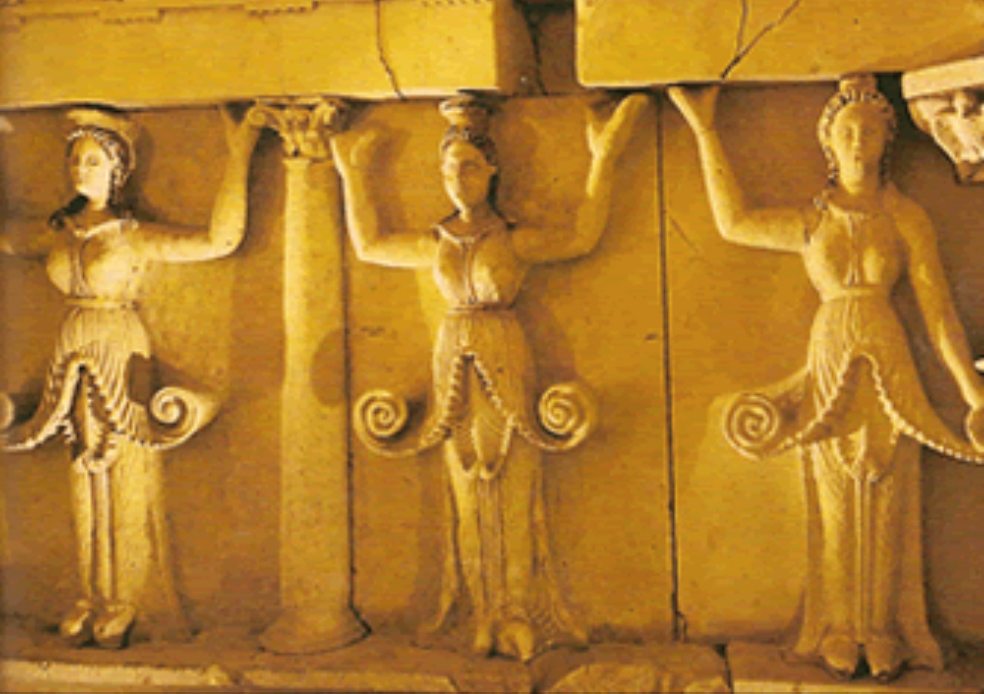 Day 7: Leaving Ruse, we head to Sboryanovo Historic and Archaeological Reserve which encompasses more than 140 sites. The most famous is the Sveshtari Tomb, a UNESCO World Heritage Site dating to the mid-3rd century BC. This interior of this Thracian crypt is filled with wonderful art. Along the wall is a procession of ten caryatids that are half human and half plant and a mural depicting a ruler on horseback looking toward a god holding a laurel wreath. Then it's on to Demir Baba Teke, thought to be the resting place of Demir Baba, a 16th-century Alevi saint. The mausoleum is thought to have been constructed on what was probably an ancient Thracian holy site from the 4th century BC. In the afternoon, a short drive takes us to Veliki Preslav, established more than 1,100 years ago as a fortified town and in 893 declared the capital of the Bulgarian state. Overnight in the Hotel Villa Bulgara Eco located in the quaint village of Kyulevtcha. (B/L/D)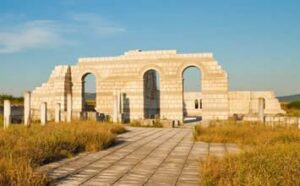 Day 8: Today's first stop is Pliska, the first capital of the First Bulgarian Kingdom. Here we explore the ruins of palaces, fortifications and The Great Basilica, one of the largest Christian places of worship of its time. Next, we see the Madara Rider, a gigantic early medieval rock relief incised into a 300-foot high cliff face. A UNESCO World Heritage Site, the carving represents a knight's victory over a lion. We continue on to Marcianopolis. During excavations in 1976, a large 4th century palace was discovered that covered one quarter of the Roman town. We will visit the outstanding Museum of Mosaics that was constructed over some of the foundations of this building including superb mosaic floors. Next, see Pobiti Kamani, also known as The Stone Desert, is a desert-like rock phenomenon where tall hollow cylinders are clustered together in groups, many reaching 15 feet or more in height. These 50 million year old columns were formed in the Cenozoic Era and were once beneath the Black Sea. Spend two nights in Varna at the
Modus Hotel. (B/L/D)
Day 9: Varna is one of the oldest cities in Europe. Records state that it was established in the 6th century BC by emigrants from the town of Milet in Asia Minor. During our city tour view the Roman baths complex from late 2nd century that rank as the fourth-largest preserved Roman thermae in Europe and the largest in the Balkans. We then leave town and head for the Kaliakra Cape with its medieval fortress and Aladja, a monastery established in the 6th century. Monastic cells and a small church have been dug into a high bluff and painted frescoes dating back to 13th and 14th centuries are still visible on the cave walls. Dinner is on our own. (B/L)
Day 10: Our morning will be spent in two museums. The Archaeological Museum holds over 100,000 artifacts of northeast Bulgaria's past eras. Its most celebrated exhibit is the Gold of Varna, a trove of gold items excavated from the Varna necropolis discovered in 1972 during an archaeological dig. This is the oldest gold cache in the world, dating to 4600-4200 BC. Varna's Ethnographic Museum is lodged within an interesting Revival house built around 1860. The displays give the history of the region with traditional farming implements, crafts and national costumes. In the afternoon drive to Nessebar. Dating back over 3,000 years, the old city is a UNESCO World Heritage Site. Archaeological discoveries provide evidence of the many levels of culture in Nessebar. As we stroll the streets, we will see the Museum as well as the amazing frescos of the Church of St. Stephen. And 19th century wooden houses are typical of the Black Sea architecture of the period. Overnight for one night at the Mill Hotel in Nessebar. (B/L/D)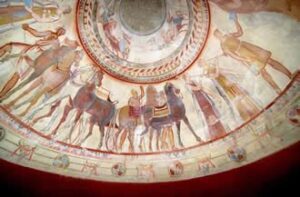 Day 11: Start the day with a visit to the regional museum of Kazanluk for and introduction to the history of the Thracians who lived in this valley. Among the hundreds of burial mounds, the most famous is the Kazanlak tomb, a UNESCO World Heritage Site. The burial chamber is decorated with intricate murals depicting the Thracian culture, Bulgaria's best-preserved work of art from the Hellenistic period. The original tomb is closed to the public but we will enter an exact replica. Then it's on to other burial mounds in the region. Goliama Kosmatka was the grave of the 3rd-century King Seuthes lll. All the necessities of life after death were found in the tomb: bronze vessels, gilded helmet, swords and spears, and even a ceramic urn filled with wine. The Thracian tomb in Shushmanets was built to be a temple in the 4th century BC and then turned into a burial chamber supported by an elegant Doric column with Ionic capital. Ostrusha Thracian Tomb dates to this period. Dozens of square and circle shaped niches are imbedded into the roof, many with vivid polychrome paintings still visible. On our way back to Stara Zagora, stop in Shipka, a Russian Church, officially opened in 1902 to coincide with the 25th anniversary of the Battles of Shipka Pass. The 17 bells, the biggest of which weighs almost 12 tons were cast from fired cartridges gathered on the battlefield during the severe battles of the Russo-Turkish War of 1877.  The architecture mirrors 17th -century Russian church architecture with golden domes, lovely multi-colored wall paintings and an iconostasis lavishly enhanced with gilded wood-carvings.  We will proceed to Stara Zagora Overnight in the Park Hotel for two nights. (B/L/D)
Day 12: Today explore the beehive tomb in the town of Pomorie, most likely created as a mausoleum for a wealthy aristocratic family. Constructed of brick and stone, the circular room is topped by a mushroom shaped dome.  Continue to Karanovo and see its two main sites: Karanovo mound, the largest settlement mound in the territory of Europe, and Karanovo Thracian chariot tomb. In 2009, during excavations inside another tomb, there was a remarkable discovery. Along with a wealth of gold and silver items a preserved 2,500 year old Thracian chariot with elaborate bronze decorations and the upright skeletons of two horses that would have pulled it. A dog was chained to the cart, and nearby was the burial of what was most likely the owner along with his armor and swords. The person buried there was obviously very wealthy – two silver chalices were found, both inscribed with the image of the god Eros, along with unique glass plates, warrior's accoutrements, coins, silver anklets, and gold rings. Return to Stara Zagora and visit the Neolithic Dwellings Museum, the local Archaeology Museum and the remains of the Roman Forum and Thermae as well as some excellently preserved mosaics located inside the city's post office. (B/L/D)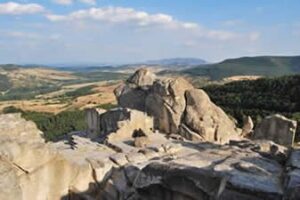 Day 13: We depart Stara Zagora for Hlyabovo Thracian Dolmen. In is in one of the chambers here that human remains were found in this type of structure for the first time in Bulgaria. Continue on to the Eastern Rhodope, to Madzharovo to view the imposing rock of Kovankaya which holds hundreds of manmade niches. Next climb Perperikon, the largest megalithic archeological site in the Balkans. Although excavations show that there was a settlement here in 5000 BC, the 1500 BC level is of great interest and import as it is the only known city of the Thracians. Buildings, streets, and a water supply system are clearly visible, as is a huge altar hewn out of the rock where fire rituals would most likely have been performed. Overnight for one night at the Hotel Kardjali in Kardzhali. (B/L/D)
Day 14: We will proceed with a visit of the Thracian sanctuary near Tatul Village, one of the most imposing megalithic monuments discovered in Bulgaria. The complex comprises two sarcophagi, a rectangular bed for the main altar, and a 10-foot-deep well. It dates back to the end of the 5th and the beginning of the 4th centuries BC. Next, explore the mysterious Harmankaya Rock Sanctuary which some researchers believe dates back to 2000 BC. Continue on to Plovdiv. Dinner is on our own. Overnight for two nights at the Ramada Plovdiv Trimontium. (B/L)
Day 15: Plovdiv is considered the oldest continually inhabited city in Europe and the sixth oldest in the world and is a city upon layers of epochs. We will visit the Old Plovdiv architectural reserve, awarded a medal for architecture by UNESCO – the national revival houses complex, the ancient Amphitheater, the Roman Forum and Stadium, St. Constantine and Helena Church.  The Trakart Cultural Center was constructed below ground level (actually in a subway!) in order to display stunning mosaic floors of a 4th-century Roman building left in situ in what was once the center of the town of Philippopolis. The space also showcases exquisite glass art from 3rd century BC to 4th century AD. Next, visit Belintash Thracian Sanctuary a great source of modern myths. Evidence suggests that pilgrims frequented this area in the Chalcolithic Age, well before the arrival of Thracians. Lastly, see Asenova Fortresss. Findings indicate that the site dates to the time of the Thracians and was inhabited during the Roman and Byzantine periods. The outpost was later conquered by the armies of the Third Crusade. Return to Plovdiv and enjoy dinner on our own. (B/L)
Day 16: Today we head out to Yunatsite mound for a tour with a local archaeologist working on the site. At the Pazardzhik museum peek at artifacts found on site and enjoy a presentation of the work being done. After our visit we return to Sofia. The city covers ancient Serdica, founded 4,000 years ago by the Thracians. This afternoon, walk through the center of the city to see the Roman remains of Serdica: the amphitheatre that was among the biggest in the eastern part of the Roman Empire and is still being excavated. Visit the early Christian Church of St George, a red brick rotunda that is considered the oldest building in Sofia. Dinner is on our own. Overnight in the five-star Grand Hotel Sofia for two nights. (B/L)
Day 17: Our drive outside the city takes us through spectacular mountain scenery to Heraclea Sintica and Parthicopolis, both sites that Dr. Nankov has excavated. Enjoy an insider's view of both sites and a tour of the artifacts in the Petrich Museum. This afternoon, return to Sofia, stopping at Rila Monastery, the largest religious complex in the country and a UNESCO World Heritage Site.  It is thought to have been founded in the 10th century by the hermit St. Ivan of Rila, whose name it bears, and there have been many additions and renovations since that time. The interior is adorned with medieval wooden carvings and a gold-plated iconostasis. Return to Sofia and our farewell dinner. (B/L/D)
Day 18: Return to the USA.
Tour Cost
$8,995.00 (per person, double occupancy) includes international flights from New York to Sofia, Bulgaria; all hotels; most meals (as noted in the itinerary); ground transportation; guides; entry fees; ground transportation; emergency medical evacuation insurance; and gratuities.
Single Supplement: $595.00. Should a roommate be requested and one not be available, the single supplement will be charged.
Cost Does Not Include: Meals other than those listed in the itinerary; food, alcoholic and other beverages not on set menus; a separate donation check of $150.00 per person to a designated donation project; passport and visa fees; airport fees and taxes; excess baggage charges; email, telephone, and fax charges; laundry or other items of a personal nature.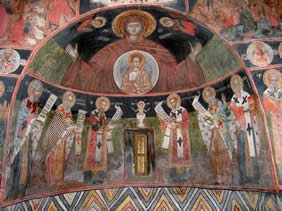 Donation Checks: As a tour company that benefits from the cultural and natural riches of our destinations, we have a policy of donating to the scientific and cultural projects and museums we visit. This has created a bond between Far Horizons and the academic and local communities that has helped us establish an extensive list of lecturers and contacts in each of our destinations. We ask that each participant write a check to the noteworthy project we designate. The donation amount is $150.00 per person and is made by check directly to the donation project. We will be designating a donation project for this trip shortly. Note that the donation is required as part of your registration for the trip and that it is non-refundable.
Fuel Surcharges: Far Horizons must pass on price increases when additional fuel charges are levied.
Registration
A deposit of $500.00 to Far Horizons and a separate check for $150.00 to a donation project is required upon making your reservation along with a completed and signed registration form. Final payment is due 90 days prior to departure. Upon receipt of your deposit and completed registration form, you will be sent a reading list and a tour bulletin containing travel information. Prior to the trip, we will send links to various websites of pertinent interest to the trip. Click here to download our Registration Form.
Cancellations and Refunds
Cancellations received in writing at least 90 days before departure will result in an administrative fee of $300.00. Cancellations received less than 90 days prior to departure will not receive a refund. If for any reason you are unable to complete the tour, we will not reimburse any fees. Registrants are strongly advised to purchase travel insurance that includes trip cancellation upon registration.
Air Ticketing
If you do not fly on the group flight, you are responsible for all flight arrangements and transportation (including airport transfers) to join the group. If Far Horizons must change the trip dates or cancel the trip for any reason, Far Horizons is not responsible for any air ticket you may have purchased.
Walking and Standing
The group will be walking into and around sites extensively, frequently over uneven paths. All participants must be in good health, physically active, and able to walk independently and unassisted for distances that may exceed a mile or more each day. As a courtesy to your fellow travelers, you must be able to keep up with the group during the daily outings. Please remember that many of the sites are on mountain tops and to reach them means climbing. Be prepared! Additionally, please carefully choose the footwear with strong support for your feet and ankles. If you are not physically strong, are walking with a cane, or have problems with climbing, please be aware that there will be no one to assist you.
Note About Itinerary Changes
Changes in our itinerary, accommodations, and transportation schedules may occur. A good book to read as well as a flexible attitude and a sense of humor are essential.
Hotels
Remember that Bulgaria is a European country, and hotel rooms tend to be smaller than those in the USA. The rooms will be 'European' size, which means small. Even though we have carefully chosen the hotels, the hotels will not always meet western expectations. They will occasionally be simple. Bell staff may not be available, and participants must be prepared to, at times, be responsible for their own luggage.
Private Tours of Archaeological Sites
The private tours of archaeological sites and talks by specialists are scheduled in advance and include a donation to each. Specialists working at these sites are excited about showing their work to interested enthusiasts.  However, please be aware that there may be times when the director or a member of the staff may not be onsite when our groups arrive due to other commitments.
THIS ARCHAEOLOGICAL TOUR IS LIMITED TO 14 PARTICIPANTS