Scandinavian Tour: A Journey through Denmark, Norway & Sweden
Scandinavian Tour: Journey through Denmark, Norway and Sweden. See the Struve Geodetic Arc, Tanum's more than 40,000 rock engravings, the Royal Castle of Kronborg, Trelleborg Viking Fortress, and travel into the Artic Circle to experience the midnight sun at Alta
with Dr. E.C. Krupp
Why Take Scandinavian Tour?
Our Scandinavian Tour: Journey through Denmark, Norway and Sweden is led by Dr. E. C. Krupp, astronomer and specialist in archaeo-astronomy.
Tour nine UNESCO World Heritage Sites
Two day tour of the walled medieval town of Visby on Gotland Island, a UNESCO World Heritage site
Private tour of Drottningholm Palace
Private tour of Alta Petroglyphs, a UNESCO World Heritage site
Private tour of Tycho Brahe's observatory on Ven Island
Private viewing of the remains of Ravning Bridge, constructed by the Vikings 1,000 years ago
Two nights above the Artic Circle to experience the midnight sun
Scandinavian Tour Daily Itinerary
Day 1: Depart USA.
Day 2: Arrive Copenhagen. Roskilde Cathedral. Rundetårn.
Day 3: Tycho Brahe's observatory on Ven.
Day 4: National Museum. Kronborg g Castle. Trelleborg Viking Fortress.
Day 5: Ravning Enge Viking Bridge. Jelling.
Day 6: Ferry to Gothenburg, Sweden. Tanum Rock Art Monument.
Day 7: Oslo's Museum and Gol Stave Church. The Viking Ship Museum
Day 8: Fly to Alta. Struve Geodetic Arc
Day 9: Alta Museum. Private tour of Alta Rock Art.
Day 10: Fly to Stockholm. Swedish History Museum. Nordic Museum. Ethnographic Museum
Day 11: Private tour of Drottningholm Palace. Storkyrkan Cathedral
Day 12: Sigurdsristningen. Anundshöge. Gamla Uppsala.
Day 13: Fly to Visby, Gotland, with walking tour including Fornsal Museum.
Day 14: The Bunge Museum. Tjelvar's Grave. Torsburgen Fortress. Gammelgarns Kyrka.
Day 15: Fly to Stockholm. Vasa Viking Ship Museum.
Day 16: Fly USA.
The summer solstice sun never sets at the arctic circle, and above that latitude the summer sun continues to shine at midnight for days or weeks. Astronomer and Griffith Observatory Director Dr. E.C. Krupp sheds light on the connections between culture and the sky through these long-lit days in Denmark, Norway, and Sweden. The itinerary includes bronze-age petroglyphs; megalithic tombs; ancient Viking monuments; the ruins of Tycho Brahe's observatory; medieval villages, churches, and palaces; the Arctic Circle; and the midnight sun.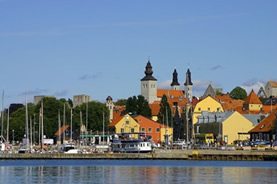 Highlights include the nine UNESCO World Heritage Sites of Kronborg Castle, Roskilde Cathedral, Trelleborg Viking Fortress, Jelling with massive carved rune stones from the 10th century, Tanum's 40,000 petroglyphs, a station of the Struve Geodetic Arc, Alta Museum with the largest concentration of rock art in northern Europe, the 17th century royal palace of Drottningholm, and Gotland's captivating walled medieval town of Visby.
Won't you join us on this Scandinavian tour: A unusual journey through Denmark, Norway and Sweden which is also co-sponsored by UCLA Extension?
Tour Leader
To Be Announced
Tour Itinerary
(B) breakfast, (L) lunch, (D) dinner
Day 1: Depart the USA.
Day 2: Arrive Copenhagen and immediately drive to Roskilde Cathedral, a UNESCO World Heritage Site located on the island of Zealand in eastern Denmark. Built of brick in the 12th and 13thcenturies, it is Scandinavia's first Gothic cathedral. It has been the mausoleum of the Danish royal family since the 15th century. Return to Copanhage to explore the city, including the Rundetårn, a 17th-century tower built by King Christian IV as an astronomical observatory. Ole Roemer, the astronomer who successfully measured the speed of light, at one point worked here. Overnight in the 4-star Nyhavn 71 Hotel in Copenhagen for two nights. (D)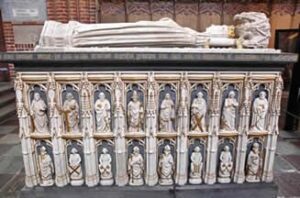 Day 3: Our journey by ferry takes us across the Oresund Strait to Ven, located between Denmark and Sweden. In 1575, the Danish King Frederick II gave this small island to Tycho Brahe, a Danish nobleman who with engraved metal instruments made the most accurate and precise astronomical observations the world had yet seen. Our destination is Stjärneborg, his 16thcentury underground observatory, and the site of his earlier palace and observatory, Uraniborg. The museum in the nearby former Church of All Saints now showcase's his achievement. Johannes Kepler obtained Brahe's measurements and from them discovered his three laws of planetary motion. Return to Copenhagen for the night with dinner on our own. (B/L)
Day 4: We begin the day in the National Museum, housed in a palace built for Denmark's 18th century Crown Prince. The museum features exhibitions from the Stone Age, the Viking Age, the Middle Ages, the Renaissance, and modern Danish History. The famous Gundestrup Cauldron and the Trundholm Sun Chariot are prehistoric treasures of the Bronze Age. After leaving the museum, drive to the Royal Castle of Kronborg. Immortalized by Shakespeare as Hamlet's Elsinore Castle, it is now a UNESCO World Heritage Site. Both a graceful Renaissance palace and a vast fortress, it was strategically located to ensure Denmark controlled the passage of ships at the gateway to the Baltic Sea. Almost two million ships passed through this waterway during 16th-18thcenturies, and all paid a toll. Kronborg Castle is a compelling sign of Denmark's influence. Our final visit will be Trelleborg, an enormous circular Viking fortress, the most well preserved fort of its kind and a UNESCO World Heritage Site. Tree-ring dating, or dendrochronology, determined that the trees used to build it were felled between 980and 981 AD. Continue to Odense andovernight in the Plaza Hotel. (B/L)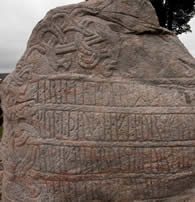 Day 5: Today is filled with two exciting visits. Recently discovered in Ravning Enge are the remains of the half-mile long bridge constructed by Harald Bluetooth across the Vejle River Valley in 979AD. The span would have facilitated the king's access to the royal center of Jelling, but it would also have made a statement about his power and wealth. A remarkable engineering achievement, it had the ability to bear a weight of 5-6 tons. Jelling, another UNESCO World Heritage Site, was a royal monument in the 10th century during the reigns of Gorm and his son Harald Bluetooth, who introduced Christianity into Denmark. The king proclaimed his achievements by erecting a large runic stone here, the largest and most magnificent in Scandinavia. Overnight for one night in the port city of Frederikshavn in the Herman Bang Hotel. (B/L/D)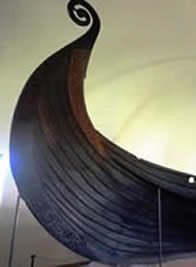 Day 6: Our 3½-hour ferry ride takes us across the Kattegat Sea to Gothenburg, Sweden. We then drive to Tanum, a UNESCO World Heritage Site. Here, over 40,000 rock carvings on upwards of 600 panels reveal the social life, beliefs, and rites of the people who lived here during the Bronze Age more than three thousand years ago. The WorldHeritage area stretches for more than ten miles and includes the paintings at Aspeberget, dominated by imagery of bulls, and Vitlycke wherealmost 500 images cover a huge panel. Continue to Oslo and overnight for two nights in the Thon Opera Hotel. (B/L)
Day 7: We spend today visiting Oslo's outstanding Norwegian Museum of Cultural History. Its Norsk Folkemuseum comprises both exhibit halls and an open-air section where 160 buildings from the medieval period to the 20th century are highlighted. The 13th-century Gol Stave Church is a medieval church constructed of upright planks, or staves. During the Middle Ages, when immense cathedrals were created in stone in other countries in Europe, the people of Norway built sanctuaries of wood. These stunning stave churches feature both Christian designs and what are most likely pre-Christian Viking motifs such as intertwined dragon themes. The Viking Ship Museum houses the world's two best-preserved 9th-century wooden Viking ships. The museum is most famous for the intact Oseberg ship, excavated in 1904. Found in the grave were the remains of two females. They were interred with 13 horses, two oxen, four dogs, four elaborately decorated sleighs, and a splendidly carved four-wheel wooden cart. These rich grave goods suggest these were high-status women. (B/L/D)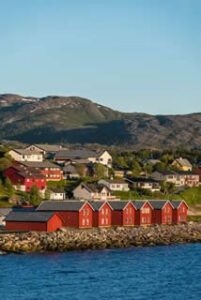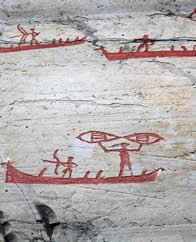 Day 8: A morning flight takes us above the artic circle into the northernmost part of Norway. Our destination is the town of Alta, situated along the Altaelva River where it flows into the deep and craggy Alta Fjord, a narrow 24-mile-long inlet of the sea. Upon arrival, hike up a mountainside to visit one of the station sites for the Struve Geodetic Arc. The entire chain of survey stations stretches across Europe, from Norway to the Black Sea through ten countries and over a thousand miles. It is now UNESCO World Heritage. With this arc, in the first half of the nineteenth century, the astronomer Friedrich Georg Wilhelm Struve measured a length of meridian that helped to establish the exact size and shape of the planet. Our lunch will be a picnic as we enjoy the incredible view of the fjord and mountains beyond. In the evening, observe the midnight sun which remains above the horizon through the entire day and the entire night. Overnight for two nights in Alta at the Hotel Thon. (B/L/D)
Day 9: Alta Museum, a UNESCO World Heritage Site, has the largest concentration of rock art in northern Europe. Located in five different open-air zones at the head of the Alta Fjord, thousands of petroglyphs and pictographs offer hints about the cosmovision and mythology of prehistoric hunters and gatherers. The lives of these people were centered on reindeer herding and maritime resources, and Shamanic rituals involved bears and other venerated animals. By special arrangement, a member of the Alta Museum staff will lead us through the rock art. We shall begin in Hjemmeluft, first discovered in 1973 and the largest of the sites with more than 3000 carvings over 85 panels. (B/L)
Day 10: Fly from Alta to Oslo, and change planes to fly to Stockholm. Our afternoon includes three of Stockholm's excellent museums. The Swedish History Museum displays one of the world's largest Viking exhibits, objects from the Stone Age to Medieval times, and magnificent gold and silver items within the museum's Gold Room. The Nordic Museum is dedicated to the cultural history and ethnography of Sweden from 1520 to modern times. And the Ethnographic Museum houses ethnographic artifacts from around the world. Overnight for three nights in Stockholm in the Hotel First Reisen. (B/L)
Day 11: Drottningholm Palace, a UNESCO World Heritage Site, is the most well-preserved 17th-century royal castle built in Sweden. It is made up of magnificent salons, a beautiful park, a wooden Chinese Pavilion, and the best preserved 18th-century theater in Europe and the only one in the world that still uses the original stage machinery. The southern wing is the permanent residence of Sweden's royal family. We plan to be joined here by Dr. Inga Söderlund, who will explain the astronomical content of the famous ceiling mural. In the afternoon, we move on to the Storkyrkan Cathedral, or The Great Church, built in 1279 and the oldest building still in use in Stockholm. It is the residence of the bishop of Stockholm and is a royal coronation, wedding and burial church. Although not open to the public, we take a look at the exterior the Historic Observatory, which was built in 1753. (B/L/D)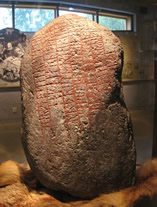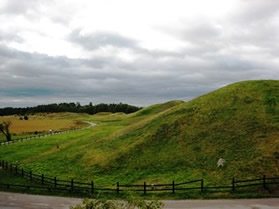 Day 12: We drive northwest from Stockholm on an all-day jaunt that takes us first to Sigurdsristningen, an elaborate Viking-age rock carving that tells the mythological story, described in the Germanic Völsunga Saga, of Sigurd, who killed the dragon Fafnir. The ten-foot-long engraving on top of a massive boulder shows Sigurd roasting the heart of the dragon over a fire. We continue to Västerås, a trading city since Viking times. Anundshöge, in the outskirts of the city, is made up of standing stones, stone ships, rune stones, and an immense hillock that is purported to be the 7th-century burial of the legendary King Bröt-Anund. Our final stop is Gamla Uppsala, the seat of the earliest known Scandinavian dynasty prior to the arrival of Christianity in Sweden. It was regarded as the center of the world, and according to the 11th century writer and historian, Adam of Bremen, a temple dedicated to the pagan gods of Thor, Odin, and Freyr stood here. The three huge mounds dominating the site are burials of a 6th century royal dynasty. (B/L)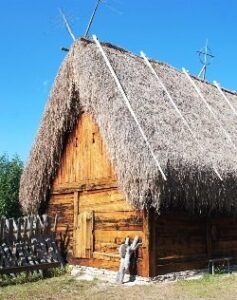 D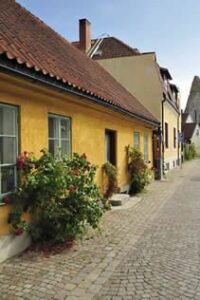 ay 13: An early morning transfer to the airport puts us on our flight to Visby, a UNESCO World Heritage Site. Located on Gotland Island, where archaeological excavations have exposed an important trade town from the Viking era, it was a key location for Baltic trade between Western Europe and Russia during the Middle Ages. Visby is gorgeous! Forty-four formidable turrets are strategically placed in the ramparts encircling the town. Inside, the walls of the medieval town, with its cobble-stone streets and wealthy dwellings built in the 13thcentury, make it the best-preserved fortified commercial city in northern Europe. In the afternoon, our walking tour includes a stop at Gotland's Fornsal Museum, lodged within an 18th-century distillery, where artifacts reveal Visby's history. Overnight in Visby for two nights at the Clarion. (B/L/D)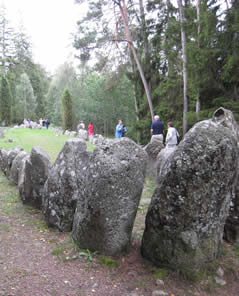 Day 14: We venture outside Visby and drive through the island's countryside to explore several astounding early ancient sites. The Bunge Museum displays three farmsteads from three different centuries, and the pre-history of Gotland is represented by several reconstructed graves, as well as by picture stones, prehistoric monuments only found on Gotland. Tjelvar's Grave is one of the best preserved stone ship settings in Gotland. A 'stone ship' is an oval-shaped stone circle that symbolizes a boat that was to carry the deceased to the realm of the dead. According to legend Tjelvar, the first man who lived in Gotland, was buried here during the late Bronze Ages, 1100-500 BC. Originally built in the 1st century AD, Torsburgen Fortress was the largest ancient fortress in northern Europe. A timber-laced stone rampart encircles an area of 30 acres. Scholars estimate that nearly 1000 soldiers would have been needed to defend it and it could have been providing refuge to the entire population of Gotland in the medieval period. During our outing stop to examine mysterious, prehistoric groove stones. Interpretation of the marks is controversial and includes the unlikely proposition that they are aligned with the sun. As we drive, we will pass many medieval churches including Gammelgarns Kyrka with its 13th century fortified tower. The afternoon and evening is free for explorations on our own. (B/L)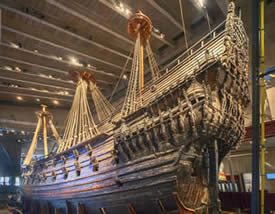 Day 15: Fly back to Stockholm. Upon arrival, transfer to the Vasa Ship Museum. Built in the early 17th century on the orders of King Gustav II, it was designed with two decks of 64 bronze cannons and was to be the dominant war machine for the Swedish forces. The ship's structure was flawed, however, and the Vasa sank within one nautical mile of the start of her maiden voyage in 1628. Hundreds of exquisite carved wooden figures of Roman emperors, Greek gods, mermaids, angels, and devils decorated the ship. The vessel was raised in 1961, conserved, and, in 1990, displayed in a museum built just for it. Lunch is on our own. Gather for the last time for our final dinner together. Overnight for one night in the Clarion Arlanda Airport Hotel. (B/ /D)
Day 16: Transfer to the Stockholm airport for our return flight to the USA. (B)
Tour Cost
To Be Announced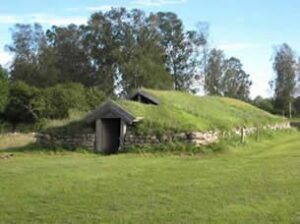 (per person, double occupancy, land only) group accommodations based on double occupancy; meals as noted in the itinerary; airport transfers; entry fees to sites named in itinerary; ground transportation throughout the tour; gratuity to drivers and guides; emergency evacuation insurance for each participant.
Single Supplement: CALL. Far Horizons will attempt to find a roommate for participants requesting that we do so.  However, if one is not available, the single supplement will be charged.
Cost Does Not Include: Flights to Copenhagen, Denmark and return from Stockholm, Sweden and five internal flights (Oslo-Alta-Oslo-Stockholm and Stockholm-Visby-Stockholm); meals other than those listed in the itinerary; food, alcoholic and other beverages not on set menus; airport fees and taxes; excess baggage charges; luggage handling (where available – see note below); email, telephone and fax charges; laundry, personal tips; or other items of a personal nature.
Fuel Surcharges: Far Horizons must pass on price increases when additional fuel charges are levied.
Registration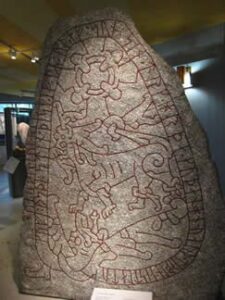 Far Horizons is operating this trip in partnership with UCLA Extension. All participants must enroll with both Far Horizons and UCLA Extension.
Far Horizons Enrollment: To register with Far Horizons, send a deposit of$500.00 along with a completed and signed registration form to PO Box 2546, San Anselmo, CA. Final payment is due 90 days prior to departure. Click here to download the Far Horizons Registration Form.
UCLA Enrollment: There is an enrollment fee of $295.00, ($325.00 after May 11, 2016), which includes tuition, instruction, and instructional materials. This fee does not include transportation, meals, accommodations, and other program expenses. Upon enrollment with UCLA Extension your name will be forwarded to Far Horizons who will contact you regarding travel arrangements. You may enroll by phone or online. By Phone: For your convenience, enrollment may be charged on MasterCard, Visa, American Express, or Discover. Call (310) 825-9971 or (818) 784-7006. Online: https://www.uclaextension.edu/pages/Course.aspx?reg=260574&qe=true. Visit https://www.uclaextension.edu/Pages/default.aspx for full information about UCLA Extension courses. Click on "Quick Enroll" and enter Reg# 260574 to access this trip and complete the online enrollment form for secure registration. No one under the age of 18 may enroll.
Cancellation and Refunds
Cancellations received by Far Horizons in writing at least 90 days before departure (March 13, 2016) will result in an administrative fee of $300.00. Cancellations received less than 90 days prior to departure will not receive a refund. After March 13, 2016 if for any reason you are unable to complete the tour, we will not reimburse any fees. Registrants are strongly advised to purchase travel insurance that includes trip cancellation upon registration.
Note About Itinerary Changes
Changes in our itinerary, accommodations and transportation schedules may occur. A flexible attitude and a sense of humor are essential.
Hotels
Scandinavian countries are expensive, and we will staying in 3- and 4-star hotels. Even though we have carefully chosen the hotels, they will frequently be simple. Bellboys may not be available, and participants must be prepared to, at times, be responsible for their own luggage. The rooms will be 'European' size, which means small. If you would like to be upgraded to a larger room or suite at an additional cost, please contact the Far Horizons office.
Air Ticketing
International and the five internal flights are not included. Far Horizons, working with an airline wholesaler, has confirmed a special rate of $1770.00 on SAS Airlines in economy for the entire seven flights of the itinerary. Premium economy and business class available at a reduced rate. Upon registration, we will send further information on the group flights. If you do not fly on the group flights, you are responsible for all flight arrangements and transportation (including airport transfers) to join the group. If Far Horizons must change the trip dates or cancel the trip for any reason, Far Horizons is not responsible for any air ticket you may have purchased. For further information, please call the Far Horizons office.
Private Tours
The private tours of archaeological sites and talks by specialists are scheduled in advance and include a donation to each. Specialists working at these sites are excited about showing their work to interested enthusiasts. However, please be aware that there may be times when the director or a member of the staff may not be onsite when our groups arrive due to other commitments
Notice about this Itinerary
We will be traveling into remote areas of Scandinavia. The itinerary is designed for energetic people in good health who like to be active and have a spirit of exploration. Meals will not be haute cuisine and several lunches will be picnics or box lunches. To reach some of the site centers entail long walks, as much as two miles or more each day. As a courtesy to your fellow travelers, participants, unassisted, must be able to walk on rough trails and keep up with group members. The hike to the Alta Struve Geodetic Arc will take at least an hour and is up the side of a mountain. Be prepared! If you are not physically strong, are walking with a cane, or have problems with climbing, please be aware that there will be no one to assist you. Additionally, please carefully choose footwear with strong support for your feet and ankles.  The adventurous nature of the itinerary makes it essential that participants be in good physical condition and have the ability to maintain a flexible attitude. Team spirit and a good sense of humor are vital!  If you have questions about your ability to handle this sort of challenge, please call us.
Tour Limited to 14 Participants