Tour Jordan and Stunning Petra
Tour Jordan and Petra and discover Madaba, Jerash, Wadi Rum, Umayyad fortress-palaces in the eastern desert and all the wonders of Jordan
With Professor Gary O. Rollefson
Why Take Tour Jordan & Petra?
Led by acclaimed archaeologist, Professor Gary Rollefson, excavator of the 'Ain Ghazal statues
Tour four of Jordan's UNESCO World Heritage Sites – Um er-Rasas, Qasr Amra, Petra, and Wadi Rum
See the legendary 'Ain Ghazal statues, now in Jordan's National Museum
Explore Wadi Rum with a traditional lunch under a Bedouin tent
Three full day exploring Petra and its environs
Private tour with archaeologists at the Temple of the Winged Lions at Petra
Four-wheel drive adventure into the eastern desert to see prehistoric villages
Hosted by the director, enjoy cocktails at ACOR (the American Center), with a private viewing of the Petra Scrolls.
Feast under the stars in the desert at a privately arranged zarb, an outdoor Bedouin meal of roasted lamb
Enjoy a cooking lesson and dine on the results!
TOUR JORDAN & PETRA DAILY ITINERARY
Day 1: Depart the USA.
Day 2: Arrive to Amman.
Day 3: City tour of Amman.
Day 4: Visit Qasr al-Abd, Wadi Seer and Jerash.
Day 5: Umayyad Desert Palaces.
Day 6: Travel to the Ghura al-Qattafi mesas.
Day 7: Madaba, Shobak Castle. Um ar-Rasas. Transfer to Petra.
Day 8: Beidha. "Little Petra", or Siq al-Barid.
Day 9: Wadi Rum.
Day 10: Petra Tour.
Day 11: Petra Tour. Ed Deir.
Day 12: Return to Amman. Bani Hamida House.
Day 13: Ajlun Castle. Umm Qais. Pella.
Day 14: Return to the USA.
What are the 'Ain Ghazal statues?
In 1974 while a highway was being built, workers uncovered remarkable archaeological remains. The site was named 'Ain Ghazal. During excavations, Gary Rollefson and his team found numerous figurines that dated back to between 8500 and 9200 years ago, before the development of pottery. But the most extraordinary discovery were two caches deliberately buried beneath the floor of long-abandoned houses. Inside were more than two dozen large plaster and reed statues, some with two heads. The statues are among the earliest large-scale representations of the human form. The tallest of them is almost three feet high. Their disproportionately large heads display prominent eyes and staring irises. Scholars believe they may represent the ancestors of community members. They are regarded to be among the most remarkable specimens of prehistoric art from the Pre-Pottery Neolithic period.
Why tour Jordan? The Royal Hashemite Kingdom of Jordan is a charming land that has preserved a remarkable character unlike any other in the Near East. Ruled by King Abdullah, the people have an unparalleled reputation for hospitality, from the office worker in the city to the Bedouin in his desert camp. Parts of the country are so rich in archaeology that it is literally impossible not to step tens of thousands of years back into time. The unique majesty of Petra, the Roman splendor of Jerash, and the elegant Omayyad fortress-palaces scattered in the eastern desert are only a few of the major attractions. And in addition to a splendid wealth of ancient cities, castles, Christian churches, and mosaic masterpieces, the landscape offers some of the most breathtaking vistas to be had anywhere on earth.
This 14-day trip has been designed to give you an appreciation of the country and its compelling history. The itinerary includes several highlights, including two full days at Petra, the marvelous repository of Nabataean culture and a UNESCO World Heritage Site; explorations of latest discoveries in the eastern desert; Bronze Age shrines found in Wadi Rum; a private tour of the Temple of the Winged Lions in Petra; a cooking lesson and dine on our creations; and ACOR, the American Center of Oriental Research where we will enjoy cocktails with the director and a private tour of collections, including the intriguing Petra Scrolls.
'In these times of conflict, it's more important than ever to have a direct understanding of the Middle East – both its history and its current culture. Jordan is an easy travel destination: it felt very safe, lots of people speak English, and there's tons of stuff to see from pre-history through recent history and up to the changes of today.' – Joy Mundy
'Clearly Petra was the main highlight of the trip.  While we had seen many photos of the city, seeing it in person made us remember the resourcefulness, creativeness and resilience of people throughout the ages.' – Marolyn Hatch
Tour Jordan & Petra Leader – Gary O. Rollefson
Gary O. Rollefson received his PhD from the University of Arizona and is Professor Emeritus and Research Associate, Anthropology, Whitman College and Professor Emeritus, Anthropology, San Diego State University. He has conducted fieldwork in Jordan, Saudi Arabia, and Israel. Since 1982, Dr. Rollefson has been Principal Investigator at the excavations at Neolithic 'Ain Ghazal, which has produced stunning examples of 10,000 year-old statues and other unique religious paraphernalia. Dr. Rollefson's exciting discoveries of ritual structures in Wadi Rum and densely settled areas of Jordan's Black Desert are changing the way that archaeologists are looking at Copper Age and Bronze Age pastoral societies. His current excavations are in the eastern Black Desert Jordan where Neolithic "megasites" up to 1½ square kilometers included more than 800 houses and other structures. He has more than 325 publications, including two co-edited books: Prehistory of Jordan II and Jordan's Prehistory: Past and Future Research. Professor Rollefson's knowledge of Jordan and its archaeology, along with his contagious sense of humor and excitement about Jordan makes him an ideal leader.

'I cannot say enough good things about Gary Rollefson. He was polite, patient, deeply knowledgeable, engaging, often funny, and just plain enjoyable to spend time with. His depth of knowledge of human history and archaeology in Jordan is unparalleled. We felt very privileged to travel with Gary. He is a rock star in Jordan!' – Karen Nardi

'Gary Rollefson has brains, humor and the patience of Job! A total delight, he's a precious gem of Jordan! What a thrill to watch as other guides recognized "Dr. Gary" & came over to introduce themselves! ' – Meg Anderson

'Dr. Rollefson was such a terrific scholar, informative, modest, cute sense of humor, a lovely person' – Marcia Addison
Tour Jordan & Petra Itinerary
(B) breakfast, (L) lunch, (D) dinner
Day 1: Depart the United States on our flight to Amman.
Day 2: Arrive Amman. Overnight for three nights in the Amman International Hotel. Dinner is on our own.
Day 3: Amman's Citadel sits on the highest hill and dominates today's city of Amman. Occupied in the early Neolithic, and fortified during the Bronze Age, the remains visible today are from Roman and early Islamic times. The 8th century Umayyad Palace was probably used as an administrative center and governor's residence. The great Temple of Hercules was built between 162-166 AD. Larger than any temple in Rome it was dedicated to the Roman Emperor Marcus Aurelius in the 2nd-century. Learn of the Roman city while viewing the amphitheater that seats 6,000 people and the restored odeon. At the National Archaeological Museum the Dead Sea Scrolls found in 1952 are one of the most important exhibits as are the unique figures found at 'Ain Ghazal by Dr. GRollefson. If open, visit the new National Museum. In the late afternoon, go to the American Center of Oriental Research (ACOR), where the director will host us with cocktails and a private tour including seeing the Petra Scrolls. Our welcome dinner is in one of Amman's excellent restaurants. (B/L/D)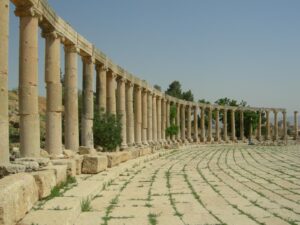 Day 4: Explore two remarkable sites today. West of Amman is Wadi as-Seer, one of the most attractive valleys in Jordan and containing Qasr al-Abd, the Palace of the Slave. Built over 2,000 years ago, the beautifully decorated two-story stone structure is a rare example of Hellenistic architecture in Jordan. Nestled in a green and fertile valley in the biblical land of Gilead, the remains of Jerash are impressive. Stroll along the city's colonnaded streets and through ancient marketplaces, and visit imposing theaters sitting beside Roman, Christian and Muslim houses of worship. (B/L/D)
Day 5: 
Today travel east of Amman along ancient desert tracks to explore several dazzling Umayyad palaces. Qasr al-Hallabat began as a Roman fort and ended as a luxurious country estate under the Umayyads. Nearby is its bathhouse, Hammam al-Sarah, constructed of fine limestone. Crafted of the area's black basalt, Azraq Castle is located in an oasis and takes advantage of the important strategic position of the region's four springs. The fortress was probably begun in the second century AD by the Romans, and was still in use when T. E. Lawrence used it as a base in the winter of 1917-18. The UNESCO World Heritage site of Qasr Amra is a well-preserved desert castle that was both a fortress and a residence of the Umayyad caliphs. The hamman (bath house) and audience hall of this small pleasure palace are richly decorated with charming, vividly painted frescoes. Overnight in the Azraq Lodge in Azraq. (B/L/D)
Day 6: Our excursion in four-wheel drive vehicles will take us further into the eastern desert to the Ghura al-Qattafi mesas. Here, hundreds of tombs and monumental structures dedicated to powerful personalities among the prehistoric people who exploited the region between 6,500 and 2,500 B.C. have been found. While here, we will gain insights into the development of the ritual and economic aspects of a lifestyle that eventually developed into the historic cultural patterns of the desert herders of the Bedouin today. On our afternoon return to Amman, we visit the lonely desert caravansary of Qasr al-Kharaneh, the most complete of the Umayyad castles, along the way. The steep walls rising abruptly from the flat plain create a feeling of strength, and archaeological excavations show that the building was used as an elegant overnight stop by camel caravans coming from the Arabian Gulf. Overnight in the Amman International Hotel. (B/L/D)
Day 7: Today is filled with history. Madaba was inhabited for nearly 3,500 years, and contains a most impressive work of art to survive from the mid-6th century – a mosaic map of Palestine. One of Jordan's most significant and impressive historical sites, Shobak Castle is an early 12th-century fortification that was one in the great chain of ramparts that stretched from today's Turkey to Israel. Um ar-Rasas, another UNESCO World Heritage site, contains ruins from the Roman, Byzantine, and early Muslim civilizations. The most important discovery is the perfectly preserved mosaic floor of the Church of St. George, the largest one in Jordan. Continue to Petra, with a stop at Mt. Nebo, where we overnight for five nights at the Petra Moon Luxury Hotel, conveniently located at the entrance to the site. Gather for dinner together in one of Petra's excellent restaurants. (B/L/D)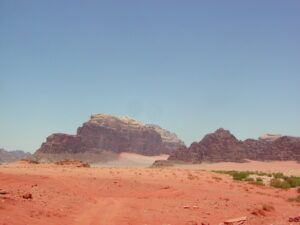 Day 8: One of the marvels of the Classical World, Petra offers much more than stunning antiquities. Within a 25-mile radius are an exceptional array of monuments and entire settlements that span the last 9,000 years of human civilization. We begin at Beidha, a village that was inhabited between 7,000-6,500 BC, and is included in Petra's UNESCO World Heritage status. The community constructed round houses of stone masonry and fortified the settlement with an encircling wall. Occupants cultivated barley and emmer wheat, herded goats, hunted for wild animals, and gathered wild plants. Nearby is "Little Petra", or Siq al-Barid, where high sandstone walls within the narrow gorge keep the multi-story houses and temples cool. After walking through a miniature siq, a splendid collection of tombs, temples, houses, and staircases will appear. This evening, enjoy a cooking lesson and then dine on our creations. (B/L/D)
Day 9: Our full day takes us past the Seven Pillars of Wisdom, of T. E. Lawrence fame, to Wadi Rum, with UNESCO World status. This valley's combination of immensity, richness of color, and awesome shapes creates an atmosphere that is other worldly. While here we will view a Nabatean temple, ancient rock art, and Bronze Age shrines discovered by Dr. Rollefson. Our lunch will be served to us under a Bedouin tent. Return to Petra. Dinner is on our own. (B/L)
Day 10: Early this morning, walk through the siq, the fissure that is the gateway to the splendid UNESCO World Heritage site of Petra. Inhabited since prehistoric times, the prosperity of this Nabataean city was due to the trade routes that passed through the region. An important crossroads between Arabia, Egypt and the eastern Mediterranean, it is renowned for its iconic rock-cut façades, dramatic and elaborate tomb and temple architecture. The visible remains of water channelization, with tunnels and diversion dams which controlled and conserved seasonal rains, along with magnificent temples and churches, demonstrate the importance of the this ancient town. Our first view of the rose-red City is the dazzling Al-Khazneh Farun, or Pharaoh's Treasury, carved out of the sandstone rock face facing the entrance to the city. Believed to have been the mausoleum of a Nabatean king. the tomb's Hellenistic style reflects the influence of Alexandria. Walk along the Street of the Facades and view the magnificent tombs, theatre, markets, the Petra Church with its glorious mosaics, and the still being excavated Great Temple that was probably dedicated to the main Nabataean Goddess Al-Uzza, the consort of the Chief God, Dushara. If onsite, enjoy a private tour with ACOR archaeologists at the Temple of the Winged Lions. Dinner is on our own to enjoy one of Petra's fine restaurants. (B/L)
Day 11: Today is for the hardy as we ascend into the more remote areas of Petra. The hike is worthwhile for the breathtaking views over Petra along with seeing the riches of Nabatean architecture. Begin in Qasr al-Bint Temple, dating from the time of Christ and surrounded by a peribolos, or enclosure wall. The sacrificial altar in front, once covered with marble, suggests that this was the main place of worship in the Nabataean city. Walk past the Unfinished Tomb and the Columbarium, a former tomb. Further up are the Lion Triclinium guarded by two feline reliefs, and Qattar ad-Deir, the Nabataeans' water source. Our goal is the High Place, with views overlooking the city. In the afternoon, another stairway takes us to Ed Deir, the Monastery, to view a temple with the largest façade carved at Petra before returning to our hotel. This evening we will drive into the desert to feast on zarb, a traditional Bedouin meal of delicious roasted lamb cooked in a hand-built mud oven. (B/L/D)
Day 12: This morning we will return to Amman with a stop at Bani Hamida House, home to a Bedouin women's craft project that has revived traditional Bedouin rug weaving. Using home-made ground looms and wooden spindles, the project rejuvenated the unique warp-faced flat weave in pure wool, along with the colors and particular designs representing Jordan's unrivalled traditional rug making. Lunch on traditional cooking prepared at Bani Hamida House. Gather this evening for our final dinner party in one of Amman's finest restaurants. Overnight for two nights at the Amman International Hotel. (B/L/D)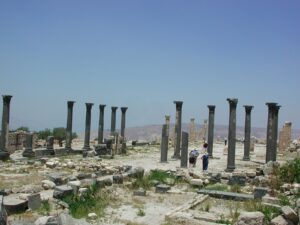 Day 13: One of the best-preserved examples of medieval Arab military architecture in the Middle East is the 12th-century Ajlun Castle. Built between 1184 and 1188 by one of Saladin's generals, it was an important strategic link in the defensive chain against the Crusaders. Explore the fortress before driving to the dramatically located ancient city, Umm Qais, perched on a high plain overlooking the Jordan Valley and the Sea of Galilee. The site of the ancient Greco-Roman city of Gadara, it was a member of the Decapolis. Pella was also one of ten Decapolis cities that were founded during the Hellenistic period and became powerful under Roman jurisdiction. Excavations have revealed evidence of 6000 years of continuous settlement from the Stone Age to medieval Islamic times. We will see mud-brick houses and defense walls dating from the Bronze and Iron age, and later remains from the Roman, Byzantine, and early Islamic periods. Dinner is on our own. (B/L)
Day 14: Transfer to the airport for our return flight home. (B)
Tour Jordan & Petra Cost
Trip Cost: CALL​ (per person, double occupancy) includes international roundtrip airfare from New York; all hotels; gratuities to guides and drivers; ground transportation; entry fees; and meals as noted in the itinerary.
Single Supplement: CALL. Should a roommate be requested and one is not available, the single supplement must be charged.
Cost Does Not Include: The separate donation check for $150 (to be announced); passport or visa fees; food, alcohol, and other beverages not included with meals; telephone and fax charges; laundry, personal tips; necessary vaccines or tests; or other items of a personal nature.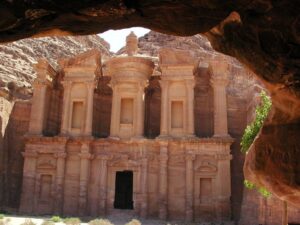 Fuel Surcharges: Far Horizons must pass on price increases when additional fuel charges are levied.
Donation Checks: The cost of the trip does not include the separate non-refundable donation check for $150.00 (per person). As a tour company that benefits from the historical, cultural and natural riches of our destinations, we have a policy of donating to scholars, archaeological and cultural projects, and museums in each of our destinations. This has created a bond with the academic community that allows you to gain an 'insider's view' of work being done in each country. The donation is required as part of your registration and is non-refundable. We will be designating a donation project soon.
Registration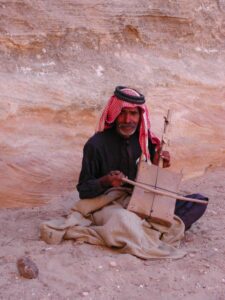 A deposit of $750.00 per person along with your registration is required to secure a reservation. Final payment is due 120 days before departure. Upon receipt of your deposit and completed registration form, you will be sent a reading list and a tour bulletin containing travel information. Prior to the trip, we will send links to various websites of pertinent interest to the trip. Click here to download our Registration Form.
Cancellations and Refunds
Cancellations received in writing at least 120 days before departure will receive a refund less a $450.00 per person administrative fee. Cancellations received less than 120 days before the departure date will not receive a refund. If for any reason you are unable to complete the trip, Far Horizons will not reimburse any fees. Upon registering for the tour, the purchase of travel protection with both trip cancellation and emergency evacuation is strongly advised. Insurance recommended by Far Horizons can be reviewed by clicking HERE.
Air Ticketing
If you do not fly on the group flight, you are responsible for all flight arrangements and transportation (including airport transfers) to join the group. If Far Horizons must change the trip dates or cancel the trip for any reason, Far Horizons is not responsible for any air ticket you may have purchased. If you issue your own international flight, please send the complete schedule as soon as you have it.
Private Tours of Archaeological Sites
The private tours of archaeological sites and talks by specialists are scheduled in advance and include a donation to each. Specialists working at these sites are excited about showing their work to interested enthusiasts. However, please be aware that there may be times when the director or a member of the staff may not be onsite when our groups arrive due to other commitments, or that the date or time of our visit to their project must be changed.
Note About Itinerary Changes
Changes in our itinerary, accommodations, and transportation schedules may occur. A good book to read as well as a flexible attitude and a sense of humor are essential.
Walking and Standing
The group will be walking into and around sites extensively. All participants must be physically active and able to walk independently for distances that may exceed three miles or more each day. The walk into Petra and down the city's valley is five miles roundtrip. It's easy and on a flat trail but does include walking uphill on the return. To reach the eastern desert, we will travel in 4-wheel drive vehicles. You will be on your feet for much of each day. Please remember that most castles are on mountain tops and to reach them means climbing stairs. Be prepared! This may mean one hundred steps or more, and these steps will frequently be uneven with risers at different heights. Keeping up with the group is each participant's responsibility; please do not expect assistance from the other group members or staff.
THIS ARCHAEOLOGICAL TOUR OF JORDAN IS LIMITED TO 14 PARTICIPANTS