Small Groups
Our tours have a maximum headcount of 14.
Trusted Partnerships
For more than thirty years we have donated to archaeological and other projects in all our destinations.
Unique Trips
Daily itineraries of tours are unique and noteworthy.
Behind-the-scenes Access
Our tours have backstage access with on-site specialists.
Customer Service
Our offerings are personalized with full-attention to detail.
Scholar-led Tours
Every tour is led by a well-respected PhD scholar.
Join the Far Horizons family on an archaeological travel experience with a group of like-minded travelers and become a part of the 85% who return again and again!
Upcoming Archaeological & Cultural Tours
July 10 – 24, 2020 | Brian Buchanan
From the battlefield at Culloden to Linlithgow Palace, home of the Stewart kings. From the finely decorated 15th century Rosslyn Chapel to the Orkney Islands Stone Age sites of Maeshowe, Stenness Stones, Ness of Brodgar, and Skara Brae. Experience the taste of fine whisky and join the fun at the Tomintoul Highland Games, the oldest in Scotland.
June 20 – July 5, 2020 | Clark Erickson
From the Moche cities of the north to the fabled Inka sites of the highlands, experience the wealth of Peru's archaeological past. Caral, ChanChan, Ollantaytambo, and the incomparable Machu Picchu all await, along the enigmatic Nazca Lines and remote Revash and Kuelap. And a highlight will be the Chankillo astronomical observatory built 2,300 years ago.
May 18 – 29, 2020 | Steven L. Tuck
View four UNESCO World Heritage sites as we travel from Rome to Orvieto and Cortona hill towns. See the necropolis at Cerveteri and Tarquinia, the Volumnus Hypogeum in Perugia, Volterra's Etruscan Museum, and Glorious Florence.
Want to learn more about an upcoming tour?
Discover why our clients travel with us again and again!
Let us create a once-in-a-lifetime custom education, cultural and archaeological tour of your dreams. Our experience and exceptional knowledge of the most remote areas and cultures makes us the ideal travel company for planning your custom adventure. Whether it's your own private yacht charter along the coast of a remote region of the world, a private tour of archaeological site not open to the public or witnessing the splendor of UNESCO World Heritage Sites, we can arrange just about anything for you and we are very creative. The world is truly your oyster and we are here to crack it open for you.
Sharing travel news is a key part of helping others see and explore the world!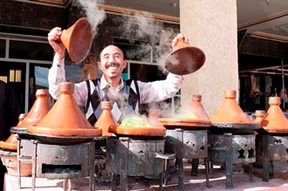 May 2 – 16, 2020 | Robin Vose
In 711, an army of Arabs and Berbers landed on the Iberian Peninsula, and over the next seven years, through diplomacy and warfare, they brought most of present-day Spain and Portugal under Islamic control. For more than 700 years, until the Christians retook the land in 1492 (reconquista), Muslim dynasties ruled al-Andalus, and during this time there was a blossoming of philosophy, arts and sciences.
"For the second time, Far Horizons could do no wrong. I only wish you could sell me a one way ticket, because after having had such a good time, I would never have to come home!"
"If I had a million dollars I would sign up for all Far Horizons trips! Alas I do not and I occasionally have to show up at the office!"
"I love it all – Far Horizons superb planning, exotic cultures and fantastic archaeological sites visited, and, perhaps most of all, wonderful and lasting new friendships made. I look forward to my next trip with Far Horizons."
"Far Horizons is like traveling with the best friends you ever had!"