A post-trip interview with tour manager, Kelly Bryson
Following our comprehensive Bulgaria Tour: Land of History, we decided to interview the tour manager, Kelly Bryson, to help potential guests get a better idea of what they can expect on this unforgettable vacation. 
Everyone here at Far Horizons believes in this carefully planned vacation in Bulgaria and we want to encourage more people interested in Bulgaria to see the very best of the country's history, culture, and cuisine with us. 
After reading this interview, if you'd like to learn even more about our Bulgaria tour, please feel free to get in touch. And if you're still researching your next travel destination, get inspired by our entire range of Archaeology Tours in Europe.
How long was your trip to Bulgaria and where did you visit?
The trip was just over two weeks long and we made a circuit of the entire country, including stops at Sofia, Ivanovo, Madara Rider, Varna, Nessebar, Stara Zagora and Plovdiv. This was a fairly comprehensive tour of the country as we endeavored to see as much as possible in the two-week timeframe.
Why did you want to visit Bulgaria?
I was curious about this destination because it had been completely off my radar. Any time an opportunity arises to visit a country that I know little about, I am instantly on board because the trip will, by default, be an amazing learning experience.
This novelty is also perhaps why many other guests chose to come on the Bulgaria tour. Bulgaria doesn't enjoy the same fame and tourism numbers as many other European countries, and this gives it an allure to inquisitive travelers who are always looking for the road less traveled. 
What did you consider the highlights of this Bulgaria itinerary?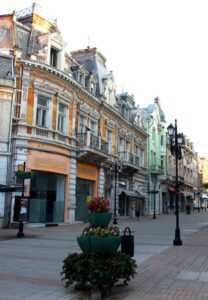 There were so many highlights worth discussing, but then I think we'd need to write a blog just about the highlights. So I'll just list my absolut
e top picks. The Thracian sites were especially exciting for me and the other guests. Sofia is also one of the most picturesque cities I've ever visited. You can walk around the city center very easily, exploring to your heart's content. 
Ruse is Bulgaria's most northerly city, and it was also very easy to get around on foot. The architecture is so striking, and it sits on the River Danube across from the Romanian city of Giurgiu. This city was such a pleasant surprise and absolutely one of my Bulgarian highlights. 
What was the most memorable moment of your trip to Bulgaria?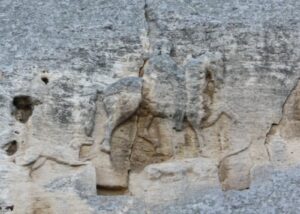 The most memorable moment from this trip was the fascinating tour of the work done at Tell Yunatsite and the private presentation by the director of excavations, Dr. Kamen Boyadzhiev.
Dr. Boyadzhiev's work is incredible as so much has been done to expertly unravel the key to the layers of history held within the soil. Here, you can see a range of archaeological finds all in a relatively small space, including a medieval cemetery, a Roman fortification, Early Iron Age buildings, Early Bronze Age structures, and so much more. Tell Yunatsite is an archaeologist's dream location.
Did you have the opportunity to interact with local people in Bulgaria, and if so, what were your impressions?
Yes, we were able to meet and chat with many people in Bulgaria, including local archaeologists who generously shared their impressive expertise and knowledge with us. Our group enjoyed a warm welcome and plenty of rakia (the local moonshine).
Bulgarians are friendly and helpful, but the uninitiated can sometimes be surprised that they don't smile very much at strangers. This isn't rudeness at all; it's just part of the culture to not smile much at people in public who they don't know. 
What are two interesting things about Bulgaria that people might not know?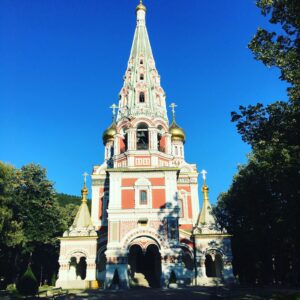 #1 – The oldest gold treasure to date was found in the Varna Necropolis.
#2 – Bulgarians will nod their head to say "no" and shake their head to say "yes" — the opposite of how most Americans (and Europeans) are culturally conditioned.
What was the most memorable life experience you brought home from Bulgaria?
The greatest life experience of the trip was the richness of the culture! In Bulgaria. There was a great sense of national pride interwoven with the complex history of the country. It was interesting to meet the people, learn about the history, and to experience Bulgarian culture firsthand. It's something you can never experience by reading a book; you have to come here and feel the spirit of the place in person.

Would you like to return to Bulgaria?
Yes, I would love to! I love textiles, so I would like to return to explore the country with that focus. But there are so many other worthwhile things to do and places to see here. I could make several two-week trips and never do the same thing twice!
Check out our Bulgarian Tour to experience everything Kelly speaks about in this post-trip interview, including Thracian tombs, gold and silver hoards, medieval cities, and so much more!