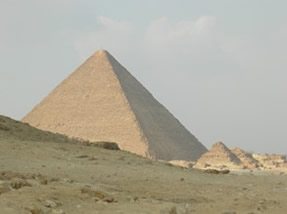 Far Horizons presents an extraordinary 17-day trip to Egypt that includes many highlights. We have made special arrangements to enter the Queen's Chamber of the Great Pyramid, Seti I's Tomb, Nefatari's Burial Chamber, the Unas Temple at Sakkara, and the Red Pyramid—all closed to the public. We will meet with the excavation director at Elephantine Island, and hear about the Kharga Oasis Project from the archaeologist working there. At the Chicago House, a major center for Egyptian Studies, we will be hosted by the Director and join working archaeologists for cocktails and a tour of the incredible library. And finally, we will board a small vessel, the Eugènie, to cruise from Aswan to Abu Simbal, visiting rarely-seen Nubian sites along the way.
Click for more information on Majesty of Egypt
Bob Brier received his Ph.D from the University of North Carolina. He is not only one of the nation's leading Egyptologists, but a brilliant lecturer and storyteller. He is professor of philosophy at the C.W. Post Campus of Long Island University and the author of several books including The Murder of Tutankhamen: A True Story (Berkley Books, 1998), The Daily Life of the Ancient Egyptians (Greenwood Press, 1999) and The Secret of the Great Pyramid: How One Man's Obsession Led to the Solution of Ancient Egypt's Greatest Mystery (2008). Professor Brier has served as director of the "Egyptology Today" program of the National Endowment for the Humanities, and as host of the Learning Channel series, The Great Egyptians. He has twice been selected as a Fulbright Scholar, and has received Long Island University's David Newton Award for Teaching Excellence in recognition of his achievements as a lecturer. He is a wonderful teacher with a special flair for evoking the distant past in ways that make it seem vividly present.
Patricia Remler is an author, photographer, and art historian. She was the Researcher for four important Learning Channel documentaries – the three-part Pyramids, Tombs, and Mummies, the six-part series The Great Egyptians, the one hour Napoleon's Obsession: The Quest for Egypt, and the three-part series Unwrapped, The Mysterious World of Mummies. She is the author of Egyptian Mythology A – Z.