By Heather Stoeckley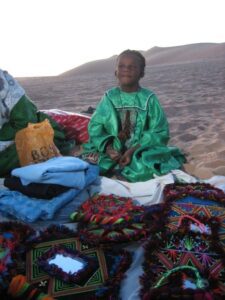 In March of 2008, I was fortunate enough to accompany our second group trip to Libya, a country that is home to many awe-inspiring archaeological sites: Leptis Magna, Cyrene, Sabratha and Ptolemais. All stand as testimony to the past glory and architectural beauty of the Greek and Roman empires. Few experiences in life can rival the feeling of standing humbly beneath the Septimus Severus Arch at Leptis Magna; with eyes agog, one cannot help but to marvel at the pure grandeur and intricacy of its design. Then there is the magnificent Temple of Zeus at Cyrene and the elegant amphitheater at Sabratha, both of which sit picturesquely along the coastline with the azure waters of the Mediterranean as their backdrops. After visiting all of these sites throughout the course of our trip, it became ever so clear to me why Libya, so mysterious and unknown a country to many westerners, is such a coveted travel destination the world over.
But Libya is much more than a nucleus of pristine Greco-Roman archaeological sites, glorious though they are. Libya is also the bustling metropolis of Tripoli, where the winding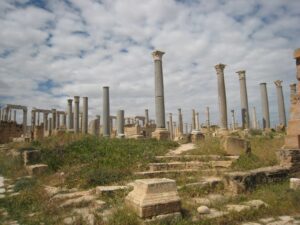 streets of the old medina are sharply contrasted by the burgeoning of modern buildings. And in the west lies Ghadames, the land of the Berbers, where a stroll through the old town is a step back into time. From here, we traveled by 4X4 jeeps to Grand Erg Oriental on the western border with Algeria and Tunisia, where the great sand sea of the Sahara stretches far and wide. The jeeps dropped us off at a Tuareg tent where we watched as a Berber man demonstrated traditional bread-making methods using underground ovens. After a delectable sampling of this treat and a quick respite under the pillow-strewn tent (tea included!), we set forth up the sand dunes for a panoramic view of the impending sunset. As a human caravan traveling along the crest of the dunes, we steadily marched towards our final destination and eventually perched ourselves atop the tallest and farthest mountain of windblown sand. As we watched the sun's slow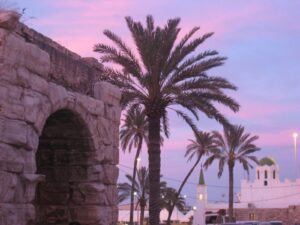 but determined descent towards the horizon, a small group of Tuareg men – who punctuated the nude background with their native bright blue dress – drummed rhythmically on their traditional instruments. And when the sun finally set, anticlimactic though it always is, the clouds turned pink and there was nothing but sublime silence.
I will always remember Libya with fondness, not only for its glorious architectural monuments, but more so for the sheer bliss I experienced while watching the sun retreat into the vast Sahara landscape.