Did you know that the summer solstice sun never sets at the Arctic Circle, and above that latitude the summer sun continues to shine at midnight for days or weeks? It's a wonderful time to visit Scandinavia.
Scandinavia stretches from northern Germany all the way into the Arctic circle and includes Denmark, Sweden, and Norway.
What causes the Midnight Sun?
This phenomenon is caused by the tilt in the Earth´s axis – an imaginary line through the planet between the north and south poles around which it rotates.
As the Earth orbits the Sun, the tilt makes the North Pole face towards the Sun in summer (keeping it in sunlight even as the Earth spins) and away from it in winter (keeping it dark). And so, the continuous sunlight during the summer.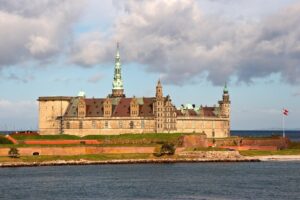 The results of 24 hours of daylight? The flora and fauna along the coast receive an energy boost. Visitors feel it as well.
Because of this, there are many connections between culture and the sky throughout these long-lit days.
Join us June 12 – 27 as we travel to Denmark, Norway, and Sweden.
This unusual journey is co-sponsored by UCLA extension.
Highlights of this adventure include the nine UNESCO World Heritage Sites of Kronborg Castle, Roskilde Cathedral, Trelleborg Viking Fortress, Jelling with massive carved rune stones from the 10th century, Tanum's 40,000 petroglyphs, a station of the Struve Geodetic Arc, Alta Museum with the largest concentration of rock art in northern Europe, the 17th century royal palace of Drottningholm, and Gotland's captivating walled medieval town of Visby.
The itinerary includes bronze-age petroglyphs; megalithic tombs; ancient Viking monuments; the ruins of Tycho Brahe's observatory; medieval villages, churches, and palaces; the Arctic Circle; and the midnight sun.
Dr. E.C. Krupp is our tour leader.
He is an astronomer and the director of the Griffith Observatory in Los Angeles. His enthusiasm is infectious and his knowledge of archaeoastronomy makes him an exceptional teacher!