On our last day in Luxor, we awake with the sun, all of us eager to get as much site-seeing as possible. The hazy dawn casts purple, pink, and orange hues on a sky, now dotted with hot air balloons rising through the morning air, their passengers hoping to get a glimpse of the verdant Nile Valley and Luxor's magnificent pharaonic temples.
While crowds of tourists are beginning their jaunt to the magnificent Luxor Temple, Karnak Temple, and the Valley of the Kings, our destination today is more remote and happily more exclusive…. the illustrious tomb of Nefertari, the favorite wife of Ramses the Great. This is why we chose Far Horizons' The Majesty of Egypt Tour.
Our approach to the Valley of the Queens takes us past the impressive Colossi of Memnon, the last standing vestiges of Amenhotep III's great mortuary temple, all but destroyed by the floodplain over time.
We stop for our customary photo op and imagine the grandeur of what once stood here. At the Valley of the Queens, the path splinters up a small hill, and we are waived past the surprisingly simple chained gate up to a thatched seating area where we await the okay to enter.
Other tourists group watch and wonder why we have been able to pass, and a small part of me relishes their looks of envy. Given the tomb's fragility, only ten of us can enter at a time, and
we can only stay for a few precious minutes. But, oh, what glory we witnessed in those few minutes, what indescribable beauty. The white walls in this "house of eternity" are covered with the most exquisite paintings and graphics this three-time traveler to Egypt has ever seen.
The colors – green, yellow, blue, red, and black – leap out at you, so fresh and vibrant that they seem to have been painted only yesterday. As we walk through the chambers, we see the height of artistic expression depicting Nefertari's journey after death to the afterlife, guided by various guardian spirits and deities, including Isis, Hathor, and Osiris.
In ancient Egyptian, the name Nefertari means "the most beautiful," so I guess it's no wonder that this tomb far exceeds any other in both beauty and elegance. Now it's on to Aswan….
Book a Far Horizons tour to Egypt and see Nefertari's tomb!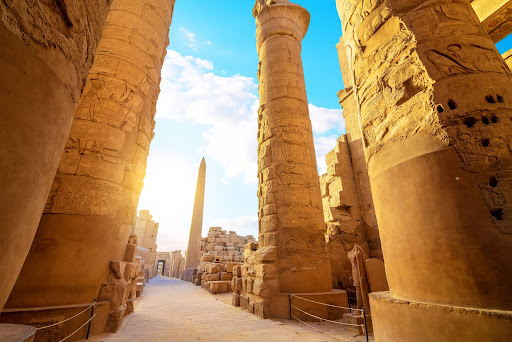 Continue reading below to learn more about the things you can see when you travel with Far Horizons to Egypt.
Luxor is as spectacular as you've imagined…
Herodotus said it 2,500 years ago, Egypt is the gift of the Nile.
For over 3,000 years, one of the most extraordinary cultures that ever existed made this arrow strip of cultivable land teased from the barren expanse of the desert home. The Nile, from Sudan to the Mediterranean, was the lifeblood of this remarkable civilization.
On our extraordinary 14-day archaeological journey to Egypt, you'll get to see many of the country's greatest treasures and all in the company of an expert in Egyptian history and art.
Why travel with Far Horizons?
Our Egypt tour is led by Salima Ikram, Distinguished University Professor of Egyptology
You will be part of a private opening of Nefertari's Tomb
You will be part of a private opening of the Queen's Chamber in the Great Pyramid
Enjoy a specially-arranged cocktail party with archaeologists at the Chicago House
Take a private tour of Medinet Habu
View five UNESCO World Heritage Sites
Needless to say, our Majesty of Egypt tour guarantees a historical tour of Egypt that simply cannot be enjoyed by the solo traveler. Without a hint of exaggeration, this tour is the stuff that every lover of Egyptian history's dreams is made of.
Join us for the opportunity to go behind the scenes, and experience a tour of Egypt that tourists rarely see!
Get to know your trip leader, Professor Salima Ikram
Salima Ikram is a Distinguished University Professor of Egyptology at The American University in Cairo. She received her AB from Bryn Mawr College and her Ph.D. in Egyptian archaeology from Cambridge University. Dr. Ikram was visiting professor at Yale University in 2017, and since 2015 she has been Extraordinary Professor at Stellenbosch University in South Africa.
Professor Ikram has worked on several excavations in Egypt as well as in the Sudan, Greece, and Turkey. She previously directed the Animal Mummy Project, co-directed the Predynastic Gallery Project and the North Kharga Oasis Survey, and is currently director of the North Kharga Darb Ain Amur Survey and the Amenmesse Mission to the Valley of the Kings KV10/KV63. Professor Ikram has lectured on her work internationally and publishes in both scholarly and popular journals. She has written several books (for adults and children) and a profusion of articles, with subject matters ranging from mummification to the eating habits of the ancient Egyptians.
These include Death and Burial in Ancient Egypt; Choice Cuts: Meat Production in Ancient Egypt; Ancient Egypt: An Introduction; and Divine Creatures: Animal Mummies in Ancient Egypt. She has been on several TV and radio shows, including the Discovery Channel, BBC, and NPR on Dog Mummies. Dr. Ikram's extensive knowledge and enthusiasm about all things 'ancient Egyptian' is infectious and entertaining.
Undecided about which dream destination to visit first?
Have you made up your mind that this is the year when you'll travel to some bucket-list destinations? With Far Horizons, you can travel to the world's most magnificent archaeological sites in the company of leading specialists.
We organize our tours globally. From explorations of England's Castles, Battlements, and Stately Homes to once-in-a-lifetime trips to Easter Island and Jordan's UNESCO World Heritage Sites, there's an educational tour for every lover of world history.
Browse our full range of Archaeological Trips and take the first steps toward your dream holiday today!
If you have any questions, we'd be pleased to hear from you – get in touch.