Sicily, the largest island in the Mediterranean, has long been a melting pot of cultures, civilizations, and history.
Various powers have left their mark on the island throughout the ages, contributing to its rich and diverse cultural heritage. Today, Sicily boasts numerous UNESCO World Heritage Sites and one cultural practice included on UNESCO's list of the Intangible Cultural Heritage of Humanity, a testament to the island's historical and artistic significance.
This blog will discuss these seven incredible treasures, taking you on a journey through time and into the heart of one of Earth's most beautiful and culturally rich places.
And if you would like to experience the magic of Sicily for yourself, consider taking our Art & Architecture of Sicily tour. In the company of Professor Thomas F. X. Noble, lecturer for The Great Courses, you'll experience every item we cover in this blog.
Agrigento
Nestled on the southern coast of Sicily, Agrigento is home to the remarkable Valley of the Temples. This vast archaeological site contains some of the best-preserved ancient Greek temples outside Greece.
Established as a UNESCO World Heritage Site in 1997, Agrigento spans over 1300 hectares and features the remnants of ten Doric temples and various sanctuaries, necropolises, and other ancient structures.
Among the most notable temples is the Temple of Concordia, which dates back to the 5th century BC and is lauded for its remarkably well-preserved columns and overall structure.
Another significant temple is the Temple of Hera Lacinia (Juno), dedicated to the goddess of marriage and childbirth. Though in ruins, the Temple of Olympian Zeus is an awe-inspiring sight due to its enormous size, which was intended to rival the Temple of Artemis in Ephesus.
There's no better way to explore this marvelous site than in the company of one of Far Horizons' expert guides.
Opera dei Pupi (Sicilian Puppet Theatre)
The Opera dei Pupi, or Sicilian Puppet Theatre, is essential to Sicilian folklore and tradition.
Inscribed on UNESCO's List of Intangible Cultural Heritage in 2008, this unique form of puppetry dates back to the early 19th century and showcases marionettes skillfully crafted by local artisans.
The stories enacted in the puppet theatre are typically based on medieval chivalric literature and the exploits of knights, heroes, and historical figures, such as the legends of Charlemagne or the adventures of Orlando Furioso.
These performances are often characterized by their dramatic flair, elaborate sets, and the intricate manipulation of the marionettes by the puppet masters, known as "pupari."
To experience the Opera dei Pupi in Sicily, you can visit one of the traditional puppet theatres or "opera houses" in Palermo, Catania, or Syracuse. (On our Sicily Tour, we visit a traditional workshop in Palermo to learn about the history of this art form and how the puppets are crafted.)
Those wishing to explore other aspects of Italian art history may wish to join us on our Tuscany & Umbria Tour.
Norman Palermo
Palermo, the capital of Sicily, boasts a rich and diverse architectural heritage that reflects the many cultures that have shaped the city throughout history. The Arab-Norman Palermo and the Cathedral Churches of Cefalù and Monreale were inscribed on the UNESCO World Heritage List in 2015, highlighting the unique blend of Arab, Byzantine, and Norman artistic influences that flourished in Sicily during the 12th and 13th centuries.
One key monument within Norman Palermo is the Palazzo dei Normanni. This impressive palace once served as the seat of the Kings of Sicily and now houses the Sicilian Regional Assembly.
The palace's architecture reflects the various cultural influences of its past, and the beautifully preserved Cappella Palatina, a royal chapel with stunning gold mosaics, is a must-see. Another important site is La Martorana, a church dedicated to Santa Maria dell'Ammiraglio, which showcases a remarkable fusion of Norman, Arab, and Byzantine styles.
Meanwhile, in Monreale (a town a short journey from Palermo), you'll find Monreale Cathedral, one of the greatest masterpieces of Norman architecture. The interior of this enormous cathedral features exquisite mosaics.
We visit both these sites, along with the cathedral in Cefalù, on our tour of Sicily.
(If extraordinary church architecture fascinates you, please consider booking a place on our Cathedral Tour of France.)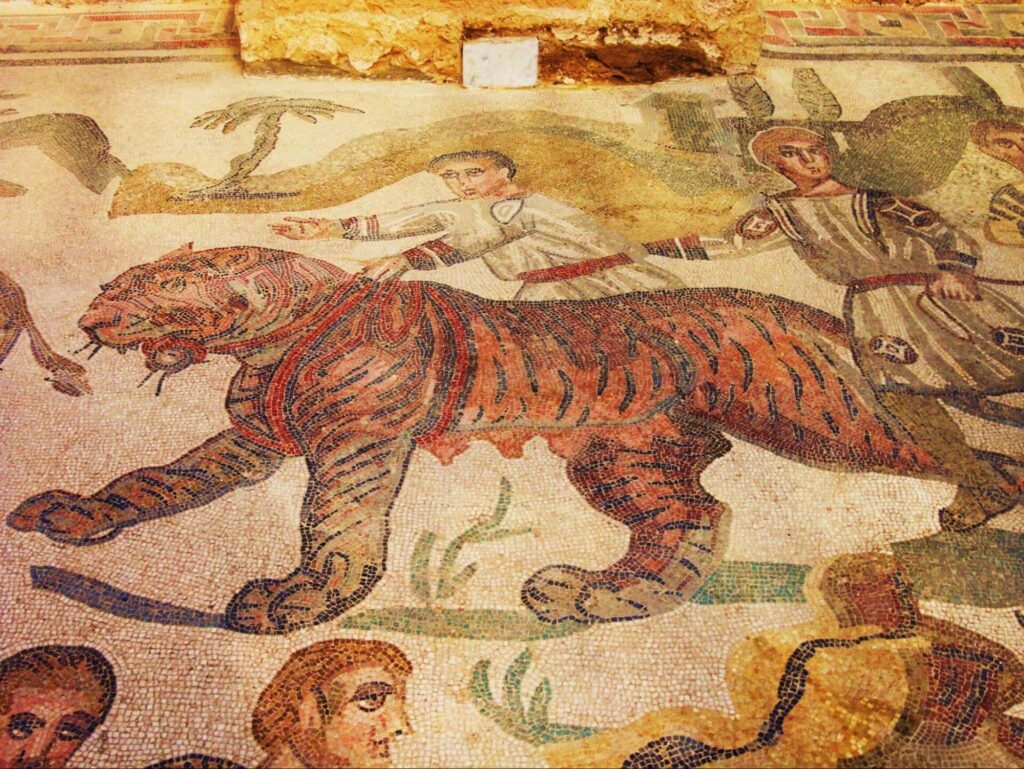 Villa Romana del Casale
Located in the heart of Sicily, near Piazza Armerina, Villa Romana del Casale is a remarkable ancient Roman villa dating back to the 4th century AD.
The villa is renowned for its well-preserved and extensive collection of Roman mosaics, considered one of the most exceptional examples of this art form found anywhere in the world. The Villa Romana del Casale mosaics depict various scenes from daily life, mythological tales, and hunting expeditions.
One of the most famous mosaics is the "Bikini Girls" mosaic, which portrays young women participating in athletic activities while wearing two-piece outfits. Other notable mosaics include the "Great Hunt" mosaic, which illustrates the capture of various exotic animals, and the "Labours of Hercules" mosaic, which narrates the legendary hero's twelve tasks.
Visiting Villa Romana del Casale allows you to immerse yourself in ancient Rome's daily life and artistic achievements.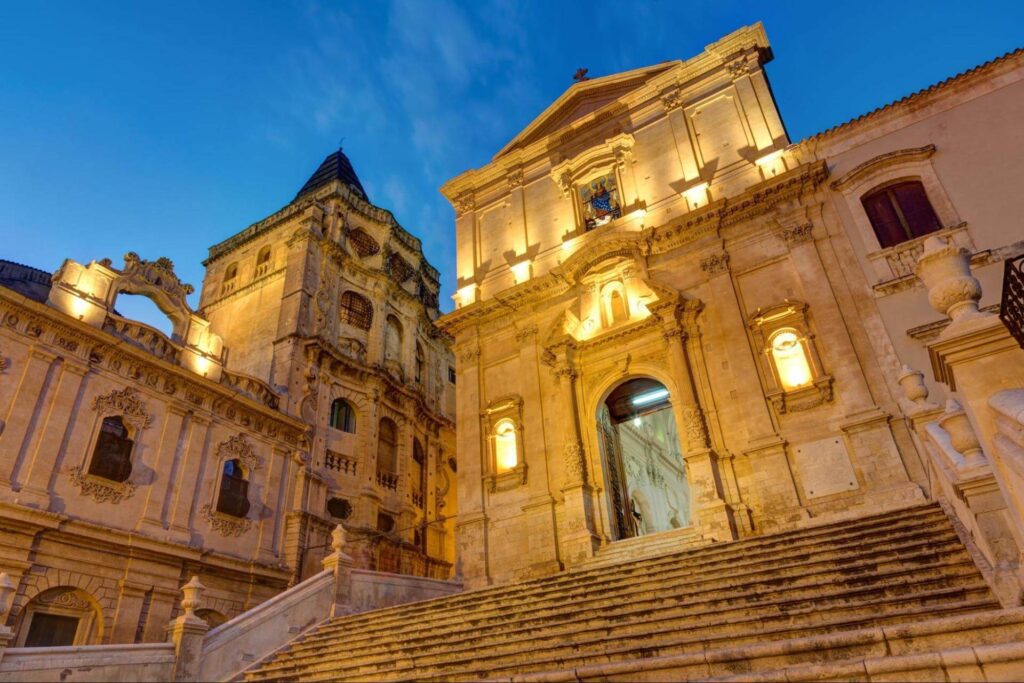 Baroque Towns of the Val di Noto
The Val di Noto, located in southeastern Sicily, is home to eight stunning Baroque towns added to the UNESCO World Heritage List in 2002.
These towns, which include Caltagirone, Militello Val di Catania, Catania, Modica, Noto, Palazzolo Acreide, Ragusa, and Scicli, were rebuilt in the Baroque style following the devastating earthquake of 1693.
As you wander through the narrow streets of these towns, you'll be captivated by the harmonious blend of architectural styles and the intricate stonework that characterizes the Baroque period.
The town of Noto, for example, is known as the "Stone Garden" and boasts beautiful Baroque buildings, such as the Cathedral of San Nicolò and the Palazzo Ducezio. Meanwhile, in Modica, the Church of San Giorgio and the Church of San Pietro stand out as prime examples of Sicilian Baroque architecture.
Each town in the Val di Noto has its unique charm and allure, inviting you to explore and discover the region's rich cultural heritage.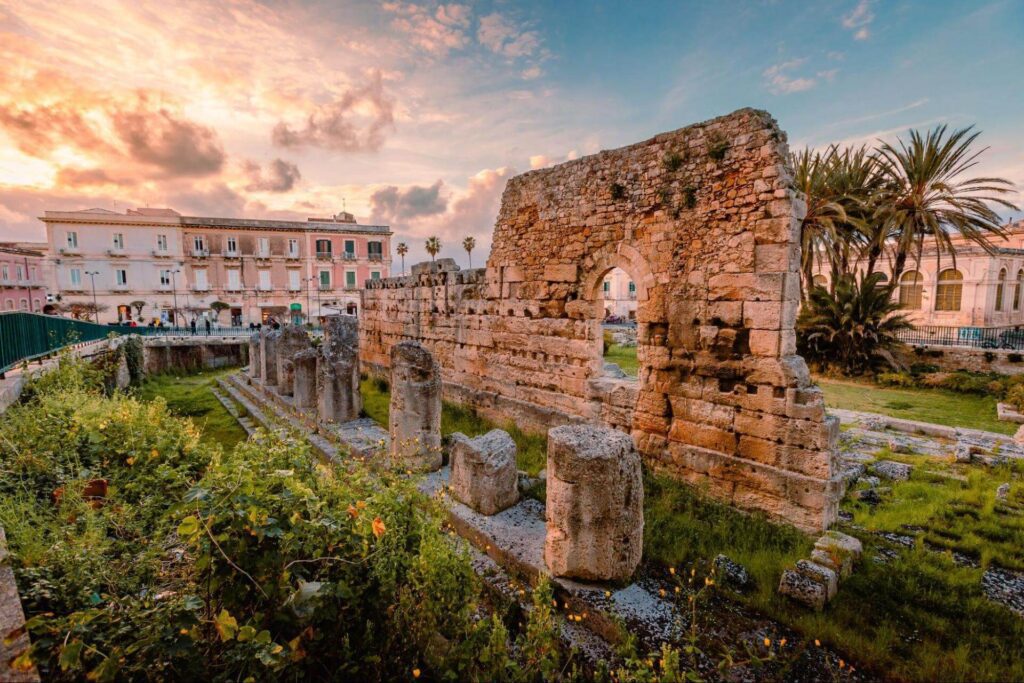 Syracuse
Syracuse, once a powerful ancient Greek city-state, is another UNESCO World Heritage Site that showcases Sicily's remarkable architectural and historical heritage.
The site encompasses the ancient city of Syracuse and the nearby Necropolis of Pantalica and is home to a diverse range of archaeological and architectural treasures. Among the key sites to visit is the Neapolis Archaeological Park, which contains the impressive Greek Theatre, the Roman Amphitheatre, and the Ear of Dionysius, a limestone cave with unique acoustic properties.
Ortygia Island, the historical heart of Syracuse, is another must-visit area, offering a plethora of ancient ruins, winding alleys, and charming piazzas. When exploring Syracuse, be prepared to delve deep into its rich history, from the Greek and Roman eras to the Byzantine period and beyond.
(If you're passionate about Greek history, you may also wish to consider joining our Dodecanese Islands of Greece or Archaeology of Greece tours.)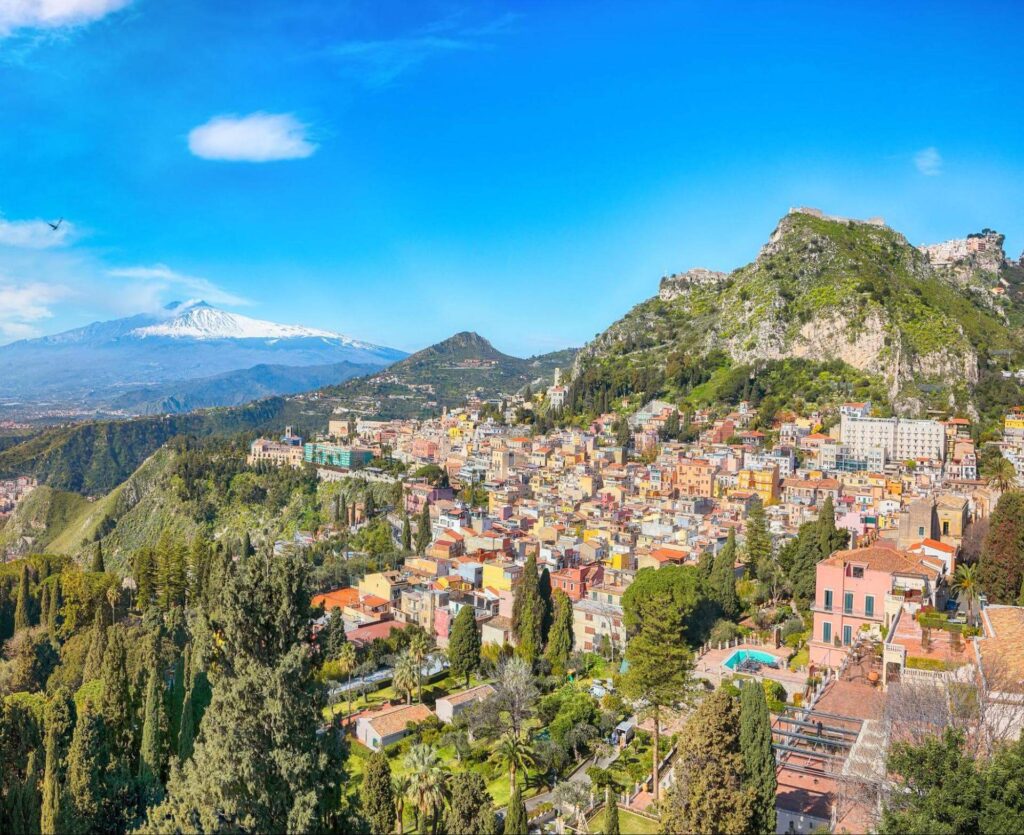 Mount Etna
Mount Etna, Europe's highest and most active volcano, is a testament to the island's remarkable geological and ecological systems and provides a unique opportunity to experience and understand the complex processes of an active stratovolcano.
On our Sicily: Art and Architecture tour, we journey to this awe-inspiring volcano that dominates the surrounding landscape with its snow-capped peak so spectacularly. We enjoy a delightful lunch at a nearby winery, venture through the striking terrain marked by rugged lava rivers flowing along the volcano's flanks, and savor some leisure time to stroll through the winding streets of a nearby picturesque town.
Whether you're an adventure seeker or a nature enthusiast, a visit to Mount Etna is a must when exploring the wonders of Sicily.
See the World with Far Horizons
This blog has journeyed through seven of Sicily's UNESCO World Heritage Sites, each offering a unique window into the island's rich history, culture, and natural wonders.
From the ancient Greek temples of Agrigento to the vibrant traditions of the Opera dei Pupi, and from the Norman heritage of Palermo to the awe-inspiring majesty of Mount Etna, Sicily has something to captivate every traveler.
As you plan your visit to this remarkable island, take time to appreciate the importance of preserving and celebrating its cultural and natural heritage, and allow yourself to be transported through time by the ancient wonders of Sicily!

And, remember, Sicily is only one of the magnificent destinations that Far Horizons visits. Browse our full selection of Worldwide Historical Tours and get ready for an unforgettable adventure.
At Far Horizons, we're often asked what sets us apart from other tour companies. With four decades of experience in the travel industry and in-depth personal knowledge of our destinations, we pride ourselves on providing our clients with exceptional individual attention from the initial contact until their return home as fulfilled and enriched travelers.
Our dedication to quality is evident in our choice of study leaders, as we handpick distinguished PhD scholars who possess expertise in their fields and the ability to inform, enlighten, entertain, and captivate. By limiting our group sizes to a maximum of 14 participants, we can offer truly unique experiences beyond the reach of conventional tour groups.
Choose Far Horizons for an extraordinary travel adventure beyond the ordinary, and discover the difference firsthand.
If you have any questions, please get in touch.