Unexplained disappearance of ancestral Pueblo people from southwest Colorado?
Yes, it is "the most vexing and persistent question in Southwestern archaeology," according to the New York Times.
Researchers document that the Pueblo people agreed on canons of ritual, behavior and belief that quickly dissolved as climate change hurt crops and precipitated social turmoil and violence.
Droughts of just five or ten years were enough to prompt major shifts in the small niches where Pueblo people grew maize, their major crop.
Ceremonies and rituals that required belief in the supernatural to ensure plentiful rain and good crops were delegitimized when rains failed to appear.
"There's a point where people say, 'This isn't working. We're leaving."
"That starts a period of exploration in which people look for new places to live and develop new ways of living, followed by a period of exploitation in a new niche with different behaviors and values."
Far Horizons tours the Four Corners of the American Southwest: Canyon de Chelly, Chaco Canyon, Mesa Verde, August 6 – 14, 2016.
The Four Corners is one of the most breathtaking landscapes in the world.
It is an enchanting land of painted deserts, verdant forests, and towering red mesas visible for miles under the brilliant sunlight.
The ancient Anasazi ruins, Colonial Spanish villages and Native American pueblos (villages) reflect a proud heritage intimately in tune with nature and rooted in tradition.
Our trip begins and ends in Albuquerque, New Mexico. We spend a day in Chaco Canyon, a UNESCO World Heritage Site, before moving north to Hovenweep with its free-standing towers, and Mesa Verde, also a UNESCO World Heritage Site.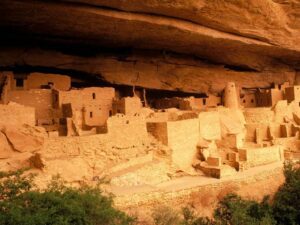 In both the Ute Tribal Park and Canyon de Chelly, Native American guides take us on specially-arranged tours to out-of-the-way areas seldom seen by tourists.
Other highlights include Acoma, the oldest continuously occupied town in the United States, Zuni Mission Church and murals and the Salinas Mission churches built in the early 17th century by Franciscans.
We limit this extraordinary 9-day tour to 12 participants.
Here's the full itinerary: https://www.farhorizons.com/trips/discover-the-american-southwest.
For the full story of Climate Change and the Disappearing Pueblo People see: https://news.wsu.edu/2016/04/01/researchers-link-climate-changes-pueblo-social-disruption/