Professor Bob Brier is not only one of the nation's leading Egyptologists, but a brilliant lecturer and renowned storyteller.
Patricia Remler is an author, photographer, & art historian. She's the author of Egyptian Mythology A – Z.
"As I have told every single person who has inquired about the trip since our return, I cannot imagine going to Egypt without Bob Brier and Pat Remler. I know that it IS possible to go there without them, but Bob Brier's lectures from the Teaching Company were what lead us to Far Horizons in the first place, and the combination of the presence of Bob Brier and Pat Remler truly made the trip into one that holds the title for me of The Trip of a Lifetime…" Deborah Hackler
Herodotus said it 2,500 years ago: "Egypt is the gift of the Nile" – a narrow strip of cultivatable land teased from barren expanse of desert that is home of one of the greatest civilizations the world has ever known. The Nile, from the Sudan to the Mediterranean, was the life-blood of this remarkable culture that flourished for over 3,000 years.
Far Horizons presents an extraordinary 14-day archaeological tour to Egypt with an exceptional itinerary.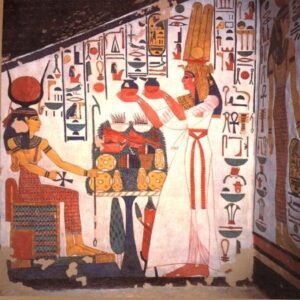 We have made special arrangements to enter the Queen's Chamber of the Great Pyramid, Nefertari's Burial Chamber, and the Unas Temple at Sakkara — all closed to the public. We meet with the excavation director at Elephantine Island, and hear about the Kharga Oasis Project from the archaeologist working there. Hosted by the Director, we join working archaeologists for cocktails and a tour of the incredible library at the Chicago House, a major center for Egyptian Studies. Traveling from Cairo to Luxor to Aswan, we will travel in the footsteps of the pharaohs and marvel at the glory of these monuments that have withstood the passage of time.
Far Horizons trips offer camaraderie, education, adventure, and a new understanding of culture past and present.
"Our time in Egypt was truly special!  We count ourselves among the lucky few who get to have a meaningful, scholarly, educational experience…All the arrangements – hotels, in-country travel, local guides, restaurants – could not have been better!"  Sarah and Jean-Pierre Lafare
We invite you to join us for the opportunity to go behind the scenes, and experience the Egypt that tourists rarely see!
View the itinerary:Majesty of Egypt with Bob and Pat!
Call us at (800) 552-4575:  We'll love to welcome you to the Far Horizons Family.
Join our Facebook Community: https://www.facebook.com/far.horizons.trips