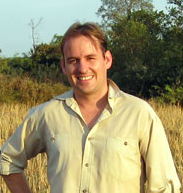 While all Far Horizons scholars are special, travel with Dr. Damian Evans is a special opportunity not to be missed!
Dr. Evans has worked in Cambodia since the 1990s, from 2007-2015 was the Founding Director of the University of Sydney's Overseas Research Centre at Siem Reap-Angkor, and is now a member of École Française d'Extrême-Orient, the oldest and most prestigious international team working at Angkor.
Discoveries made by Dr. Evans have been reported extensively including the Los Angeles Times (front page), Science, CNN, Archaeology Magazine (Top 10 Discoveries of 2013), Foreign Policy Magazine (Top 100 Leading Global Thinkers 2013), National Geographic News, and he has been featured in both the National Geographic Channel's and the History Channel's documentaries on Angkor.
With Dr. Evans as study leader, we gain an insider's view of the latest discoveries being made.
Dr. Evans takes us behind-the scenes into the great repositories of Khmer art and artifacts at Angkor Conservation which is normally off-limits to the public.
With Dr Evans we will have access to:
Works-in-progress by other archaeological teams associated with the University of Sydney, such as massive temple reconstruction projects.
Active excavations being carried out and engage with various members of the multinational teams. Enjoy talks by specialists working in Angkor.
Daily briefings on research breakthroughs and emerging issues related to the Khmer – the kind of insider knowledge that won't make it to history or guide books for years to come.
Our Far Horizons' 17-day journey to Cambodia and Laos includes six full days to explore the great Khmer city of Angkor, including glorious Banteay Srei, remote Beng Mealea, and of course, magnificent Angkor Wat.
From Cambodia we cross the border into Laos and travel to Wat Phu, certainly one of the most spectacular of the Khmer cities. And while in Laos, we will explore the capital city of Vientiane, and discover the World Heritage City of Luang Prabang, where Buddhists monks dressed in vibrant, saffron robes tranquilly dot the pagoda-filled landscape…..
Don't miss this opportunity to enjoy this fascinating part of the world!
The trip dates are January 4 – 20, 2016. Please see the itinerary here: https://www.farhorizons.com/trips/Asia/AngkorWat/AngkorWat.php
And, there are still a few spaces left on our Mekong River trip – November 9 – 25, 2015 – with Dr. Evans and Dr. Michael Coe!
https://www.farhorizons.com/trips/Asia/AngkorWat/cruisethemekongwithmichaelcoeanddamianevans.php